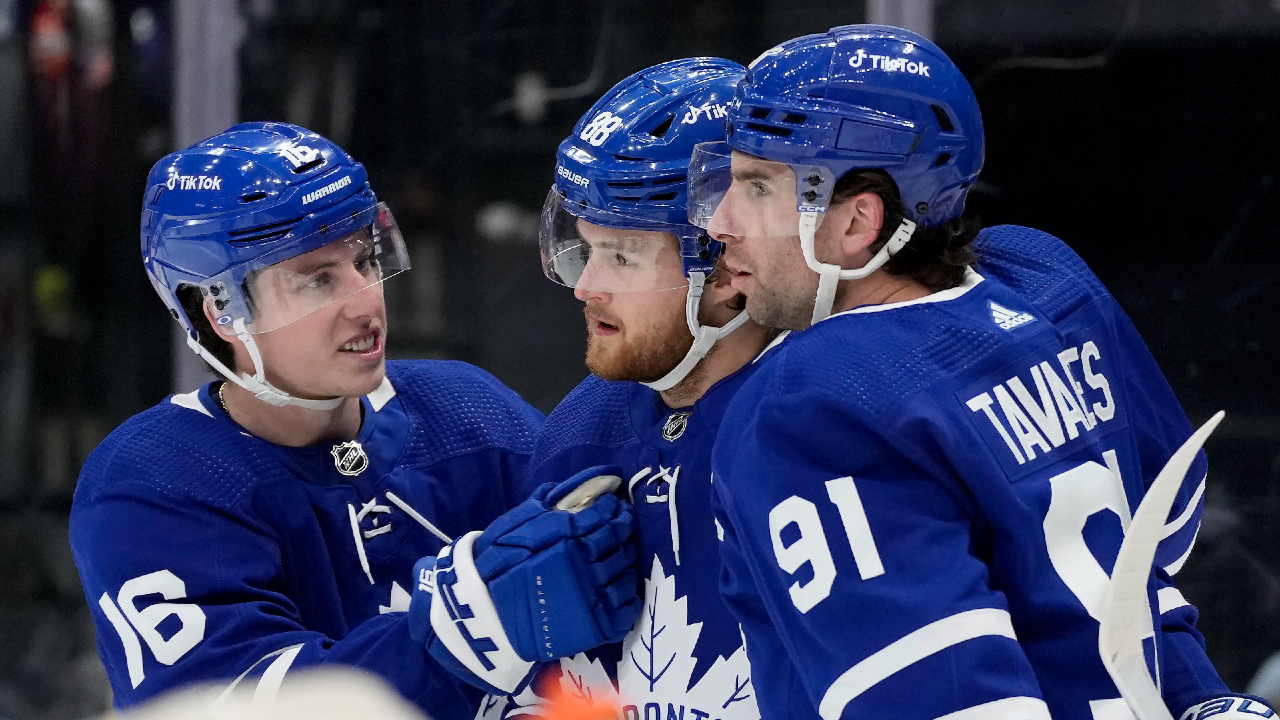 Two quick thoughts looking back at the Leafs, before eight more that look ahead…
A remarkable Leafs season
With a win on Friday, the Toronto Maple Leafs would lock up a season with a winning percentage north of .700, having hit the 50-win threshold for the first time in franchise history. It's not just 50 wins either, it's 50 wins in regulation/overtime alone, and 53 wins in total (with a game to go). Their 44 regulation wins thus far is a total only bested by Colorado and Carolina, and regulation wins tell us a little more about a group than who's best suited to win in 3-on-3 or the shootout.
We headed into this season with many Leafs fans saying "Who cares what happens in the regular season, show me in the playoffs." It's likely that the Leafs' success drew some of those people back in, but for those who stayed away because of previous post-season frustrations, it's a real shame. They missed a great team, and one of the few best regular seasons in Leafs history.
Auston Matthews' 60-goal milestone
I enjoyed that he owned caring about hitting the big round 60 in the intermission interview, where he said "It's not the end of the world if I don't get there, but that doesn't mean I don't want it," and "I told the boys I'm shooting it tonight." He's just the 21st player in NHL history to hit that marker. It was also clear how much it meant to the people who've done their best to get the most out of him, Kyle Dubas and Sheldon Keefe.
They both had great reactions, obviously happy for a guy they very clearly care about, and that vibe was felt throughout the players in their post-game comments as well.
Matthews has 60 goals in 73 games, and he's putting up underlying defensive numbers that are among the best in the NHL at the same time. He leads the league as a takeaway machine, he leads the league in shots, he's become a physical presence, all-in-all it's just been one of the most dominant seasons in recent memory. I'm a huge Connor McDavid booster, and generally think we overthink our way around just giving the MVP award to the best guy (which hurts him). This year has been Matthews', though.
Who plays Friday?
The Leafs' 82nd game comes this Friday at home against the Bruins. It's nice they don't have to travel, and can have a proper week in their own beds to prepare for Round 1.
The question is, who do you play? Who needs rest and who needs more game action, risk of injury or not?
Does Jack Campbell, who's been playing well, want to keep the ball rolling, or call it good after a shutout and take five or six days off before Game 1?
I don't think playing makes sense. He's healthy. He's playing well. There's no rest in the playoffs, and he's expected to be the only guy playing for the Leafs in the post-season. There's no need for him to see another game and risk injury, then have to use any of the days before playoffs on any form of recovery.
The Leafs don't have a ton of bodies to plug in to "rest" their regulars, but with Matthews hitting 60, it probably makes sense to rest him too. It's likely a good day to talk to the players. Does Mitch Marner want a day? Are they best suited giving John Tavares another one? How about Morgan Rielly, who's likely to average 24 minutes a night in the post-season?
We're sure Jake Muzzin is in the Leafs' playoff lineup right?
I am. Don't let it go overlooked how effective Jake Muzzin can be for the Leafs, and not just effective — but effective in a way that their team needs, as a guy who plays within the contact of the game, rather than around it. In the playoffs, the more of those guys the better, because contact is coming like it or not.
I know it hasn't been his finest year, and I'm aware he's been hurt a few times, and in concerning ways. But if he's making himself available, I think he should play again Friday and find the best version of himself possible. I thought he was great in his return against the Red Wings – he and TJ Brodie were the team's best pair by shot attempt metrics and the eyeballs. There's no chance an available Muzzin is in the pressbox for Game 1.
So who's out: Justin Holl, Ilya Lyubushkin, or Timothy Liljegren?
I wrote about this a week or so back, in which I contended that I'd keep Holl in, and would lean Liljegren over Lyubushkin. I got some static about the preference for Holl, not just from readers, but also from my co-host Nick Kypreos and producer Sam McKee. To which I say I'd like to apologize … to absolutely nobody, a la Conor McGregor.
Roughly 100 per cent of what makes Holl useful is stuff that doesn't show up on highlight packages. He uses his long stick to disrupt, and good body position to angle, and he can contend with top-end talents and D-zone starts. He's just annoying to play against.
He's a four-to-six on an NHL team's depth chart, no argument from me there. He's not going to produce offence, something the team doesn't care about from that part of the batting order. But the Lightning have a billion goals over the past couple weeks, and I can tell you who I feel more comfortable going over the boards to defend against them, whether it's him or either of Lyubushkin/Liljegren.
I think the physical way the Leafs/Lightning game played out gives Lyubushkin an edge to stay in as well. The Leafs' reputation is that they can be pushed around, so I expect Tampa Bay to try.
One thing that works against Holl: the way the pairs shake out. I think they want Brodie to protect Muzzin in the early going, so we're talking:
Rielly –
Muzzin – Brodie
Giordano –
Holl and Rielly DO NOT WORK, all caps. And I think Liljegren has been really good with Giordano. So, Holl may be out after all.
Holl's best bet of getting in is if they're comfortable enough to go away from the Muzzin-Brodie pair, in which case it's:
Rielly – Brodie (which gives you a much better top pair)
Muzzin – Holl
Giordano – Liljegren/Lyubushkin
What about Rasmus Sandin?
Oh right, him. It sounds like Sandin is in fact going to play on Friday. There were games this season where I thought "Sandin might be their best defenceman." He's no defensive stalwart and not very big, so he has some of the same things working against him as Liljegren, even if Sandin is much more physical (it always surprises me how high up he is on the Leafs in hits-per-60):
It's just so hard to see room for Sandin to get in, with the four left shots of Rielly, Muzzin, Brodie and Giordano all locks.
The good news is, assuming Sandin starts out, he'll have a little extra time to prepare, and you always need at least a good seventh defenceman in the playoffs, if not an eighth, if not a ninth. Sandin will play in the first round, no question.
Will Michael Bunting play?
I think he will, going on what little information I have as a complete non-doctor playing forecaster. That there was positive early news pushed me towards a "yes" on this question, and the team seems to be hedging that way in related comments. Knowing what teams do to help players get past pain for a few hours, and how eager he would likely be to suit up, I just think he finds a way to be available come Monday or Tuesday night, when I expect the first round to begin.
Will Tavares/Nylander play together?
That back-door Willy-to-JT goal against Detroit all but sealed it for me. The team has played around with different looks, and had a ton of success with them apart. I think they did some experimenting and like knowing what they have when Nylander and Tavares aren't together. But more than anything, I think they love Mikheyev – Kampf – Engvall together, and the chance to reunite them makes Kerfoot – Tavares – Nylander all the more likely to start (though they'd be quick to move off of that if it doesn't yield results).
I do wonder if Ondrej Kase can get back at some point and be available for the team. He's been skating, and in a grey jersey, which isn't non-contact. The ability to add him would change the look of their 12 forwards entirely.
Speaking of…
What will the fourth line look like?
Colin Blackwell is a guy who's twice scored at a 20-goal pace in the NHL when given the opportunity. As much as Toronto doesn't need offence, depth scoring is nice and guys who can make plays sure help you relieve pressure in your own zone. He's also a big-time energy guy and I like his willingness and competitiveness. He's small, but you may have noticed he showed up on that hitting table above. He's in for me.
I've also really liked Jason Spezza of late, and I can't forget how great he was for the Leafs in their past two post-season matchups. He's in.
Wayne Simmonds' energy the past few weeks has been way up. I've thought he's been very involved and had a number of scoring chances. You know he can finish in tight, you know he doesn't back down, and dammit, he's Wayne Simmonds.
Kyle Clifford's been fine too (speaking of having chances lately), and he'll get his opportunity. Nicks Abruzzese and Robertson, well, you hope they don't have to get the call, and that by the time they need to go to forward No. 14 Kase is back.
I don't love asking Spezza to play centre – he's definitely most effective on wing – but Blackwell – Spezza – Simmonds looks like a line that can make plays and work and contribute positive shifts. That's all Toronto needs from their three minutes per period.
How scary is Tampa Bay right now?
Well, yeah, there is this little concern if you're a Leafs fan. The Bolts are humming, with Steven Stamkos and Nikita Kucherov doing this lately:
An interesting reply to that:
In the end, nobody in Toronto needs me to go through the Lightning's lineup to tell you it's great. And nobody needs to rehash the idea that it's a bummer they're likely going to draw Tampa in the first place:
So to get back to the original question: Tampa is looking as scary as anyone in the league right now, but this is what playoffs are. The bad teams go home, and the good teams quite literally Play Off to figure out who's the best, so you can't be upset when you play a great team.
The Leafs can beat Tampa Bay. They need goaltending, their special teams to be special, and to get a few bounces. There are no secrets here. Just hockey left, and as always, the most exciting hockey of the year.