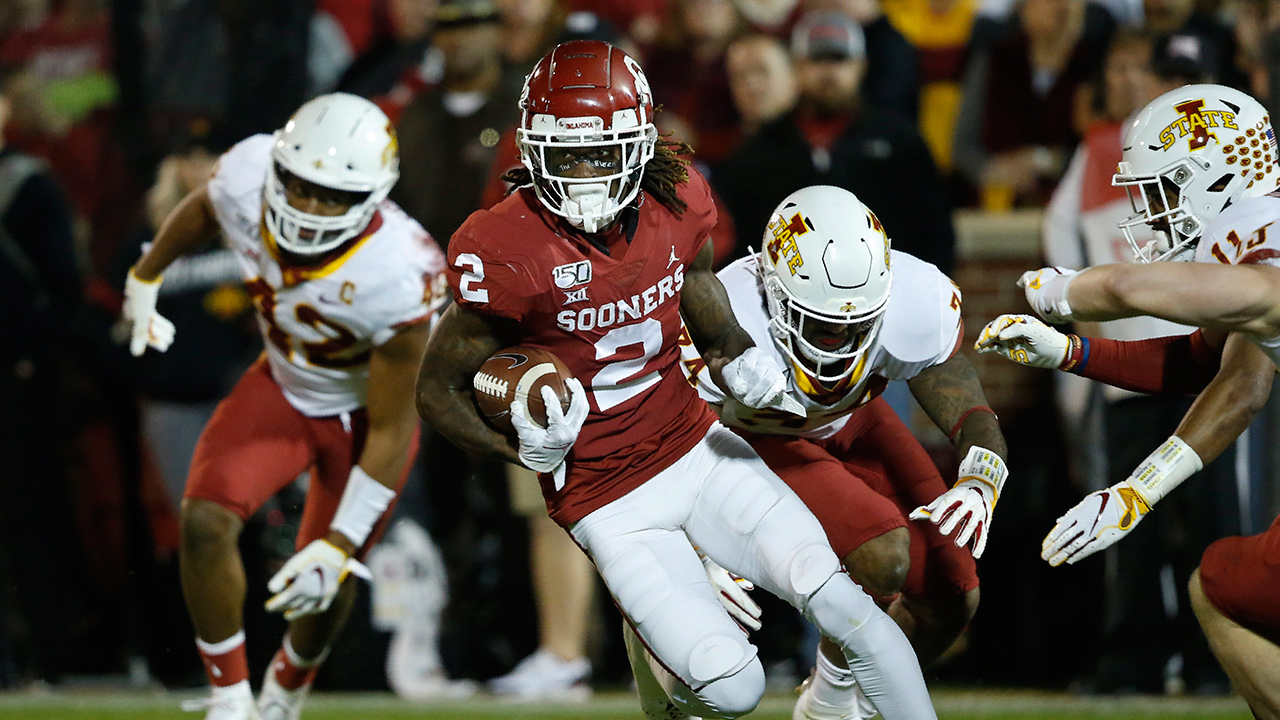 Round 1 of the 2020 NFL Draft is officially in the books, and at a time of heavy hearts and uncertainty, the evening gave football fans a much-needed distraction… and some hope, too.
Considering all the technology and communication and variables and moving parts that go into such a massive production, the Round 1 virtual draft appeared to viewers to be a huge success – as was the on-going Draft-A-Thon, the NFL's fundraising initiative to help support the fight against COVID-19.
Looking at the draft board, the night looked like a big success for teams, too. Though we didn't see the kind of trade drama we may have expected, most football fans appeared to go home (er, stay home), happy with their clubs' haul.
Here's a look at the biggest winners from Thursday night.
Cincinnati Bengals
The Bengals did what we all knew they'd do: select quarterback Joe Burrow with the first-overall pick. It was the biggest no-brainer of the draft, the easiest decision they'll make all year, and the start of a new chapter for the Bengals. A win all around.
The Ohio State
The Buckeyes are well-represented at the draft every year, but Thursday night's draft board took the football powerhouse's clout among the scouts to a whole new level.
This year marked the first time in NFL draft history that the top three picks were all college teammates at one time, as Joe Burrow (No. 1, Cincinnati), Chase Young (No. 2, Washington) and Jeff Okudah (No. 3, Detroit) were all with the Buckeyes football program in 2017.
Young and Okudah were freshmen that year, and would go on to wreak havoc on opposing offences over the three years that followed with Ohio State, while Burrow transferred to LSU for a better opportunity to be a starter in 2018.
At No. 3, Okudah is now the highest-picked cornerback in more than two decades, and adds his name to a growing list of other strong corners out of Ohio State including Marshon Lattimore, Denzel Ward and fellow 2020 first-rounder Damon Arnette (No. 20, Raiders).
Minnesota Vikings
The Vikings went into Thursday night with two-first round picks and two big roster needs: a wide receiver to replace Stefon Diggs after dealing him to Buffalo last month, and a cornerback after veteran Xavier Rhodes was released. By evening's end, they'd filled both spots and brought in a bit of extra draft capital in the process.
After selecting LSU receiver Justin Jefferson at No. 22 (the pick they received from Buffalo in the Diggs deal), GM Rick Spielman traded back with San Francisco – pick No. 25 in exchange for No. 31, a fourth-rounder and a fifth-rounder.
With pick No. 31, the Vikings took cornerback Jeff Gladney – a perfect fit for their secondary and the consensus best player available.
Sounds like Round 2 should be fun, too.
Miami Dolphins
The motto in Miami for much of 2019 was "Tank For Tua." The tank didn't exactly go as planned – they finished the season 5-11 — but their draft ultimately did.
Despite questions about whether the Dolphins might try to trade down to secure their next franchise quarterback in Tua Tagovailoa out of Alabama, they didn't need to. They held on to their No. 5 pick and got their guy.
In doing so, they also put an end to the speculation around how much Tagovailoa's injury history might affect his draft stock.
This was a critical draft for the Dolphins. All season, Miami fans watched a rotation of quarterbacks start games, and talented young players exit as GM Chris Grier has overhauled the roster and hoarded draft picks in their place.
After selecting Tagovailoa, the Dolphins addressed two other needs: offensive tackle Austin Jackson, to help protect their new QB, and cornerback Noah Igbinoghene.
AFC West offences
The Kansas City Chiefs brought fast, fun, offence-first football to the AFC West and won it all. Now their division peers, unable to contain them, look like they're going to try to go stride-for-stride with them instead.
The Los Angeles Chargers did well to get their quarterback of the future in Justin Herbert, but it's the Raiders and Broncos who won the night in the AFC West with a pair of Alabama receivers.
With the 12th overall selection – and the first-ever pick made by the Las Vegas Raiders – GM Mike Mayock channelled Al Davis energy and took the fastest receiver in the class in Henry Ruggs III, the first wide receiver off the board.
Three picks later, Denver landed the man many regarded as the most complete receiver in this draft class, Jerry Jeudy, who will run perfect routes opposite breakout speedster Courtland Sutton.
Bring on the highlights.
Dallas Cowboys
Going into the draft, Cowboys fans were right to be a little worried about how the night would go.
But then, with Dallas on the clock at pick No. 17, a gift: wide receiver CeeDee Lamb.
No one expected Lamb, who topped some wide receiver rankings going into the draft, to be there at No. 17 — especially not the Cowboys. But after the Raiders took Henry Ruggs III and the Denver Broncos claimed Jerry Jeudy, the Cowboys seized the opportunity to take one of the most exciting players in the draft.
Lamb looks like the perfect final piece of this offence.
Jordan Love
He should probably stay off Packers Twitter for a little while — fans in Green Bay weren't exactly thrilled by the pick, especially considering the team's need for more offensive weapons or help at secondary. But quarterback Jordan Love was essentially just given one of the most prestigious internships in the game, an opportunity to learn behind the best in Aaron Rodgers.
There's an obvious comparison ripe for the picking here: the legendary Brett Favre was 35 years old when the Packers took Aaron Rodgers with the 24th-overall pick back in 2005. Rodgers is now 36, with four more years on his deal, and he just watched his team trade up to take his potential successor at No. 26.
Will Love play any time soon? Definitely not. Will Rodgers be thrilled to answer questions all year about the dynamic in the QB room? We're gonna say no. But Love came into this draft as a prospect in need of more time and development, and that's what he'll get in Green Bay.
"That's one of the GOATs right there in the game," Love told ESPN's Suzy Kolber after being drafted, when asked about Rodgers. "I'm excited to learn as much as I can."
Baker Mayfield & Sam Darnold
The greatest gift you can give your quarterback? A bodyguard. That's what the Cleveland Browns and New York Jets gave their young gunslingers Thursday night.
The Browns got a steal of a pick with Jedrick Wills Jr. at pick No. 10, widely regarded as the top offensive tackle in the draft. Wills, who will likely suit up at left tackle opposite free agency acquisition Jack Conklin on the right, already got a warm welcome from some of his Browns teammates:
Just lemme know how much time you need to finish your route 13https://t.co/LUOsKtbIgR

— Jedrick Wills Jr.®(@JWills73) April 24, 2020
He also got a ringing endorsement from the man who played his position for years:
One pick later, the Jets scooped up another offensive tackle in Mekhi Becton – all six-foot-seven, 364 pounds of him.
Kliff Kingsbury
Sure, Kingsbury's Cardinals drafted an elite, versatile defender in Isaiah Simmons, but… did you see the man's living room?
The virtual draft gave viewers a rare glimpse into the war rooms (and dining rooms, basements, and… yachts?) of NFL brass, from Bill Belichick's bare-bones setup to Mike Zimmerman's Minnesota mansion, and… whatever was going on at Mike Vrabel's place:
But if we're talkin' interiors, Kingsbury wins the night.