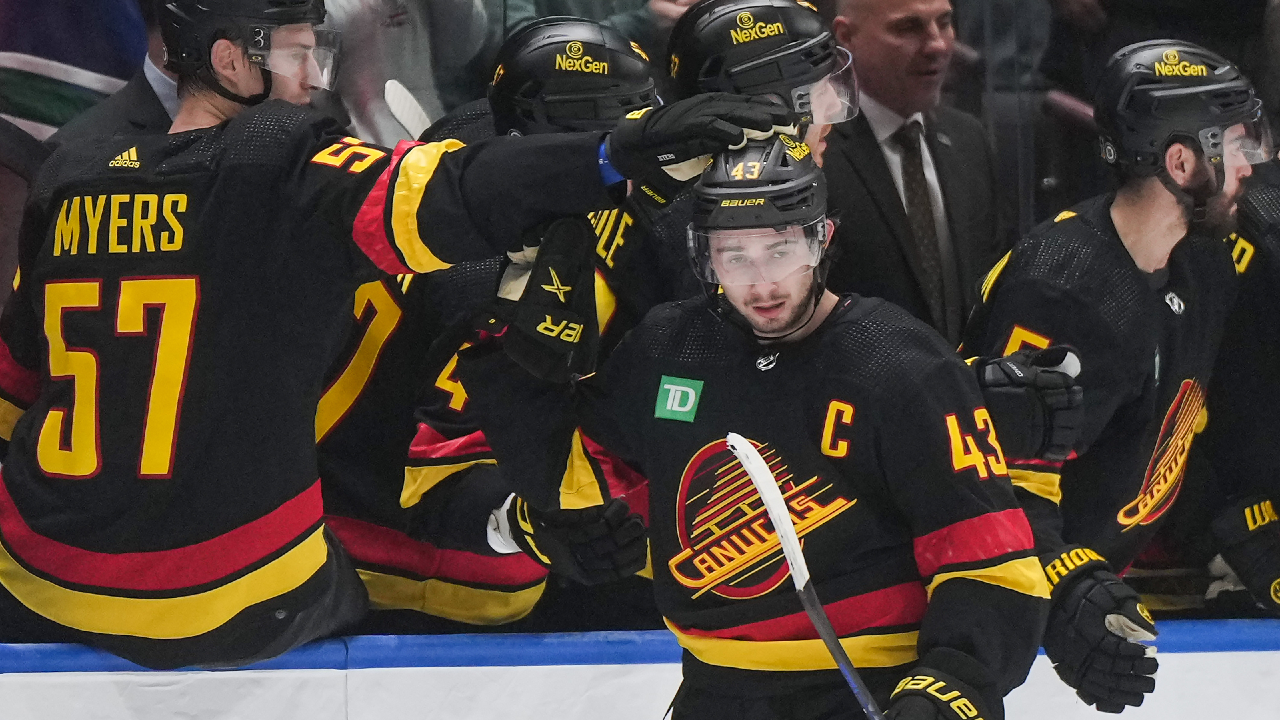 VANCOUVER – You've had a night to remember when your hockey game began with a fist bump at centre ice with Prince Harry and ended, after a 3-1 win, with you alone atop the National Hockey League scoring race and taking a bow in front of thousands of cheering fans.
Nights like that are beyond the dreams of most people. And, still, Quinn Hughes was not satisfied on Monday.
"I don't feel satisfied right now," the Vancouver Canucks' defenceman confirmed after another magical night. "I'm just so, like, pent up on having a great season and the team being successful. It hasn't really felt, even after this great start, that we've let our hair down. I think I haven't really enjoyed it yet. But hopefully, we can keep going and have a great season and at the end of the year we can look back and enjoy it."
November 20 will be a good night to recall.
The Duke of Sussex, Prince Harry, was the surprise puck-bearer for a ceremonial pre-game faceoff, using his global celebrity to bring awareness to the Invictus Games that Vancouver and Whistler will stage in 2025.
Harry greeted captains Hughes and Tomas Hertl of the San Jose Sharks with fist bumps, then appeared to heartily enjoy the game with his wife, Meghan Markle. Hertl and Hughes had to instruct the former Royal to, you know, actually drop the puck.
"Yeah, we told him to drop the puck," Hughes said. "And then I said, 'It's a pleasure to meet you, and enjoy the game.'"
Prince Harry did. Everyone cheering for the Canucks did as the home team ended its season-long two-game slide by beating the Sharks 3-1.
After Harry, Hughes was the biggest star.
The 24-year-old defenceman from Michigan had another virtuoso night, sniping one goal from an impossible angle after skating past two defenders, then combining with blue-line partner Filip Hronek to set up J.T. Miller's important rebound goal at 7:10 of the third period.
Hughes' two points made him the first NHL player to reach 30 this season. He is one ahead of Miller, two ahead of teammate Elias Pettersson. The defenceman is doing things offensively at a rate rarely seen since Bobby Orr stopped playing in the 1970s.
Hughes and Hronek, who was plus-three on Monday even if his own points total stayed at 18, seemed to exert their will on the final goal.
"They're playing on another level right now and I'm just trying to stay out of their way," Miller said after banging in the rebound from Brock Boeser's redirection of Hughes' shot. "When we're out there with them, they're doing all this stuff and we don't know where to go half the time. But they're unbelievable. They create havoc. They beat one guy and then somebody else tries to do somebody else's job on defence, and then holes open up everywhere. They make us all look good. They create so much with their movement.
"They're just starting to feed off each other. They're only going to get better, which is scary."
Monday was only Game 19 for the Canucks and the H2 pairing of Hughes and Hronek, who played just four games for Vancouver last season after his trade from the Detroit Red Wings.
"I'll tell you, they can even get better," Canucks coach Rick Tocchet said. "But the chemistry they have — the way they can walk a blue line, the way they can feed those pucks to the net. . . actually sometimes I get dizzy watching them and the way they're just whipping around."
Hughes broke a scoreless tie at 13:07 of the second period, somehow seeing enough space in front of San Jose goalie Mackenzie Blackwood, who was hugging the near post, to send a shot just inside the far stick.
The game might have turned when Canuck Nils Hoglander was assessed a match penalty for slew-footing Kevin Lebanc at 18:31 of the middle period, but Sam Lafferty's outstanding shorthanded goal at the buzzer proved pivotal when Hertl scored on the five-minute power play early in the third period to make it 2-1.
Hughes' eighth goal in 19 games tied his career-high. He scored only seven all of last season, despite finishing with 76 points in 78 games, re-setting his own franchise records for scoring by a defenceman.
A couple of years ago, Hughes looked at other elite defencemen in this golden age for them and saw players like Cale Makar, Roman Josi, Victor Hedman and Erik Karlsson scoring more than 20 goals. The Canuck has made it a priority since then to improve his shot.
"I didn't have the mindset (for shooting)," Hughes explained late Monday. "I thought that I had it, but I let teams off the hook and players off the hook. I was always looking to pass first. I would beat a guy and look (for a pass), and I was just exhausting myself instead of just sometimes getting it on net.
"I think it's a little bit more of a shot mentality. And I've also gotten better and worked on different things with the shot."
"His walking the blue line," Tocchet marvelled, "I mean, he's in the Cale Makar category now. The way he walks that blue line, it's incredible. And then the shot, obviously he's developed that shot. He's got a laser now."
Hughes had three shots and six attempts against the Sharks. He is up to 58 shots in 19 games, close to double the rate at which he was shooting last season.
"I don't want to give you guys too much about the guy; he's just doing what he does," Miller said when pressed about what makes Hughes special. "He's so young, but he's so mature. He seems like he's 30 to me, and he's 24 or whatever it is. His two points today? I guarantee you he's not thinking about that. We needed to win today. And that's what he's worried about. That's why he's the captain."
Like royalty.