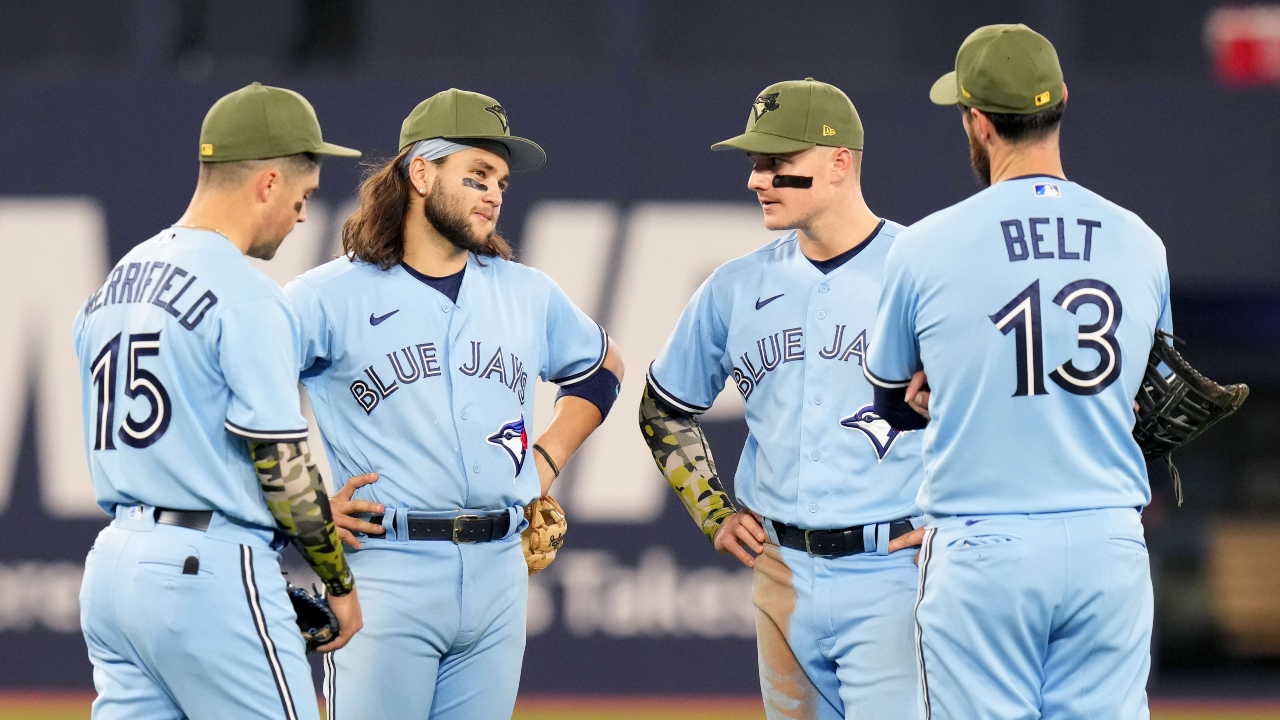 ST. PETERSBURG, Fla. – All seemed right for the Toronto Blue Jays as recently as two weeks ago, when they walked off Atlanta 6-5 on May 14 to complete a three-game sweep of the NL East leaders.
They'd seemingly corrected after a 3-6 road trip that included sweeps of four games at Boston and two games at Philadelphia, and looked primed and ready for a difficult stretch.
Instead, a 2-9 slide against the Yankees, Orioles and Rays has eaten into their margin for error and prompted them to hold a players-only meeting. The Jays held them at least twice last year – once in May, once in July – to keep their season from unravelling. The urgency needed then is also needed now as they begin a three-game series Friday at the Minnesota Twins.
"It's just one of those stretches, unfortunately, now, it's just about getting it stopped," third baseman Matt Chapman said after a 6-3 loss to the Tampa Bay Rays on Thursday. "We've swept teams then gotten swept. We've won series then lost a few series. We've been really inconsistent. It's just been up to us as a team to start playing better. I think that's just it. There's nothing I can say besides we need to play better."
There's no debate about that, but easier said than done.
Starting with an 8-4 blown lead in an eventual 10-8 loss to the Seattle Mariners on April 30, the Blue Jays are 8-16. That loss was followed by a four-game sweep in Boston during which some around the team felt they took the Red Sox lightly and simply expected to roll over them the way they did a year ago.
As the sloppy play and losses mounted, there have been more and more problems to nitpick at. The offence has carried much of the criticism, but the bullpen has had several letdowns, the rotation has allowed games to unwind and poor defence has exacerbated everything. The drama with the Yankees over tipping/sign-stealing added another wrinkle.
Thursday's game, which included an emotional exchange between Alek Manoah and pitching coach Pete Walker, had a players-only-meeting after feel to it from the jump.
While manager John Schneider said he intended to address the team afterwards, the players "kind of beat me to it. In a perfect world, players are driving this, you know what I mean? They're living it they have a set of standards they live by and right now, not up to their expectations. It carries more weight from the players. Obviously, myself and the staff are here to support that. Me personally, I think when players are holding themselves accountable and when players are living what we're expecting, I think the message is delivered a little bit more firmly."
Part of that is there's no easy fix for the Blue Jays.
Just as they slowly sank deeper into their current mess – heading into Friday 10.5 games back of Tampa in the AL East, three games back of Houston for the third wild card spot with three teams in between – the Jays face a long, progressive climb back, first to clean baseball, better vibes and then to better results.
ROUT ETIQUETTE
Having position players pitch in blowouts is uncomfortable all the way around. Blue Jays utility infielder Ernie Clement made two appearances for Cleveland last season. He allowed two runs in each outing, and said "you just want to make sure it's over as soon as possible without anybody getting hurt."
Occasionally, a position player can't get out of an inning, the way Rays first baseman Luke Raley got stuck on the mound in the ninth inning of Tuesday's 20-1 Blue Jays win, facing eight batters, allowing a Vladimir Guerrero Jr. grand slam and Matt Chapman two-run homer. Catcher Christian Bethancourt then took over, allowing three runs of his own, including a Daulton Varsho homer, before a nine-run ninth came to a merciful end.
The Blue Jays tried to go station to station but poured it in when balls left the yard.
"You can't tell them to go up there and make outs," said Rays manager Kevin Cash. "These at-bats matter to these guys. I don't have a line. If the roles were reversed, I wouldn't want my guys to make outs. Go up there and get a hit."
The World Baseball Classic employs a mercy rules with a 15-run lead through five innings and a 10-run lead through seven and the concept has been kicked around by Major League Baseball. Cash would be against a mercy rule since "it can be manipulated where you allow (a team to reach mercy) and then you're changing the game a little bit, how you're going about competing and stuff. … There would be some strategic play. OK, let's go ahead and let them score a little bit more so we don't have to burn the bullpen. I would definitely do that if that rule was in place."
Later he added: "When games get lopsided like that, one team just is going to have to wear it a little bit. We were the ones that wore it."
Thinking back to his own experiences on the mound, Clement said he felt for Raley, but added that it was all a matter of perspective.
"It's also kind of cool to look back on," he said. "I faced the Yankees and the Twins and I can say I pitched in the major leagues. If you look at it like that, it's pretty cool, but in the moment you're just kind of like, 'Oh my God, when is this going to be over?'"
FINDING WAYS TO STAY SHARP
When Cavan Biggio pinch hit for Clement on Wednesday and took Jason Adam deep, it was in part a product of the work he and Nathan Lukes regularly put in with assistant hitting coach Hunter Mense.
To stay shard amid sparse and sporadic playing time, the two bench players have created a routine in which Mense creates competitive situations for them against the velocity machine and then keeps score as their work progresses.
"In the first part of the season, it really was just hitting flips and staying loose in case something happened," said Biggio. "Then we started to get competitive with it, tried to have some games in there to spark as much of a game situation as you can with the velocity."
Added Lukes: "When you're not playing every day, it's hard to have fun, and man we have fun doing it. We always just give each other crap – who wins, who loses and we keep it fun. … (Mense) will give us a situation like, first and third one out. If we get the job done, we get a point. Then we take a series of five swings and we just accumulate points. We roll into double play, it's minus-one point. Then we'll crank the machine up and we'll play like a normal game, we'll just keep swinging until we get three outs. Just keeping that sense of competition."
For Biggio, it's also been an opportunity to test out some adjustments he's made to his swing, trying to reduce some of the loop it's always had. He's working to get his hands to the ball quicker and has felt good with the adjustment, but there hasn't been much chance for him to get game feedback, although he went 3-for-6 in three appearances versus the Rays.
"Over the past two weeks I've kind of just tried to work down to the ball, down and through it," says Biggio. "When I first started doing it, it felt a little weird at first, but really, if you look at my swing, it probably looks pretty similar. But to me, mentally going straight to the ball, helps to create more contact. Now it's just slowing it down and trying to keep my head still and take that bat right to the ball."
Against Adam, Biggio didn't do much thinking about his swing mechanics at the plate, instead focusing on competing in the box. "I feel like sometimes in the past I've gone going into the batter's box trying to feel some things that I was feeling in the cage and taking away a little bit from my competitiveness," he said. "The past week or so, it's been good in the cage and allowed me not to really think and go out there and compete."
The homer was his first since taking Lance Lynn deep April 24.
UNUSUAL CALL-UP
The triple-A Buffalo Bisons were on a food stop en route to Lehigh Valley on Monday when manager Casey Candaele called Clement onto the coaches bus. "He was like, 'Hey you're going up' and just shook my hand," said Clement. "It was pretty cool."
The 27-year-old from Rochester, N.Y., signed a minor-league deal with the Blue Jays in March looking for an opportunity to play. He got that and capitalized, batting .328/.409/.512 in 35 games with the Bisons, earning the promotion once he was clear of a minor hamstring tweak.
After learning of his promotion, Clement went in to place his food order.
"Made the Chick-Fil-A taste a little better after that," he said with a grin.