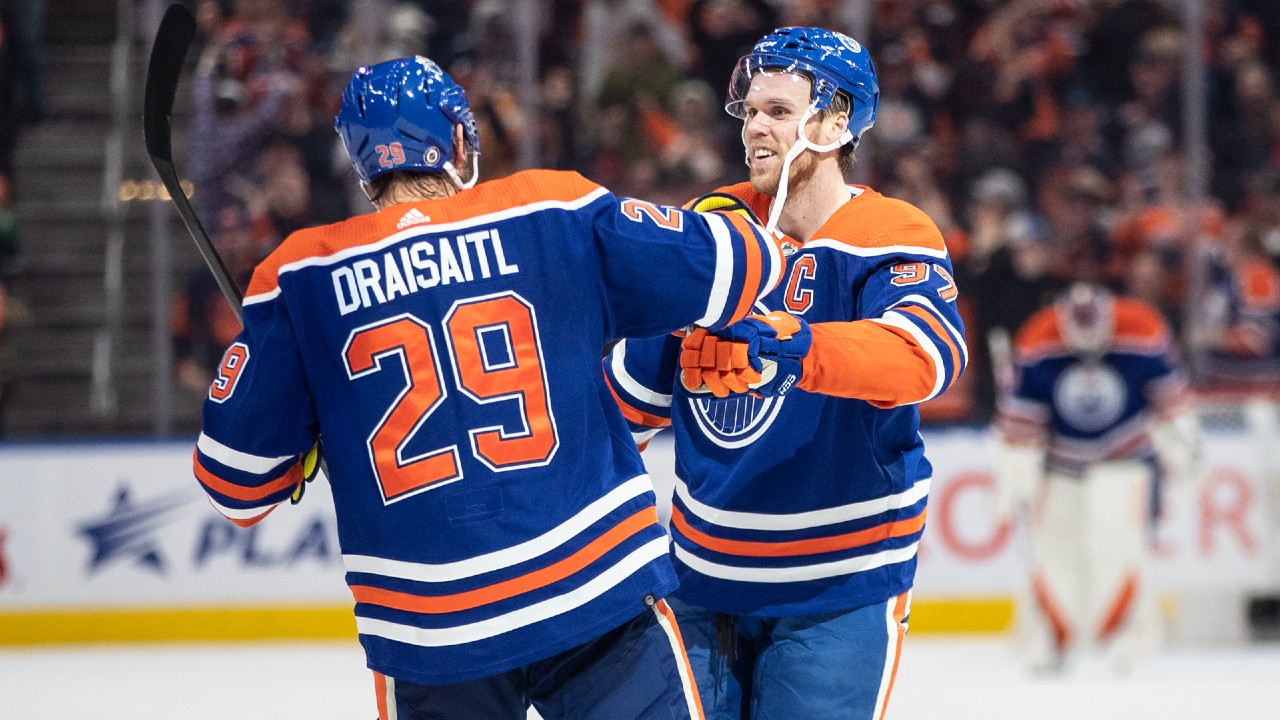 EDMONTON — Leon Draisaitl and Connor McDavid were sitting in a hot tub up at Connor's place in Muskoka, having a cold beer…
No, wait. They were kicking back on the beach, sipping Sangrias at Draisaitl's summer place in Spain, when Draisaitl looked over at McDavid and said, "You know you could score 60, right?"
OK, where were they really, when Draisaitl laid down the ultimate challenge, one that McDavid met in thrilling fashion Wednesday night in Edmonton, capping a 4-3 win with the overtime winner?
"In the gym, Spec. We are just always in the gym," winked Draisaitl, with a smile that told us what he wasn't telling us. "You can imagine. I don't have to go into detail."
Wherever they were when the challenge was issued, Draisaitl should drag McDavid back there this summer and talk to him about winning a Conn Smythe.
"He has said that all along. He has always said that," McDavid said of the 60-goal challenge. "We skate a little bit together during the summer. It's great to hang out with him away from the rink, and we still manage to talk about hockey. He has mentioned that a few times and I always kind of just laugh it off.
"It is kind of cool to get there."
Scoring goals was the last bastion of Draisaitl dominance over his buddy. He has two 50-goal seasons, while McDavid's career high was 44 coming into the season.
"I told him in the summer that there was no reason that he can't (score 60 goals)," Draisaitl said. "He is so special and creates so many opportunities for himself and has enough looks to get there. I am obviously very happy for him and proud of him. He is just a special player."
That two players bound for the Hall of Fame — one voted the best passer in the NHL in a poll conducted by the NHL Players' Association, the other the fastest man to score 60 goals since Mario Lemieux in the mid-90s — find themselves on the ice together as much as these two do is both criminal and a miracle, all at the same time.
The league's best passer and, for now anyway, the league's best scorer. What the heck did Northern Alberta ever do to deserve this?
In a game that McDavid opened with a deft carom off the skull cap of Arizona goalie Connor Ingram — just soft enough not to injure the Coyotes goalie, just hard enough to bank off Ingram's noggin and into the net — Draisaitl sent him in alone not once, but twice, in overtime before the Oilers captain finished his night's work.
"I kind of felt like I was pressing for the 60th all night," McDavid said. "I was disappointed not to bury (the first one), you are not going to get many better looks than that. It is not every day you get two breakaways back-to-back like that. He (Draisaitl) made two unbelievable plays. Just ridiculous."
Normally, the fact that Draisaitl had four assists in a 4-3 win would steal the headlines. He was, as baseball folks say, absolutely dealin' on Wednesday.
Alas, this game is a metaphor for the big German's career.
He'll go down in history as one of the greats — and one of the top two or three Euros, when it's all said and done — yet as long as Draisaitl plays next to McDavid, he'll never be the best player on his own team.
Draisaitl was a maestro on Wednesday, issuing all-world passes through the night. Then he stood in the dressing room, surrounded by cameras and microphones, and answered questions about McDavid.
He was as graceful in that setting as he was on the Rogers Place ice.
"He's going to downplay it, as we all know," Draisaitl said. "It is pretty hard to score in this league, and to score 60 in a season and still have 10 games to go is pretty remarkable. He is just a special player."
They dropped the puck at 8:52 p.m. local time, and started the third period at 10:39 p.m. When McDavid scored it was 11:19 p.m. Mountain Time, a moment worth waiting for out West, worth staying up for back East.
Beer leaguers were finished their games before the Arizona Coyotes and Edmonton Oilers hit the showers. Before Oilers head coach Jay Woodcroft was asked what he thought about his captain's drive to be the best.
"It's insatiable," began Woodcroft, whose team has won five straight and nine of 11. "It's what gets him up in the morning. It's what he dedicates his life to.
"We get to see those highlight reel goals tonight, but most people don't realize he's in the gym right after the game, doing things to prepare his body for the next time. He's making sure he gets enough rest and what he puts into his body, his fuel, he's ultra-disciplined. Every moment in his day is geared to being the best he can be. We're in the NHL and a lot of players do this. But this is the best player in the world.
"He takes that to a different degree."
That's not the only thing, as it turns out.