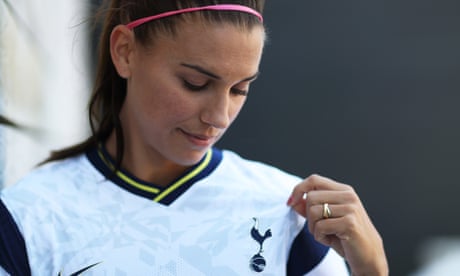 US striker could make her Spurs debut against Arsenal in the FA Cup on Saturday and her presence is already being felt
Many a manager has trotted out the "no player is bigger than the club" cliche. It's a negative, usually aimed at a player perceived to have grown too big for their boots and often at one on their way out of the door. Managers use it to temper the frustrations of fans about to lose a star, but they also believe it.
Except there are exceptions, and with the recruitment of the US superstar Alex Morgan Tottenham have propelled their women's team, who have gone on a gravity-defying promotion journey to reach the top flight, to another level.
Related: Tobin Heath aims to be Manchester United's disrupter-in-chief | Suzanne Wrack