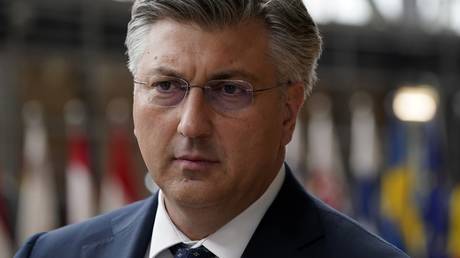 The shipments are welcome to pass through but not stay, Croatian Prime Minister Andrej Plenkovic has said
Zagreb informed Kiev that it has no wish to expose domestic farmers to competition from Ukrainian grain, Croatian Prime Minister Andrej Plenkovic has said in comments to local media about the escalating protectionism spat between Ukraine and some of its EU neighbors.
"Croatia's stance and desire is that we are a transit country, not a country receiving enormous amounts of Ukrainian grain that is cheaper than ours, which would mean our farmers are in trouble," Plenkovic said, as quoted by the Croatian News Agency on Monday.
He was commenting on the unfolding standoff over the decision by three of Ukraine's neighbors to impose bans on imports of Ukrainian grain. A previous restriction approved by the EU expired last Friday, but Poland, Hungary, and Slovakia chose to unilaterally extend the ban. In response, Kiev has filed a complaint against them with the World Trade Organization.
Romania, which was one of the five EU nations that pushed for the temporary import ban, has indicated that it would also reimpose the restrictions if Ukrainian grain threatened its market again. Prime Minister Marcel Ciolacu said that he has struck a gentlemen's agreement with Kiev that "not a single gram of grain" would be imported into his country from Ukraine.
Bulgaria, the fifth country subject to the now-lifted prohibition, said that Kiev had promised that its exports would not cause trouble again.
When asked by journalists whether Croatia could follow the example of Poland, Hungary, and Slovakia, Plenkovic stressed his nation's transit role. Ukrainian grain flows through the country, using Croatian ports on the Danube River and the Adriatic Sea, he noted.
The route through the Danube became more important for Kiev after Russia revoked security guarantees for civilian maritime vessels heading to and from Ukraine through the Black Sea when it pulled out of the Türkiye- and UN-mediated grain deal in July. The route is more profitable than hauling goods via the EU.

READ MORE: EU country's farmers stage major Ukraine grain protest

Russia says it exited the deal, which had been in effect for a year, because the UN had failed to deliver on its promise to facilitate relief for Moscow from Western sanctions that it says hampers its ability to export grain and fertilizers.