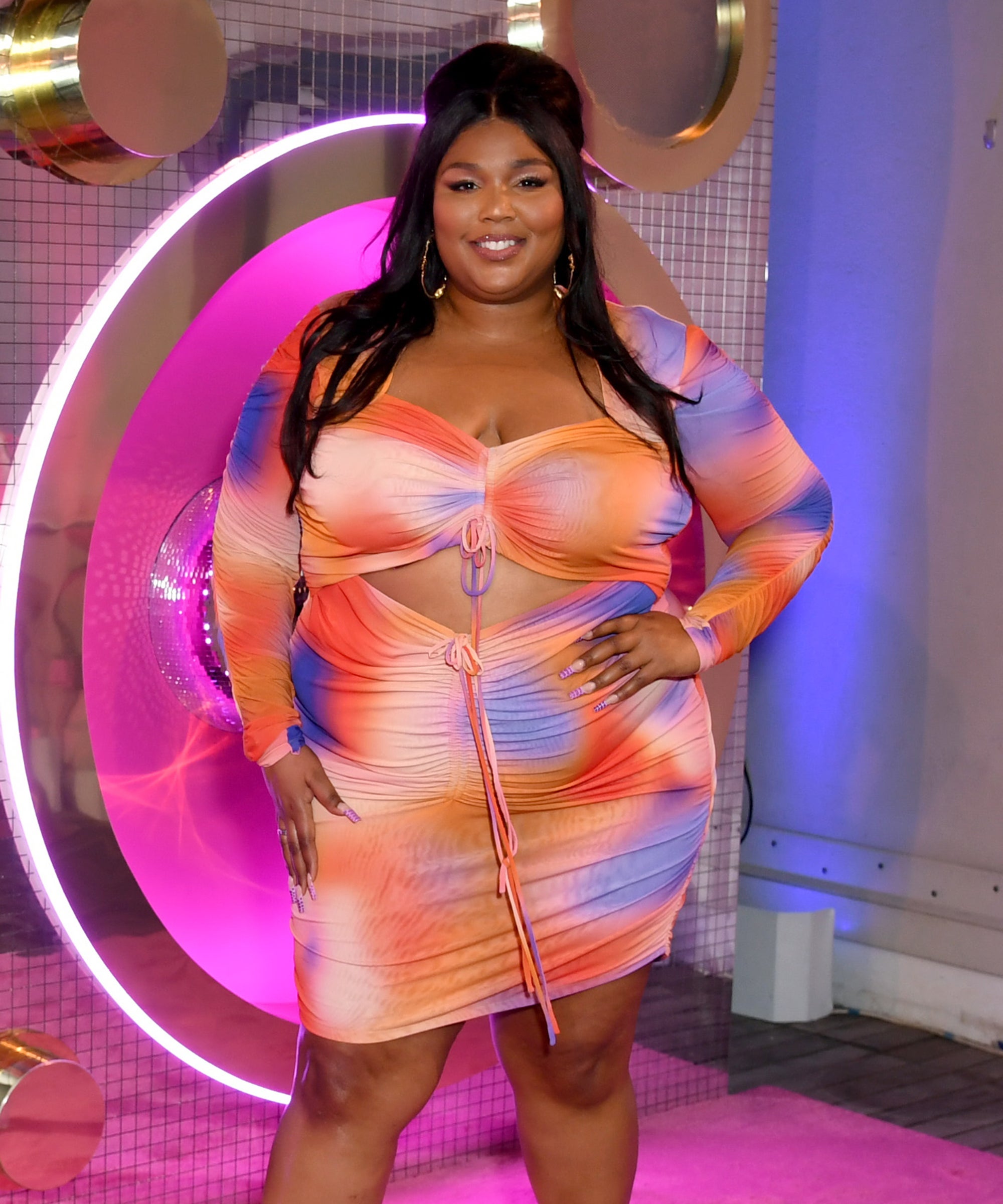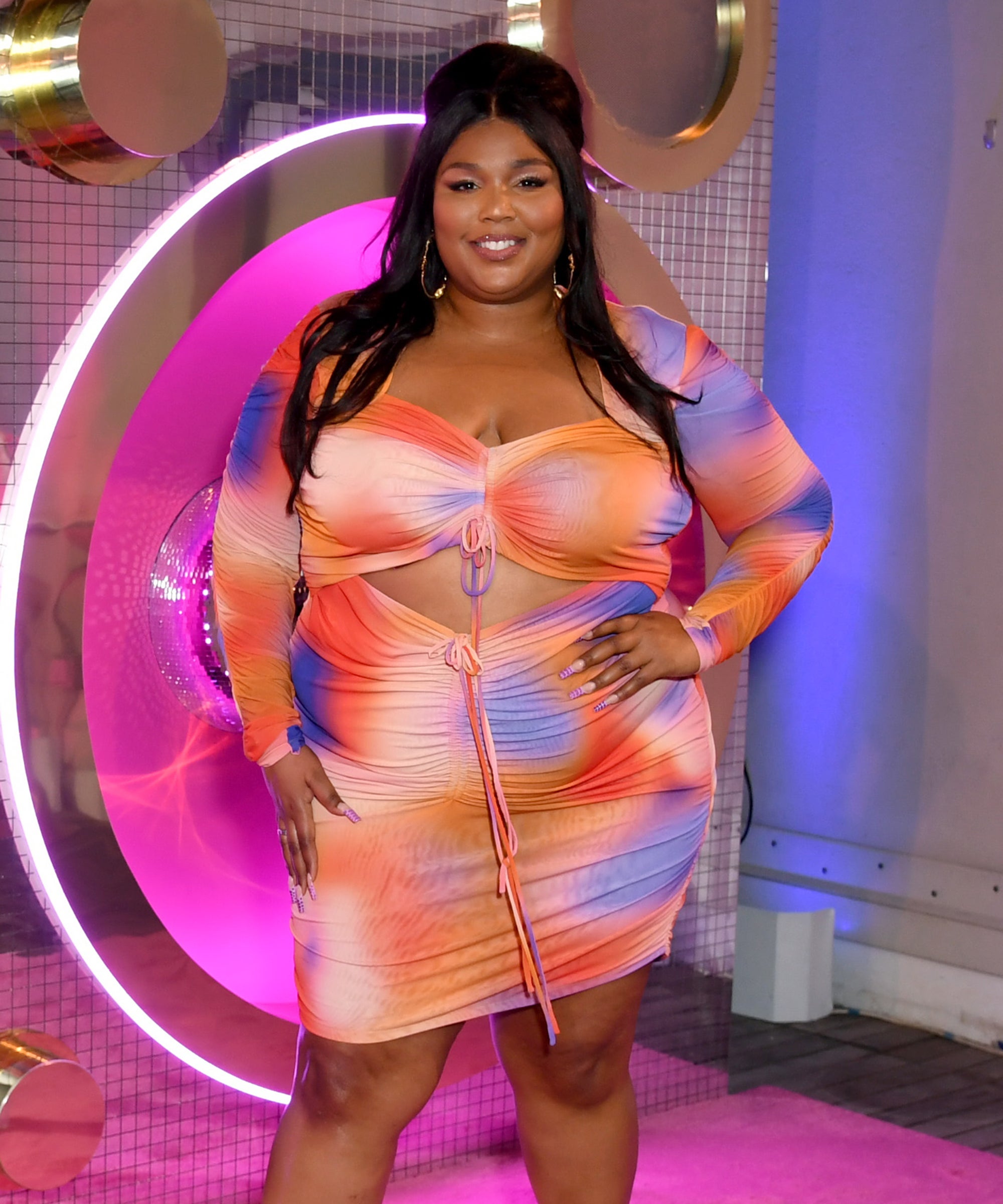 Getting dressed isn't usually considered to be a spiritual activity. When you're running late for work, you just want to make sure your underwear is on the right direction and you don't spill coffee on your white button-down while you ride the subway. But when Loewe's Spring 2022 runway show included a swirled abstraction of painter Jacopo Pontormo's 1528 piece "The Deposition From The Cross," it called to mind something unexpected: the soft glow of an aura photo.
The brand's designer Jonathan Anderson's hazy swirls of color may be the most notable iteration this season, but he's not alone — emerging labels like Binya, Barragan, and Chet Lo, along with known industry veterans like Off-White and LaPointe, have adopted the tie-dye-esque, highly-saturated gradient look. "I think it's a moment of experimentation," Anderson told Vogue of his post-pandemic attitude. "If you're going to reset after this period, you need to allow a moment to birth a new aesthetic. Start again."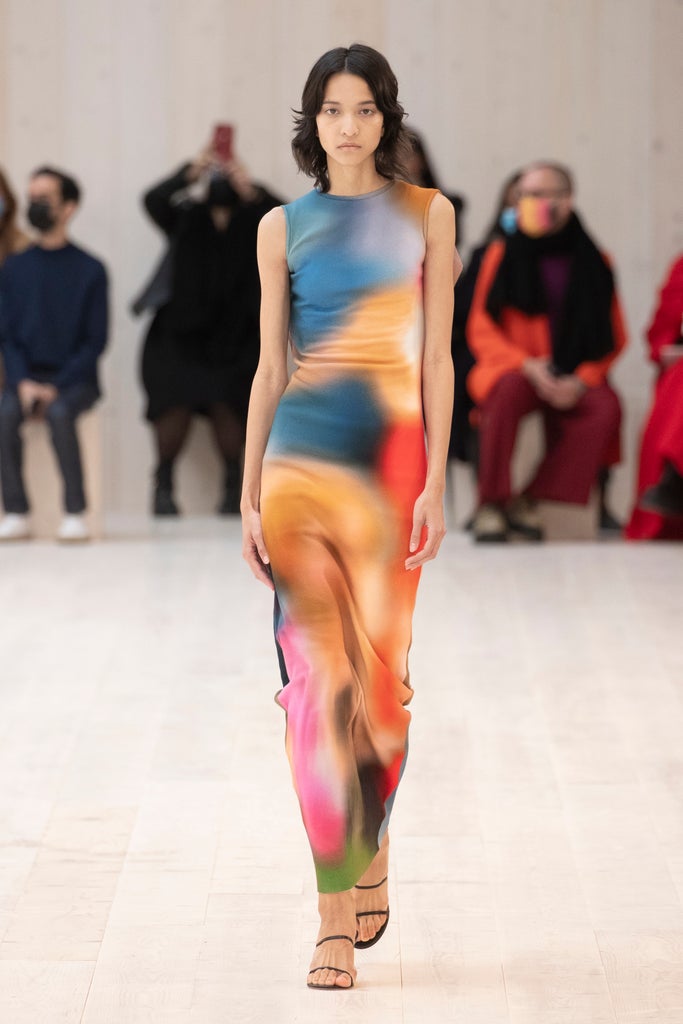 If you aren't familiar with auras, Sara E. Silverstein, the founder of Inner Light Aura, describes them as "the invisible energy field that is always surrounding all living beings. It is the energy that we as individuals create that cannot be seen by the naked eye, but we can often feel it." Aura photos, which were popularized with the invention of the AuraCam 6000 during the 1980s, use hand sensors to allegedly expose the electromagnetic field around an individual. The result is a colorful cast over a more standard Polaroid portrait.
As Anderson talks of rebirth, Susanna Merrick, the founder of Aurawear, explains that your unique aural color combination can change over time. "Each color of the aura has an archetype, an aesthetic of feeling that can resonate with the color itself," she explains. Identifying with one color may not mean wearing it head-to-toe, but identifying with the energy that the color represents. Different days, months, or years of your life may draw you to certain hues.
Translating that energy into what you wear can mean anything from simply embodying a color's energy to embracing the colorful swirl of aura photography into a piece of clothing. "I think as a culture we are all falling in love with understanding ourselves a bit better," says Silverstein, attributing the rise of aura-like prints to a curiosity around the art. "Auras are blowing up in popularity right now. If people have an opportunity to wear a striking piece that makes them feel incredible, then they are going to flock to it."
Don't write it off as just a passing trend: The colors you choose and the way you choose to style an aura-inspired piece might also offer a bit of insight into your sense of self. "My experience with processing energy and aura is a catalyst and a tool to communicate," says Merrick. "Each color that is coming through, depending on when it's coming through in your reading, is a catalyst for a message or information that you are meant to receive."
Merrick adds that the key to embracing the power of the aura in your wardrobe is the intentionality you put into getting dressed. "Whether color has an energetic effect on someone, or it is an emotional relationship they formed with that color since they were a child, it doesn't matter. It's the intention," she says. According to Merrick, green, red, and purple are three particularly strong color archetypes — red "is about femininity on your terms," green is "type-A energy," and violet is "visionary energy" — that you can use as sources of power and inspiration.
Regardless of what color makes you feel the most powerful, embracing the subtle swirling haze of aura-inspired prints can create the chance for you to explore what it is about wearing blue, green, red, or yellow that makes you feel like the best version of yourself.
At Refinery29, we're here to help you navigate this overwhelming world of stuff. All of our market picks are independently selected and curated by the editorial team. If you buy something we link to on our site, Refinery29 may earn commission.
Like what you see? How about some more R29 goodness, right here?