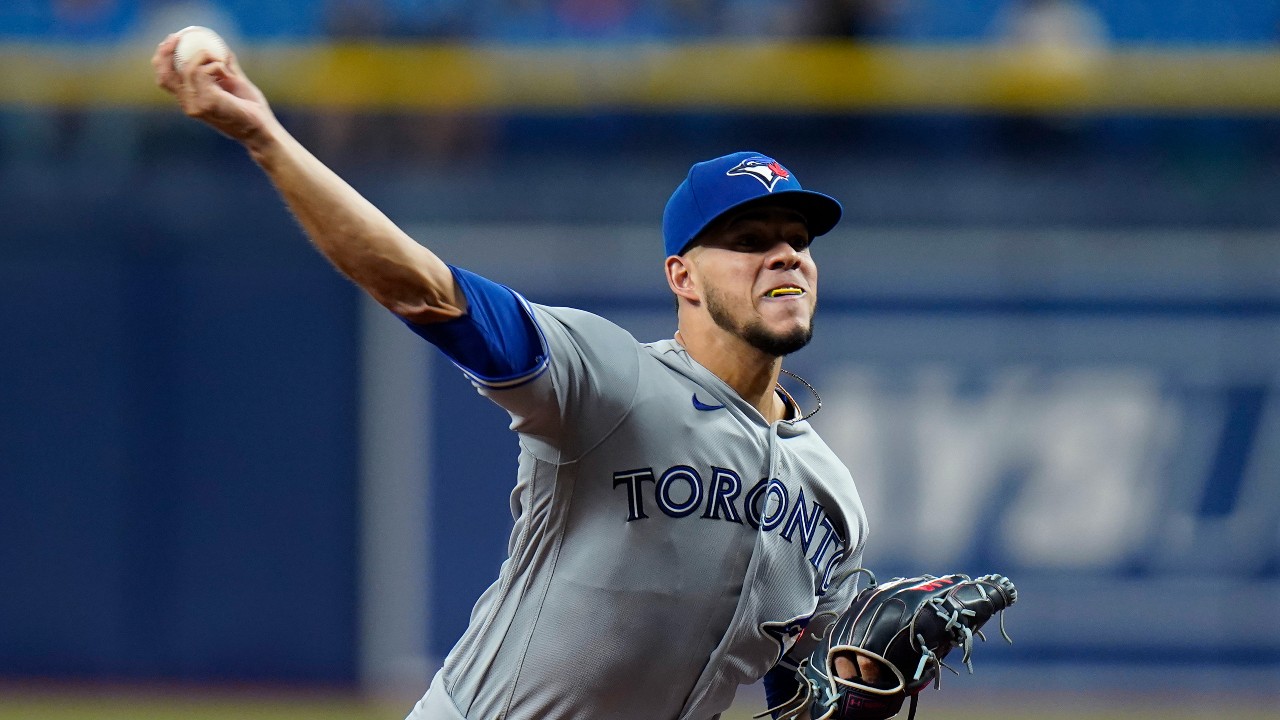 ST. PETERSBURG, Fla. – Maybe if Jose Berrios snares that soft Manuel Margot comebacker, or simply leaves it for Cavan Biggio to collect, the opener of a meaningful four-game set against the Tampa Bay Rays doesn't unravel quite as dramatically as it did for the Toronto Blue Jays.
Fielded cleanly by either player, it leads to the final out of the second inning Thursday with the game tied 3-3. Instead, the ball deflected off Berrios's glove just enough for Biggio to have no play, the first of three seeing-eye RBI singles that restored a three-run Tampa Bay edge right after a Blue Jays rally, ended the righty's night at two innings and 74 pitches and sent the Rays to a 10-5 romp.
The setback narrowed the Blue Jays' (84-66) lead over the Rays (83-67) for the top wild-card spot to one game, with the Seattle Mariners (82-67), 9-5 winners over Oakland earlier Thursday, 1.5 off the pace.
While poor fortune may have played a role in that Margot single, and the soft flare Wander Franco chopped just beyond Bo Bichette's reach, and the grounder Randy Arozarena shot through the 5-6 hole, this game was a thorough hot mess for the Blue Jays.
Coming off a disheartening 4-3, 10-inning, four-hour-eight-minute loss at the Philadelphia Phillies on Wednesday night that led to a 4 a.m. arrival in St. Petersburg, Fla., the Blue Jays began a series against a key rival with a chance to create real separation in the standings.
They got off to a quick start before a sparse Tropicana Field crowd of 8,799 when George Springer tripled and Bichette doubled him home in the first off opener JT Chargois.
But Berrios was off from the jump, as Jonathan Aranda led off with a homer, Arozarena tripled home Margot and then scored on a wild pitch immediately after during a 31-pitch first.
Homers by Teoscar Hernandez and Whit Merrifield in the second off Ryan Yarbrough knotted things up but Berrios couldn't close out the bottom half, recording two outs around a Ji-Man Choi walk before four straight singles brought in three runs. His 43rd pitch of the frame led to a David Peralta fly ball that ended the frame.
Berrios' subsequent exit left six bullpen-shredding innings for four relievers, including Foster Griffin in his Blue Jays debut, to cover, which was less than ideal with Mitch White expected to be recalled to start, or pitch in bulk, on Friday against Jeffrey Springs.
Trevor Richards allowed three more runs and David Phelps another while the Rays shut down the Blue Jays offence, even after Ryan Yarbrough left the game in the third with right side discomfort, until Merrifield hit his second homer of the night in the ninth. Tampa Bay used seven pitchers in all.
Griffin is the likely countermove for White as the roster juggling continues for the Blue Jays after they placed Santiago Espinal on the injured list with a left oblique strain. Otto Lopez was recalled to take his spot and he replaced Bichette in the field in the eighth inning.
Lourdes Gurriel Jr., meanwhile, worked out again at the club's complex in Dunedin, Fla., as he recovers from a left hamstring strain, but has yet to run and will be re-evaluated this weekend.