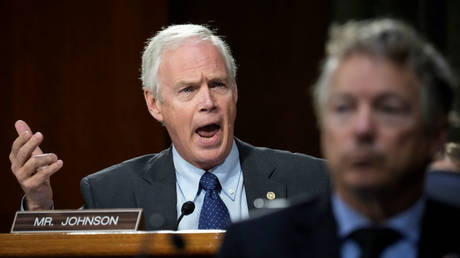 Senator Ron Johnson has claimed that the secretary of state falsely testified about his dealings with the president's son
US Secretary of State Antony Blinken "lied bold-faced" in congressional testimony about his contacts with President Joe Biden's son Hunter Biden, Wisconsin Senator Ron Johnson has claimed.
Then a campaign aide to President-elect Biden, Blinken agreed to testify voluntarily to a Senate committee investigating the Biden family's business dealings in December 2020, Johnson said on Sunday in a Fox News interview. At the time, Joe Biden had picked Blinken to become America's top diplomat, an appointment that would require Senate confirmation.
"He wanted to be secretary of state," said Johnson, a Wisconsin Republican. "And now, because of more information that's come out, we know that he lied bold-faced to Congress about never emailing Hunter Biden. My guess is he told a bunch of other lies that hopefully we'll be able to bring him and his wife back in."
Johnson suggested that Blinken and his wife should preserve their records for legal reasons. "You cannot trust Joe Biden. You cannot trust Hunter Biden. You can't trust the Biden family. You can't trust so many of the people that they have surrounded themselves with."
At the time of Blinken's voluntary testimony, Joe Biden had just won the 2020 presidential election despite controversy surrounding his family's business dealings in Ukraine and China. The scandal surfaced just three weeks before the election, when the New York Post reported on the contents of a laptop that Hunter Biden had allegedly abandoned at a Delaware computer repair shop.
Former CIA director Mike Morell testified to Congress earlier this month that shortly after the laptop bombshell came out, Blinken nudged him to organize an open letter claiming that the story was the product of a Russian "disinformation campaign." Morell, who was among more than 50 former US intelligence officials who signed the letter, admitted to Congress that he was motivated by a desire to help Biden win the election.
Asked by Fox host Maria Bartiromo to clarify whether Blinken lied under oath, perjuring himself, Johnson said, "Yes, he did. He said he did not email Hunter Biden, and now we have those emails. We also know that his wife, using her private email address when she was an employee of the State Department, was basically a conduit between her husband and Hunter Biden as well."
Johnson called for further investigation of the matter, including issuing a subpoena to force Blinken to testify again. However, Biden's Democratic Party controls the Senate and its subpoena power.

READ MORE: Ex-stripper wants love-child she had with US president's son to be a Biden – media

"There's a lot of truth that has to be uncovered here yet that's being covered up by the Deep State," Johnson said. "Let's face it: The Deep State knows what it did. These co-conspirators inside the agency know exactly what they did. They don't give up their secrets very easily. They know how to hide things, they know how to slow-roll everybody."