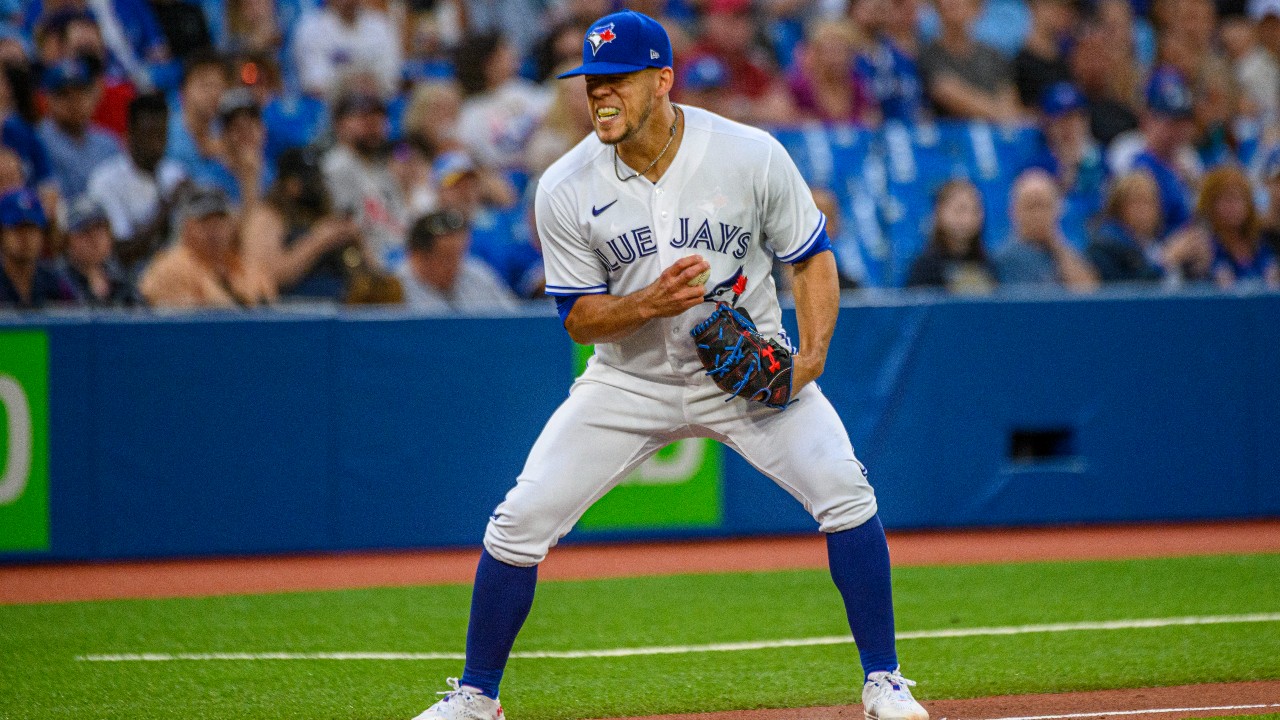 TORONTO — In his four starts prior to the all-star break, Blue Jays starter Jose Berrios believes he found himself on the mound again.
The first half of his season didn't go to anyone's expectations, most notably his own, with periods of dominance counterbalanced by periods of struggle. Five times he gave up one run or less in a start. Six times he gave up four or more while lasting less than five innings.
A 3.09 ERA in those four July outings, including 29 strikeouts in 23.1 innings of work, restored some balance. During a weekend side session in Boston, the ace right-hander told Toronto Blue Jays pitching coach Pete Walker his goal was to maintain the mechanics behind those results.
The first test comes Tuesday night when the Blue Jays begin a series against the depleted St. Louis Cardinals.
"The way I felt in those starts, that's the way I want to keep feeling for the rest of the year," says Berrios. "Obviously I had a rough first half, but right now my mind is just on keeping giving a chance to my team to win ballgames, no matter how many innings or what's the score. I want to throw quality outings, but I want to be focused pitch-by-pitch."
More often than not this season, Berrios has thrown quality outings, a fact easily obscured by his 5.22 ERA, 1.357 WHIP and below career-average strikeouts-per-nine of 8.2. The Blue Jays are 14-5 in his 19 starts, a big reason whey they headed into Tuesday's play holding the first wild card with a 53-43 record.
The path there, however, hasn't been smooth.
There was the Opening Day stunner, when he didn't escape the first inning against lowly Texas. A six-run, zero-strikeout muddle in Cleveland. Worrying dead arm in Anaheim. Three homers in four messy innings at Chicago.
Every starter has a blip or two. But for someone as consistent as Berrios has been over the course of his career, the degree of variance was new. While he repeatedly told himself that "we are human, we are not perfect," he relentlessly "worked and grinded myself, trying to be better every day."
Walker said Berrios "did a great job playing it off and being professional," but added "you could tell it was eating at him because he knows how good of a pitcher he is and he knows how much he means to this team and the staff. Nobody would know, but it definitely affected him because he has such high standards for himself."
The July run helped steady him, in large degree because he found a more consistent and comfortable release point, something that has been a moving target for him this season.
These charts of his release point in 2021 and 2022 demonstrate that.
Now, the inconsistency is somewhat exacerbated by a six start stretch in which he moved to the first-base side of the pitching rubber. But the variance is still significant and it's only recently that Berrios says, "I've been feeling that rhythm, that same arm slot for every pitch."
"That's what I want feel," he adds. "I throw better changeups and better breaking balls when I am able to do that. How my legs and upper body work help my arm slot. If everything works together, my arm slot is going to be where I want it."
A steadier arm slot also impacts the way he attacks the strike zone, creating cleaner lanes that better disguise his pitches.
There were stretches that he too often was finding the middle of the zone with his four- and two-seamers. The Blue Jays stressed pitching to the inner and outer thirds, which led to his breaking ball and changeup becoming more effective because they were in the same slot as his fastballs more often.
"Because of the track record, you expect him just to turn it on and get right back to where he was. He got to the point where he really needed to dive into some things and make sure we weren't heading in the wrong direction," says Walker. "His body got a little out of whack, his arm slot changed a little bit and his release point was off. Got back to some slight mechanical things. Some areas that we're focusing on, where he's attacking, that we maybe got away from.
"I do think he feels great now," adds Walker. "Harm slot is back to where it needs to be, his athleticism is showing in his delivery and his velocity is remaining consistent."
The importance of that for the final two-plus months of the season can't be understated. Along with Kevin Gausman and Alek Manoah, an on-his-game Berrios gives the Blue Jays a front three as good as any other in the majors, complemented by the remarkably steady Ross Stripling. With Yusei Kikuchi's high-risk, high-upside potential expected back in the rotation this week, the best version of Berrios is needed more than ever to ensure equilibrium in the rotation is maintained.
"It gives us a substantial edge in the starting pitching department when you have Berrios going out there every five days, pitching like he can pitch," says Walker. "He is an integral part of this rotation. Can't say that enough."
Not that Berrios wants to hear that he's more important than anyone else. He says "this group is special," and adds that "I'm not Superman, a superhero here."
"I know we've got a really good team to go out there and compete. I always believed in that," he says. "It's just a process for me this year so far, something God is going to show me and teach me and I'll be able to come here to work and learn. We have the group. Without me this group can go really far. Now it's on me to just do my thing and help this team win as much as we can."