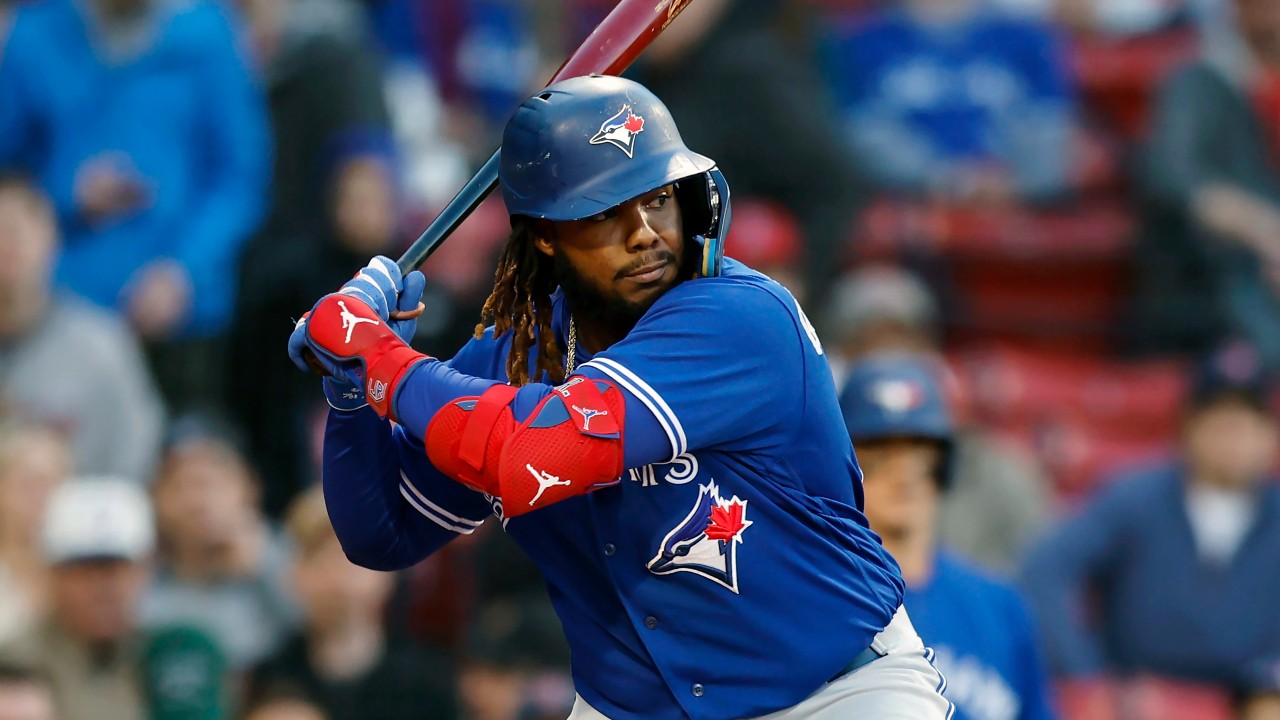 Since the beginning of the Vladimir Guerrero Jr. and Bo Bichette era the Toronto Blue Jays have been defined by offensive firepower.
Vladdy may have a Gold Glove on his shelf, but Toronto's foundational stars are bat-first players. Since 2020, the team ranks second in the majors in wRC+ (113) and only two teams have scored more runs.
Making a defensive upgrade in the outfield that replaced Teoscar Hernández and Lourdes Gurriel Jr. with Daulton Varsho and Kevin Kiermaier consciously lessened the lineup's bite — but the 2023 Blue Jays were still projected to rake.
Although a 20-run effort on Tuesday bolstered their numbers across the board, the Blue Jays rank 10th in MLB in scoring and 15th in home runs. Plenty of teams would be happy with that, but it doesn't meet the standards of this squad.
There are a few players on this team that are not hitting in a way that measures up to their track records right now. A closer look at that group could shine a light on the Blue Jays' chances to become the offensive powerhouse they've been in the past once again.
Considering Springer takes more trips to the plate than anyone on the team, the fact he's slashing an uninspiring .250/.321/.380 is an issue for this offence.
The outfielder's contact quality has been an issue. His average exit velocity (86.4 mph) is in the 12th percentile and his hard-hit rate sits in the 26th percentile. His xwOBA on contact (.359) is in decline for the fifth consecutive season.
All that soft contact means that Springer has been a below-average power hitter for the first time in his career in 2023.
The good news for Springer is that he's shown signs of life recently. Since May 3 he's hit a healthy .303/.391/.500 with four home runs.
As the four-time All-Star enters his mid-thirties it's worth wondering about his potential decline, but a career-low strikeout rate (15.1 per cent) and a 98th-percentile max exit velocity suggest his bat still has pop and pitchers aren't blowing anything by him.
Swinging for the fences more might do Springer some good, but he appears to be on the right track.
Daulton Varsho
Varsho had a low point on Thursday when he was lifted in the ninth inning for Ernie Clement — a player in his third game with the Blue Jays who entered the contest with a 49 wRC+ at the MLB level.
Although taking Varsho out against some tough lefties makes sense given his dubious track record versus southpaws, the move indicated a lack of faith in Varsho.
That's fair given the outfielder has a 81 wRC+ to his name, but he doesn't look too different than he did when he generated above-average production with the Arizona Diamondbacks last year.
His average exit velocity is down slightly from 2022, but his expected batting average, slugging, and wOBA have all taken a step forward.
None of those numbers are sterling…
…but Varsho wasn't a Statcast darling with Arizona in 2022:
His hard-hit rate is also up a touch while his walk rate and strikeout rates have both improved slightly. Varsho seems to be more or less the same guy we saw last year. If he keeps doing what he's doing his production is likely to tick up.
Considering the price the Blue Jays paid to acquire Varsho they may have been hoping for some growth, but he's less than two months into his Toronto tenure. For now, the concern level surrounding the outfielder should remain relatively low.
Kirk's ability to draw walks and avoid strikeouts has been elite, but when the ball has come off his bat the results haven't impressed.
For a time, the catcher's biggest issue was a tendency to top the ball, but he seems to have gotten that under control in recent weeks.
The 24-year-old's average exit velocity (86.0 mph) remains well below last year's standard (90.5) and his max exit velo is an unimpressive 107.7.
All of that would be a little more concerning for Kirk if he hadn't demonstrated such streakiness with his power last season.
The catcher didn't record a single extra-base hit until May 3 in 2022, the from that day until the end of June he posted a .272 ISO with 10 home runs. In his games from Canada Day on he posted a .080 ISO and four long balls.
It's possible that his mid-season hot streak last year was a total anomaly, and he's just the guy we've seen since the second half of last year. However his ISO hovered around .200 in 2021 and 2022 in limited at-bats — and for most of his minor-league career.
Kirk's plate discipline gives him a palatable offensive floor, but until he flashes some power again his ceiling will be limited.
Chapman's yearlong numbers suggest he doesn't deserve a mention on this list, but the difference between his April and May numbers warrant a check-in.
Early in the season he was quite literally baseball's most dangerous hitter, but since May 1 he's hit .198/.267/.308 with just two home runs.
The issue at hand is a spiking strikeout rate, but it hasn't reached a level that's unprecedented for a guy with plenty of swing-and-miss in his game.
Chapman has continued to hit the ball hard through his slump with an average exit velocity of 91.9 mph and a hard-hit rate of 52.4 per cent. His BABIP of .262 in this stretch is probably on the unlucky side, considering those numbers.
Like Springer, Chapman has shown some positive indicators in recent days. He's hit a ball at least 100 mph in eight of his last 10 games. In one of the games he didn't reach triple digits he smacked a ball 99.6 mph.
He also has four Barrels in his last six games after generating three in the rest of May. In the midst of a season where his xwOBA is 44 points higher than it's ever been, Chapman looks like he's going to be just fine.
Vladimir Guerrero Jr.
Much like Chapman, Vladdy's season-long numbers are strong. He's capable of a wRC+ above 138, but he's hardly dragging down the Blue Jays offence.
That said, he's worth checking in on because of his struggles since he missed a couple of games due to wrist soreness. Since sitting out a couple of games in Pittsburgh, Guerrero has hit .250/.313/.393 in 64 plate appearances.
His only home run in that time came off a position player's 52 mph eephus pitch.
Despite the lack of long balls lately, Guerrero has been hitting the ball hard over the last couple weeks with an average exit velocity of 94.0 mph and he's kept his groundball rate below 50 per cent.
The biggest issue he's encountered recently is an uncharacteristic strikeout spike. This is not a trend the Blue Jays want to see.
In fact, Vladdy is striking out a rate the team hasn't seen since 2020:
His contact rate hasn't been as bad as his strikeout numbers, though, which suggests some of the issues with Ks come from a disproportionate number of two-strike whiffs.
That's something that should even out.
As long as the 24-year-old keeps hitting the ball hard — while avoiding grounders — the power production will come. The Blue Jays only need to be worried if he's not hitting the ball at all.