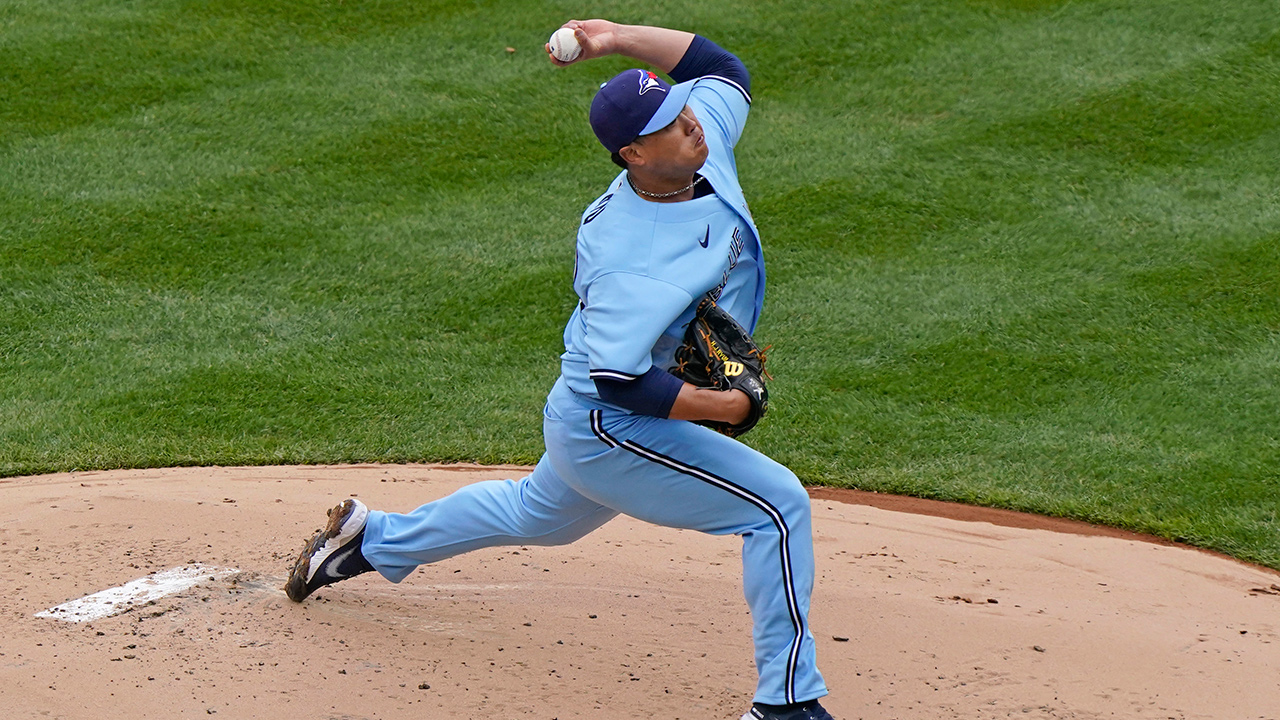 With their 2021 season barely underway, the Toronto Blue Jays are already feeling the effects of a particularly potent strain of the injury bug.
On Saturday — just their second game of the season — they'll be starting Ross Stripling, who was ticketed for the bullpen prior to spring training, and on Sunday it looks like T.J. Zeuch, an even more unlikely rotation candidate, will get the call. The club is also already missing its $150-million man in centre field, and its biggest bullpen acquisition, Kirby Yates, is out for the year.
That's not a season-destroying flood of ailments, but it will certainly test the Blue Jays' depth. It also won't be the last injuries this team deals with over the course of a 162-game season, especially one where pitchers are dealing with workload fluctuation coming off a shortened 2020.
With that in mind, here's a tiered breakdown of who this club can least afford to lose for an extended period as 2021 gets underway.
Tier 1 – A league of his own
Player: Hyun-Jin Ryu
Rationale: Having Ryu in this spot has to be a little bit scary for the Blue Jays considering the Korean southpaw's injury history, but there's no way around his indispensability to the team.
Even when Robbie Ray and Nate Pearson return, Ryu will be the only starter this team can count on for consistent excellence. Even consistent competence if far from a sure bet from anyone else in this rotation. In terms of the starters on the roster today, Steven Matz might be the best bet to clear that bar, and he had a 9.68 ERA last year.
Tier 2 – A depth-deficient infield
Players: Bo Bichette, Marcus Semien, Cavan Biggio
Rationale: Not only are these players extremely valuable in their own right (ZiPS projects them to be three of the Blue Jays' top four position players and combine for 11.4 WAR), if any of them went down for long, that would mean a heavy dose of Joe Panik. While Panik had his moments in 2020, among players with 1,000 plate appearances since 2018 his wRC+ of 76 ranks 161st of 164.
Lose one of these players and you've got a hole in the lineup. The calculus changes slightly if Vladimir Guerrero Jr. proves capable of playing third for long stretches, but that hasn't been proven yet.
Tier 3 – Big bats
Players: George Springer, Guerrero Jr., Teoscar Hernandez, Lourdes Gurriel Jr.
Rationale: All of these players have competent backups, with the outfield going four deep when Springer is healthy, and Rowdy Tellez capable of filling in at first. That said, this group will be relied on to carry much of this team's offensive load, and the absence of any of them would be felt over time. That's especially true of Springer because of the defensive upgrade he provides over his primary understudy, Randal Grichuk.
Tier 4 – High-upside starters and starting-calibre bats
Players: Tellez, Danny Jansen, Matz (plus Ray and Pearson presuming they aren't gone for long as it is)
Rationale: Tellez and Jansen make this list for opposite reasons. The former's left-handed power bat is useful to a righty-dominant lineup, although if he went out there would be DH-flexibility silver linings. Jansen's defensive presence is valuable and asking Alejandro Kirk to carry the load might be a tough ask. The starters are here because the team can ill afford to lose anyone who can provide good innings behind Ryu, and the trio of Matz, Ray, and Pearson seem most likely to do just that.
Tier 5 – Bullpen aces, remaining starters, and Grichuk
Players: Grichuk, Tanner Roark, Stripling, Jordan Romano, Rafael Dolis, Ryan Borucki, Anthony Kay
Rationale: Grichuk is in a weird spot with the 2020 Blue Jays because he should get plenty of at-bats, even when Springer returns, as the club rests players and targets specific matchups. He's a strong fastball hitter with power, provides solid outfield defence in a corner, and can soak up some innings in centre. That said, on any given day against a right-handed pitcher his services aren't strictly-speaking required, and Jonathan Davis could play a competent fourth outfielder/defensive substitution/pinch runner in his stead with the starters playing more.
Roark and Stripling may see other pitchers supersede them — especially come trade deadline time — but for now the Blue Jays need innings from their rotation badly enough that seeing either go down would be a bit of a blow. While Kay isn't currently on the roster, he's arguably the last credible depth starter this team has left, and if he went down they'd be an injury away from rotation chaos.
We're used to considering relievers as relatively expendable, but with Yates out, the Blue Jays bullpen is a little thinner and their high-leverage guys are important. Some of the arms behind Romano, Dolis, and Borucki have the stuff to thrive in critical roles, but none of them are proven commodities. It's possible that Julian Merryweather, Tyler Chatwood, and a newly converted Trent Thornton will step up and make this bullpen look more stable (Merryweather's debut outing was impressive), but for now it appears to be fairly reliant on its top-three relievers.
Tier 6 – Everybody else
Players: The remainder of the 26-man roster
Rationale: This is not to say that the rest of the Blue Jays' players won't be important to their success. Nothing is further from the truth. However, the rest of the team projects to play smaller roles, has capable depth behind them, or both.
As devastated as much of the Blue Jays world would be to see Kirk go down, the team wouldn't see its chances rocked by a veteran backup like the newly acquired Juan Graterol step in with Jansen's playing time increasing. Santiago Espinal showed last year he can fill in as a utility infielder in a pinch, and there are some bullpen pieces outside the 26-man roster like Anthony Castro, Travis Bergen, and Ty Tice.