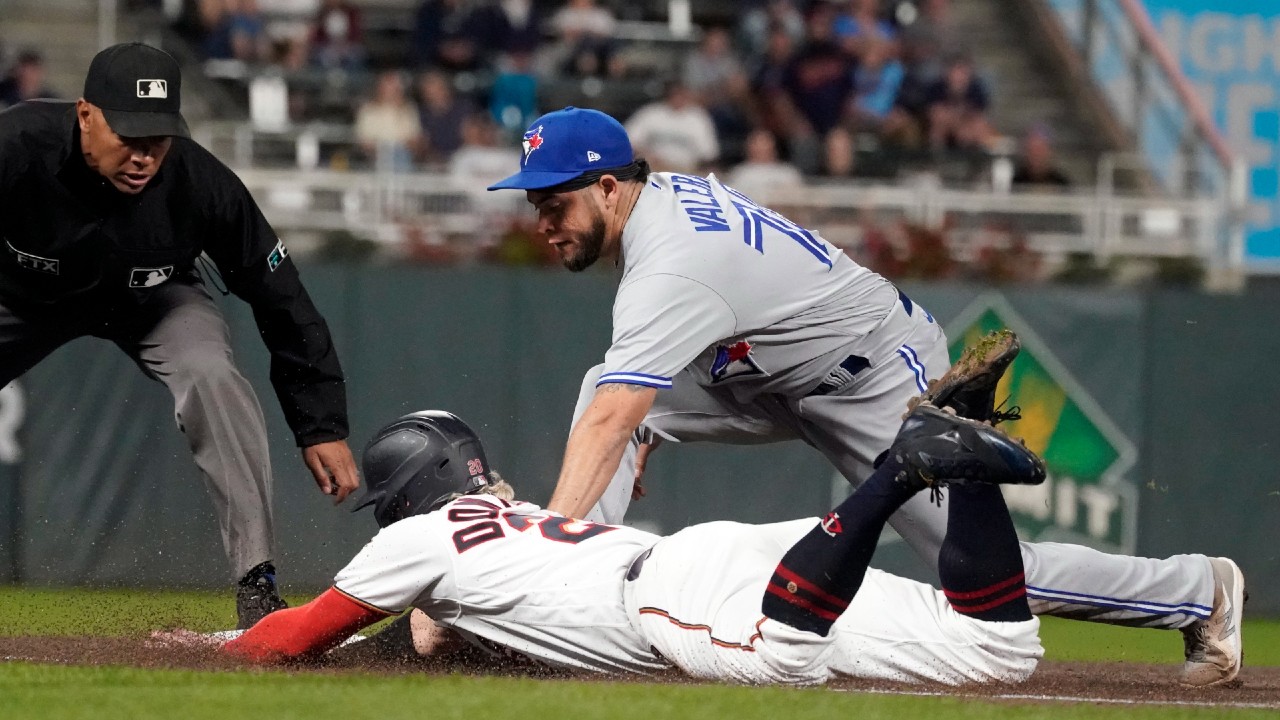 MINNEAPOLIS — Let's start with the obvious: Thursday's game was a complete write-off for the Toronto Blue Jays.
Their starting pitcher, Steven Matz, needed 80 pitches to make his way through three innings. His replacement, Thomas Hatch, threw more balls than strikes before leaving with right hamstring discomfort. And his replacement, Julian Merryweather, promptly allowed a three-run home run to the first batter he faced.
It wasn't just the pitching that provided cause for concern, either. Lourdes Gurriel Jr., the Blue Jays' hottest hitter in recent weeks, also left the game with an injury after Randal Grichuk stepped on his right hand while making a throw home.
And most importantly, the Blue Jays lost, 7-2, missing a chance to gain on the Yankees and Red Sox, both of whom were idle ahead of their weekend series at Fenway Park. With 10 — make that nine – games remaining, each one offers a precious chance at a win. On Thursday, the Blue Jays fell well short of that goal.
TD & Blue Jays MVP Spotlight
This season, TD and the Blue Jays celebrated off-the-field MVPs who embody the spirit of the game.
But as frustrating as every loss is this time of year, there's little to be gained by dissecting the particulars of this one. More important are the questions this loss raises and the potential solutions available over the season's final stretch.
Because as bad as Thursday was, they do have their three best pitchers lined up for the remaining games against the Twins, a last-place team. Behind the scenes, George Springer and Hyun-Jin Ryu continue making progress. And ugly loss or not, the Blue Jays are still just 1.0 game out of a playoff spot.
Clearly, they still have a chance to get where they want to go. Now it's on the Blue Jays' decision-makers to proceed with an increasing sense of urgency and for the team's players to respond between the lines.
Livestream Blue Jays games all season with Sportsnet NOW. Plus, get marquee MLB matchups, Home Run Derby, All-Star Game, Postseason and World Series.
The most pressing questions raised by Thursday's game have to do with health. While Hatch has spent most of the season at triple-A, there's no easy way to replace Gurriel Jr., who entered play Thursday with a share of the American League lead in RBIs, slugging percentage and total bases during the month of September. X-rays on his hand were negative, but he did get two stitches on his middle finger.
It was Corey Dickerson who replaced Gurriel Jr. in left field Thursday, but it's possible the Blue Jays will get another outfielder back before long. Springer did some defensive work in centre field Thursday afternoon and emerged feeling encouraged, creating the possibility he could return to the field for the first time since Aug. 14.
Before the game, manager Charlie Montoyo indicated a return to the outfield is a real possibility. "Hopefully soon," he said before retreating from the field to serve his suspension. After what transpired in left field Thursday, Springer's glove might soon be even more useful than expected.
As for Ryu, if he only needs the minimum 10 days on the injured list, he could theoretically return against the Yankees next Tuesday. While Ryu struggled before hitting the injured list, Matz's latest outing doesn't inspire full confidence ahead of a matchup with New York either.
Regardless, the Blue Jays have lots of work ahead. Depending on what happens in Boston this weekend, it could take something like 91 or 92 wins to secure the AL's second wild-card spot now held by the Yankees (Boston's now 3.0 games ahead of Toronto). The way the Blue Jays have played for most of September, it doesn't take much imagination to see them going 6-3 or 7-2 over the next ten days.
"Every game counts now even more," Montoyo said. "There's no way you can win games and worry about somebody else. We've got to play our game."
Opportunity still exists here — a big one. But letting winnable games slip away is a luxury the Blue Jays can no longer afford.