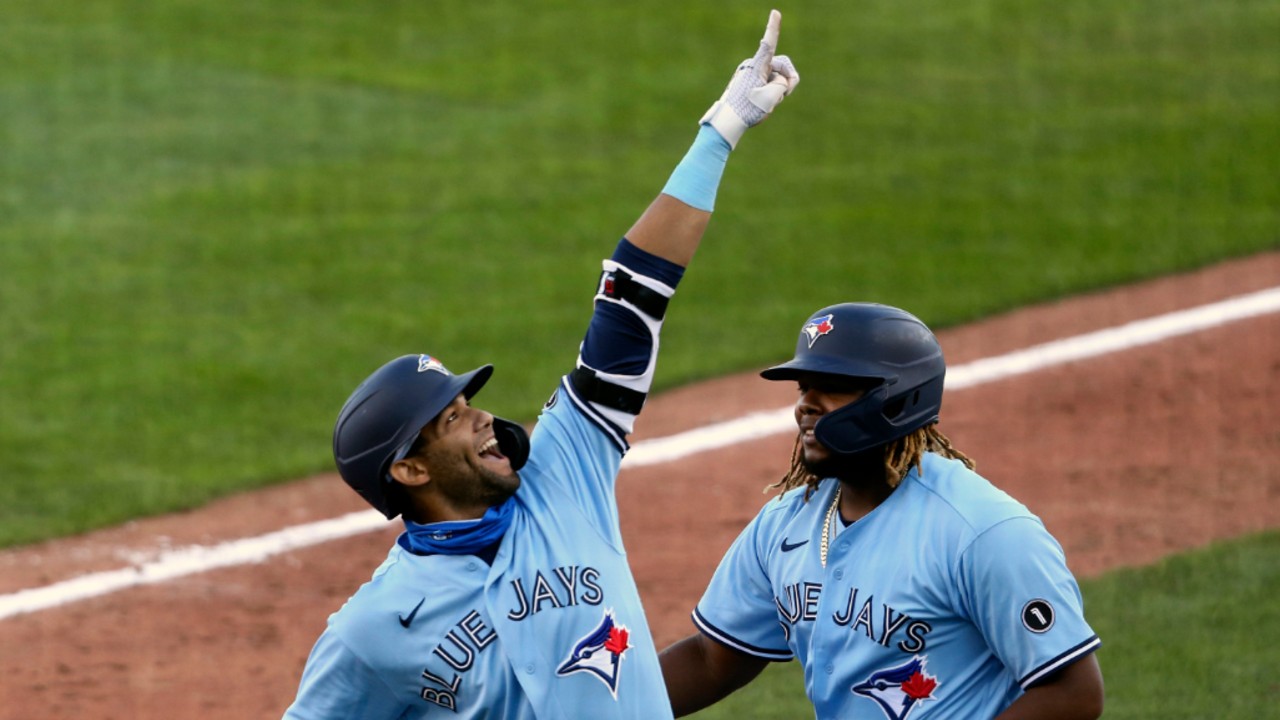 TORONTO – Fortunes can change fast in this 60-game season and with the groundwork for the Aug. 31 trade deadline well underway, decision time is coming for a bubble team like the Toronto Blue Jays.
Consider that at the beginning of the week, coming out of that dreadful Sunday in which they dropped two winnable games to the Tampa Bay Rays and lost Bo Bichette to a right knee sprain, FanGraphs projected their post-season odds at 22.2 per cent.
The Blue Jays proceeded to sweep three games from the Baltimore Orioles before coming back in both games Thursday for a doubleheader sweep of the Philadelphia Phillies, including a remarkable rally from a seven-run deficit for a 9-8 win in the nightcap. Rowdy Tellez keyed the comeback by starting the sixth with a solo shot that at 117.4 m.p.h. was the second-hardest-hit ball of the season, and capped it with a two-run single that pushed across the go-ahead run.
Lourdes Gurriel Jr., who delivered a walk-off single to win the opener 3-2, added a three-run homer in the decisive sixth, and suddenly the Blue Jays are 12-11 with their playoff odds at 49.6 per cent ahead of a four-game set at the Rays this weekend.
That's a lot of volatility to factor into the decision-making process for today's often uber-cautious baseball executive, which is counterbalanced by opportunity created by an expanded eight-team post-season.
Assuming there are no postponements, the Blue Jays will have played 33 games by the time Aug. 31 arrives, "a small sample size" that makes it "more challenging to determine" exactly what a team is really working with, said general manager Ross Atkins.
Still, "we're going to be thinking about how do we make this group better? How do we add to it? How do we complement it?" he added. "That doesn't mean that we won't consider some level of subtraction, but it is something (where) we're thinking about making this foundation stronger for 2021 and '22. And the calculus in the equation is different this year."
Put through the GM-speak to English dictionary, the Blue Jays must show something in the next 10 days or players on expiring contracts could be on the move.
Even that would be easy, as the industry faces a number of challenges beyond simply keeping everyone healthy amid the pandemic. The vast majority of prospects, for instance, aren't playing and properly evaluating and valuing the deadline's prime currency is going to be a mixed bag.
Then there's measuring out how legitimate the contention opportunity is and simply making the playoffs to be fodder for the beasts of the American and National Leagues will be measured differently by the fringe contenders.
Livestream Toronto Blue Jays games all season with Sportsnet NOW. Plus, watch marquee MLB matchups, the post-season and World Series.
There's also the financial piece, which has led to speculation that there will be more traditional baseball trades, although some teams may simply be seeking salary relief, too. The Blue Jays, with a relatively small number of commitments on the books for 2021 and beyond, have more flexibility than most that could allow for some creativity, although Atkins sounded a cautious note on that front.
"We are in a good position that we feel like we can make the organization better," he said. "It's hard to say how exactly all teams are viewing (the financial piece). We certainly ask those questions and there is still a lot of uncertainty there. We're just thinking about things we can control. We're fortunate that we're in the position that we know if we have a deal that makes sense for this organization, that we can take it to Mark (Shapiro, the president and CEO) and Mark can take it to ownership.
"Ultimately, it's not something that we can just unilaterally do and decide, but we do feel confident that we can take that information and those opportunities to Mark to present ownership. And we're excited to be in that position."
The Blue Jays do expect to get some reinforcements in the coming weeks as they are "extremely optimistic" that Bichette, who is to undergo a follow-up evaluation this weekend now that the swelling in his knee is gone, "is going to be helping this team again in 2020."
Similarly Nate Pearson, who hit the injured list Wednesday with elbow tightness, underwent an MRI Thursday morning and while the results were pending, Atkins said "we're not initially overly concerned."
While they haven't ruled out a role switch upon his return, "the most optimistic and more likely scenario is that he comes back into a starting role. … But it really depends on when and when he comes back."
The Blue Jays came back after falling behind 2-0 in the first game, on a Santiago Espinal sacrifice fly in the fourth and Cavan Biggio's two-out RBI double in the sixth. After Canadian Jordan Romano struck out the side in the top half of the seventh, Teoscar Hernandez singled with one out in the bottom half, narrowly took third when Roman Quinn bobbled Vladimir Guerrero Jr.'s bloop to centre, and scored on Gurriel's chopper over a drawn-in infield.
The Phillies looked to be in cruise control in Game 2 after putting up a seven-spot in the first against Thornton, but as Jacob Waguespack and Shun Yamaguchi stopped the bleeding, Toronto's quick-strike capabilities eventually made it a ballgame.
Hernandez's two-run shot in the first got them on the board before Rowdy Tellez opened the sixth with a 429-foot drive that, in terms of exit velocity, trails only a Giancarlo Stanton rocket at 121.3 m.p.h..
Hernandez followed with a single, Guerrero walked and Gurriel mashed a three-run shot that pulled the Blue Jays within one. After Danny Jansen reached on a Scott Kingery error, Biggio walked, Didi Gregorius booted Randal Grichuk's grounder, and Jansen scored the tying run on a Hector Neris wild pitch.
Tellez then dropped a two-run single to centre that made it 9-7, as the Blue Jays capitalized on the type of costly mistakes they've made at points earlier this season.
The Phillies scratched out a run in the seventh before A.J. Cole got Roman Quinn to end it, and the Blue Jays are now over .500 for the first time since they were 3-2 on July 28.