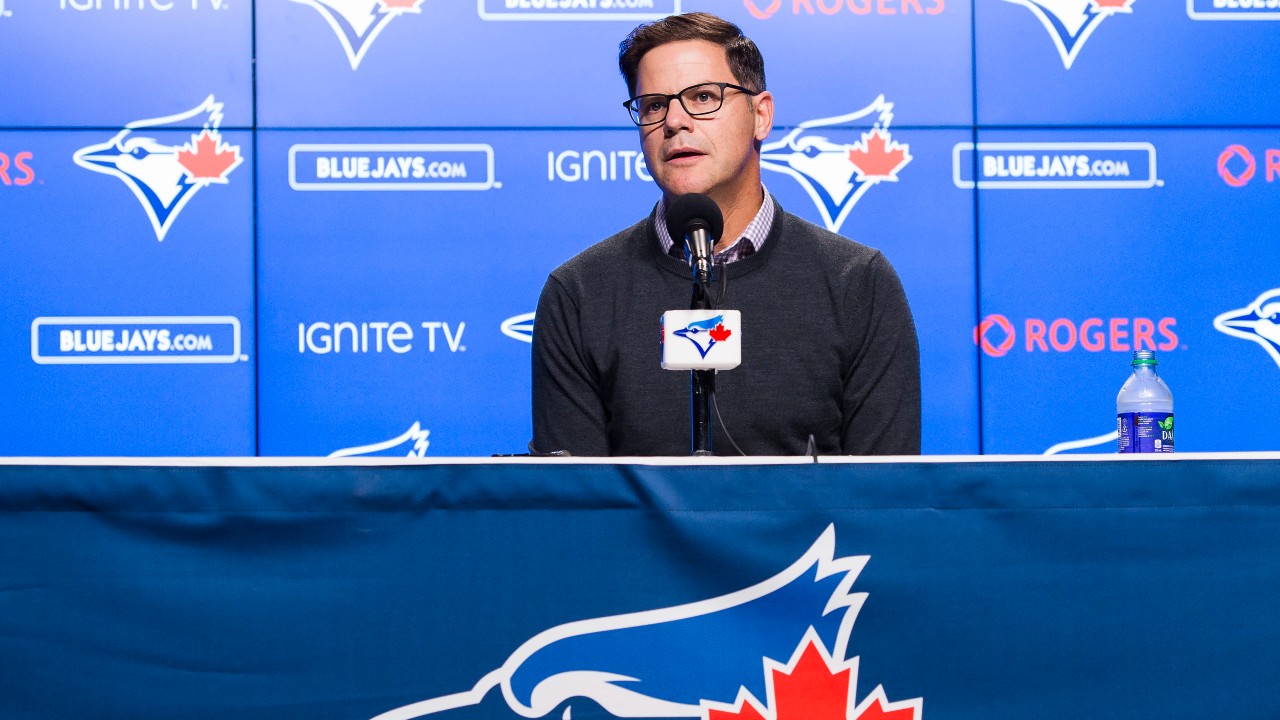 TORONTO – There are still six weeks of runway before the Aug. 2 trade deadline and teams remain in the crucial period of assessment and planning for Major League Baseball's annual summer swap-fest.
The general direction is clear for clubs like the Toronto Blue Jays, who at 38-28 own the third-best record in the American League and are well-positioned to make the playoffs, especially now that six teams per league advance.
Very clearly, then, they're going to be adding.
Yet with the New York Yankees at 49-17, leading the AL East by 11 games, the Blue Jays need to position their roster not only to survive the regular season, but to be capable of knocking off top clubs for up to four playoff rounds this October.
What exactly does that look like?
"It's depth in areas, complementary skill-sets in others," GM Ross Atkins said last week when asked how he could augment the club beyond obvious pitching needs. "We've spent a lot of time on that over the last month and we're going to continue to in the coming weeks."
Pretty vague, likely deliberately so, as there's little reason for Atkins to tip his hand this early and give rival front offices added leverage in trade talks. And to be fair, their pathways to improvement aren't necessarily obvious, with several different potential approaches.
With that in mind, let's envision some scenarios that could appeal to the Blue Jays as the summer unfolds.
Based on conversations with multiple industry sources, everything is in play at this point, with the Blue Jays surveying the market for starting pitchers, relievers and position players. Best-case scenario, their existing players step up, reducing the need for outside help. But if they falter, they'll need additions — even if that means trading from the big-league roster to make the necessary improvements.
First, what can the Jays trade away?
The farm system remains deep, even with the recent promotion of Gabriel Moreno, and the Blue Jays have an opportunity for a significant restock in next month's draft thanks to the compensatory picks they received for the departures of Marcus Semien and Robbie Ray.
Still, worth noting is that they've already traded their first-round picks from the past two drafts (Austin Martin in the Jose Berrios deal last summer and Gunnar Hoglund in the Matt Chapman trade this spring) and they must be careful of stripping down too far.
Moreno's early showing only reinforces that he's essentially untouchable, so expect teams to begin their asks for anyone of consequence with infield prospect Orelvis Martinez. With a .789 OPS as a 20-year-old in double-A, there's a lot of promise there and the Blue Jays will, quite obviously, be reluctant to move him.
Teams are also likely to eye the promising cache of young arms at high-A Vancouver, where the lightning-armed Ricky Tiedeman, chance-to-move-quick Yosver Zulueta and polished Sem Robberse are all having strong seasons.
Atkins, however, has predominantly traded from the fringes of his prospect-pool base and the Blue Jays could very well follow that trend again this summer. The 2021 Berrios deal was an exception and only a perfect fit on multiple levels prompted him to take that plunge.
Moreno's ascension does create a surplus of plus catchers at the big-league level and it's possible the Blue Jays could swap out a piece there, or elsewhere on the major-league roster under the right circumstances. It all depends on what the market presents and, of course, a player's vaccination status.
So, what are some possibilities?
STARTING ROTATION
Scenario 1: Add Depth
With Hyun-Jin Ryu set to miss the remainder of the season, the Blue Jays' starting rotation now lacks depth behind new No. 5 starter Ross Stripling. The season-long struggles of Yusei Kikuchi only compound the uncertainty at the back of Toronto's rotation.
That means it's necessary to explore the market for rotation help, and with that in mind Atkins has indicated the Blue Jays intend to see what upgrades may be possible there. Chances are, the Blue Jays will explore all options, but thanks to the trio of Kevin Gausman, Alek Manoah and Berrios, they don't need to force a deal for a high-end starter as long as they have a reliable front five.
The depth approach is one Atkins took in 2020, when he added Stripling, Ray and Taijuan Walker at the deadline. Ray and Walker were relatively inexpensive because the former was a reclamation project in the midst of his worst season while the latter came with durability questions.
All names here are speculative, but for depth options think along the lines of Chad Kuhl, Zach Davies, Jordan Lyles or Jose Quintana. Being more creative, would the Rockies part with German Marquez, who is struggling this season and is owed $15.3 million next year, and is that a swing the Blue Jays are willing to take, akin to Ray a couple of years ago?
Scenario 2: Swing Big
Even though Atkins speaks about adding depth and complementary players, the Blue Jays' recent track records shows they like going after stars, too. It was just last year that they sent Martin and Simeon Woods-Richardson to Minnesota for Berrios, and over the winter they landed Kevin Gausman while also chasing Justin Verlander and Noah Syndergaard in free agency.
Those pursuits reflect interest in high-impact players, so we should consider what that might look like this summer.
Righty Frankie Montas is front and centre in that regard as one of the few veterans to survive Oakland's off-season purge. He's proven, pitched in pennant races and his per-nine walk and strikeout ratios of 2.2/9.3 are right in the Blue Jays wheelhouse.
Similarly, Reds righty Luis Castillo's ratio is at 2.9/8.4 in eight starts since returning from a shoulder injury (conversely, Tyler Mahle is presumed unavailable to the Blue Jays as he was placed on the restricted list when Cincinnati visited Toronto last month). Both Castillo and Montas have one year of arbitration left, meaning they'd also fill a need for the Blue Jays in 2023.
BULLPEN
Scenario 1: Add Depth
Perhaps the clearest need for the Blue Jays at present is a swing-and-miss arm for the bullpen and if there are ways to add high-strikeout late-game relief, expect the Blue Jays to be active.
A model trade along the depth route would be the Yankees acquisition of Clay Holmes last summer, identifying someone who is underperforming and helping them reset through usage and mechanical adjustments. The Blue Jays tried this with less success last year when they acquired Brad Hand and Joakim Soria at the deadline, so there's high risk here as well as high reward.
Similar veteran types this summer could include Steve Cishek and Sergio Romo, while perhaps there's more in someone like Noe Ramirez (8.6/3.4 strikeouts-to-walks per nine), who leads the majors with 31 appearances this year but has a 4.91 ERA and 5.21 FIP.
Scenario 2: Swing Big
More certainty is obviously preferred and a longer-term piece like David Bednar or Gregory Soto would make ideal, but likely prohibitively expensive, complements to closer Jordan Romano.
Such a bold strike would be a departure for the Blue Jays, so rentals like righty David Robertson, striking out 12.4 per nine while closing for the Cubs; Michael Fulmer, who has a 2.16 ERA with the Tigers; or lefty Andrew Chafin, who has a player option for 2023 and identical .579 OPS allowed versus hitters on either side of the plate, may be more likely candidates to fortify manager Charlie Montoyo's late-game manoeuvring.
POSITION PLAYERS
Scenario 1: Add Depth
While handedness only tells part of the story, there's a case to be made for adding balance to a Blue Jays lineup that tilts heavily to the right. Thankfully for the Blue Jays, there appears to be a decent amount of selection in this market – perhaps more than there is on the pitching side.
Lately, Cavan Biggio's been filling that role nicely, but his performance bears watching in the weeks ahead. Raimel Tapia has also been hitting better of late, but he's been a below-average defender with the Blue Jays and he offers limited power. If either falters, the Jays will need to look elsewhere.
Such a player would benefit the roster in a couple of ways. Perhaps most obviously, he could start against some right-handed pitchers, especially those who struggle against left-handed batters (Bailey Ober or Dane Dunning to name a couple).
But more broadly, a quality left-handed hitter would give the Blue Jays different options when it comes to building out their lineups. For instance, Atlanta often slotted Joc Pederson between right-handed hitters like Austin Riley, Adam Duvall, Dansby Swanson and Travis d'Arnaud during last year's World Series run.
If the Blue Jays acquired an impact lefty bat, they could slot that hitter between two right-handed hitters (Alejandro Kirk and Teoscar Hernandez, for instance), giving him the platoon advantage whenever opposing managers bring in right-handed relievers late in games. In theory, that kind of setup can put a lefty bat at an advantage more often, but it's just one example among many. Bottom line, more good hitters create more good options for Montoyo.
Even beyond the on-field production, the right veteran bat could help guide a notably young and still inexperienced group through what's needed to overcome the challenges ahead. The departures of veteran free agents Semien, Corey Dickerson and Jarrod Dyson left a bit of a void in that regard and some believe there's value in adding position players with playoff experience.
The $22 million he's owed for 2023 and the buyout on a 2024 club option is an issue, but Mike Moustakas potentially fits that mould. He won a World Series with the Kansas City Royals in 2015, bats left-handed and has experience at first, second and third. Before he signed with the Reds, Montoyo paid him a recruiting visit, so the Blue Jays have at minimum liked him in the past.
Switch-hitter Carlos Santana is underperforming both his expected Weighted On-Base Average (.293 versus .351) and several public projections for his 2022 output and has been to the post-season four times with Cleveland. He came up through the minor-leagues under Blue Jays CEO Mark Shapiro and Atkins.
The Rockies' path forward isn't really clear, but Charlie Blackmon's slugging percentage is up this season and with three trips to the playoffs on his resume, he's an intriguing everyday left-handed option in the outfield. He told reporters at the end of last season that he intends to exercise his $10 million 2023 player option, which may mean he's more than just a rental.
While the trade market's still taking shape, it appears a number of other pending free agents will be available next month, including left-handed hitters Andrew Benintendi ($6.6 million salary), Tyler Naquin ($4.03 million), Ben Gamel ($1.8 million, now on injured list) and Kole Calhoun ($2 million salary, $5.5 million team option for 2023).
Switch-hitters Josh Bell ($10 million) and Robbie Grossman ($5 million salary) should also be available while one source believes Ian Happ ($6.85 million salary) will be moved despite the fact that he's arbitration-eligible through 2023.
With ample selection here, the Blue Jays will be able to add if they so choose.
Scenario 2: Swing Big
Ideally, the Blue Jays' existing players produce. Even if not, complementary moves for bench players could be enough to equip this team's roster for a long playoff run. But what if injuries or poor performances force the Blue Jays' hand?
Before the lockout, teams asked the Blue Jays about the likes of Lourdes Gurriel Jr., Teoscar Hernandez, Alejandro Kirk and Danny Jansen in trades. It's conceivable those conversations could re-start, though the return would clearly have to be significant. Gurriel Jr. and Hernandez have recovered from slow starts, but the emergence of Gabriel Moreno would allow the Blue Jays to contemplate moving Jansen for the right return.
Dream targets Juan Soto and Shohei Ohtani are unlikely to be unavailable, but what about Joey Votto, who has a .931 OPS since returning from the COVID injured list a month ago? Perhaps there's a creative framework in which the Reds help subsidize the deal by taking Ryu's contract back to help level off the money, or the Blue Jays swallow much of the $32 million he's still owed to reduce the amount of prospect capital to get Castillo, too?
Ideas ranging from far-fetched to realistic will get whittled down in the coming weeks with the results on the field helping to shape the front office's next moves at every turn. As Atlanta showed last summer, the best moves aren't always the flashiest ones, but rather the ones that plug the right hole with the right fit.