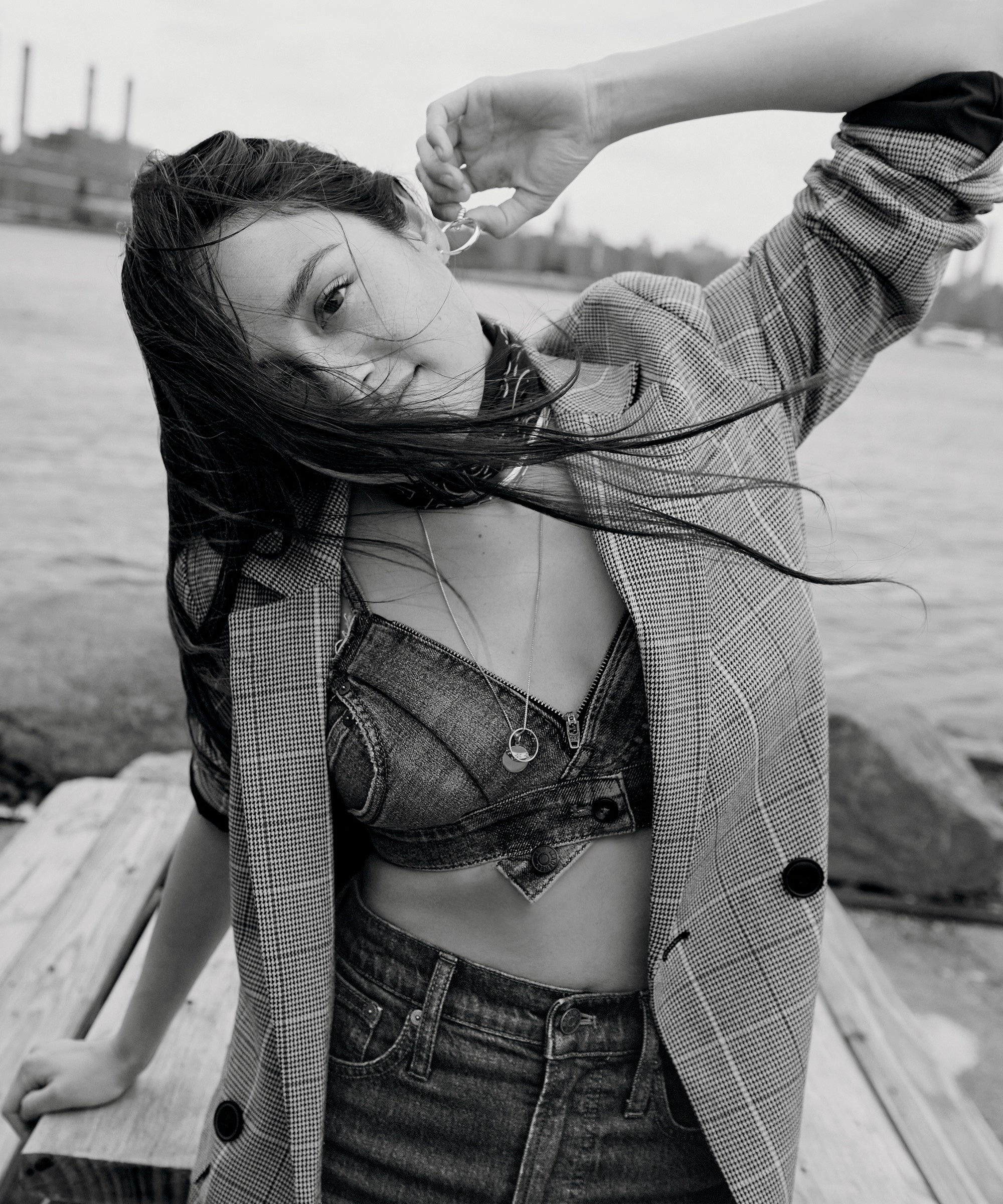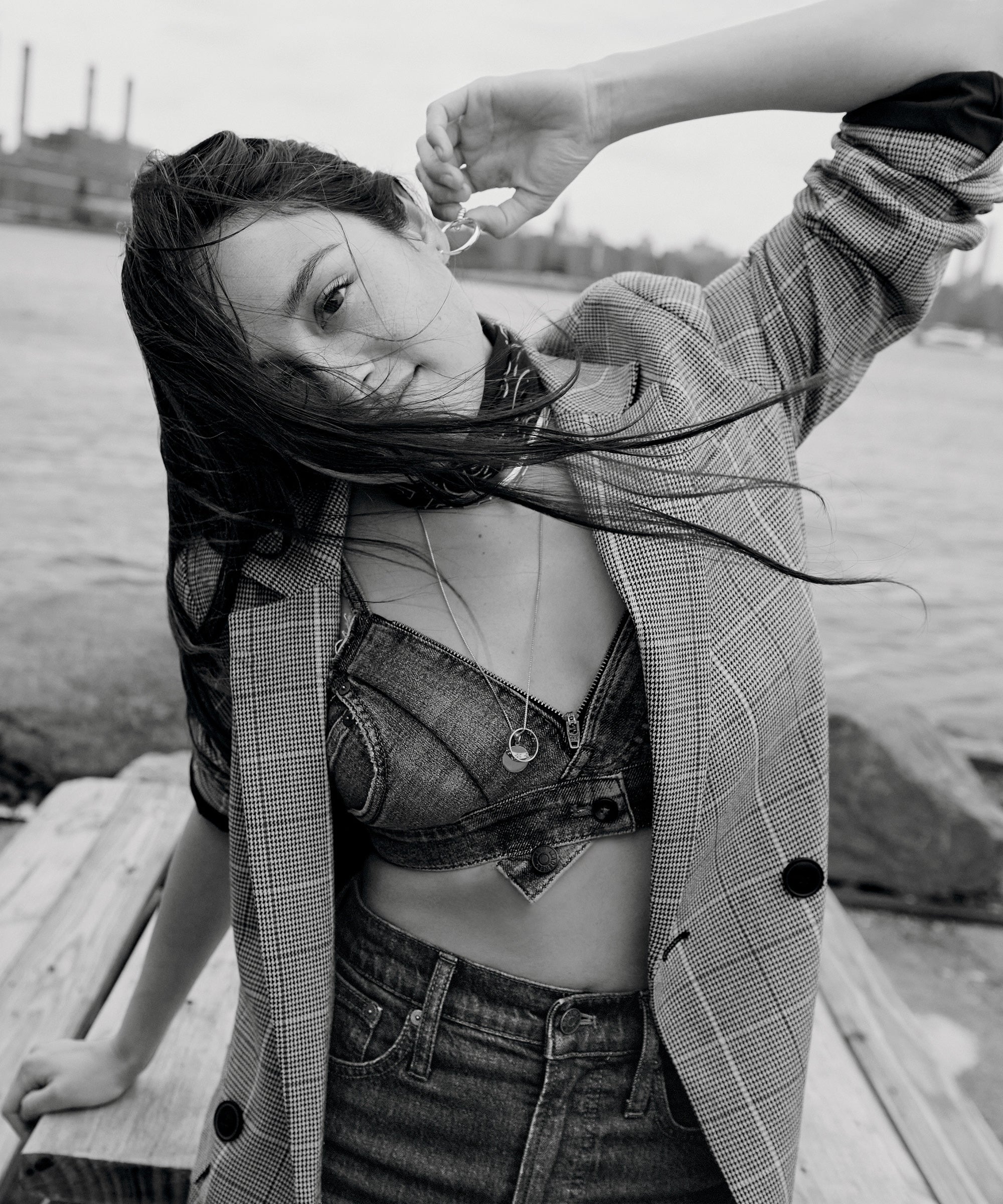 Actor, filmmaker, and writer Chase Sui Wonders is no stranger to fashion. Not only does it run in her family (she's the niece of designer Anna Sui), but she got her start as a model when Sofia Coppola cast her in a 2017 Calvin Klein campaign that Coppola directed. Since then, Sui Wonders has experienced plenty of style moments — at red carpet events, for magazine shoots, and even on screen as an actor on HBO Max's Genera+ion and the new A24 feature Bodies Bodies Bodies (even when she's covered in fake blood) — but, of course, it's when Sui Wonders is off-duty that she can truly dress as her most genuine, low-key self.
This fall, Sui Wonders — along with Kiersey Clemons, Charlbi Dean, and Lukas Gage — is the face of Madewell's "When the Fit Hits" campaign shot by Cass Bird, which celebrates the fashion brand's newly expanded (and largest ever) denim collection. (Shoppers can expect a slew of new silhouettes and washes like a devil-may-care Slouchy Boyjean and an '80s-inspired Balloon Jeans as well as updated details to the best-selling and forever fan-favorite Perfect Vintage Jean category.) For Sui Wonders, linking up with Madewell is very much her vibe.
"When I got my first paycheck from my first job, I made two purchases: One was these Madewell jeans that I still have to this day, and the other was an electric skateboard," says Sui Wonders on a Zoom call with Refinery29. "Madewell was always an aspirational store for me when I was growing up. I love its emphasis on being natural, kind of like rolling out of bed and being the most beautiful and natural version of yourself. The clothes that make me the happiest are when I'm comfortable and feeling sexy without even trying."
Ahead, Sui Wonders shares some of her favorite things — the makeup tint she swears by, the headphones she brings everywhere, and her top picks from Madewell that she plans to live in all season. When asked what kind of a shopper she is and how she discovers new products, Sui Wonders reveals she's a minimalist and not much of a shopper at all. And when she does acquire new things, it's almost always an in-person purchase and rarely online. "I feel like shopping is like a spiritual experience — [I'll buy something if it] makes me happy and I'm drawn to it. That's what I use to guide me. So I buy things that I know I will wear, and I'll love and take good care of. I'm very serious about buyer's remorse," she says.
In short, it's safe to say that everything Sui Wonders recommends below is something she truly connects with. "The key [to shopping is]if it's functional and enhances your day-to-day. Those are the products I want to keep around me at all times. I feel that all these items are total enhancers."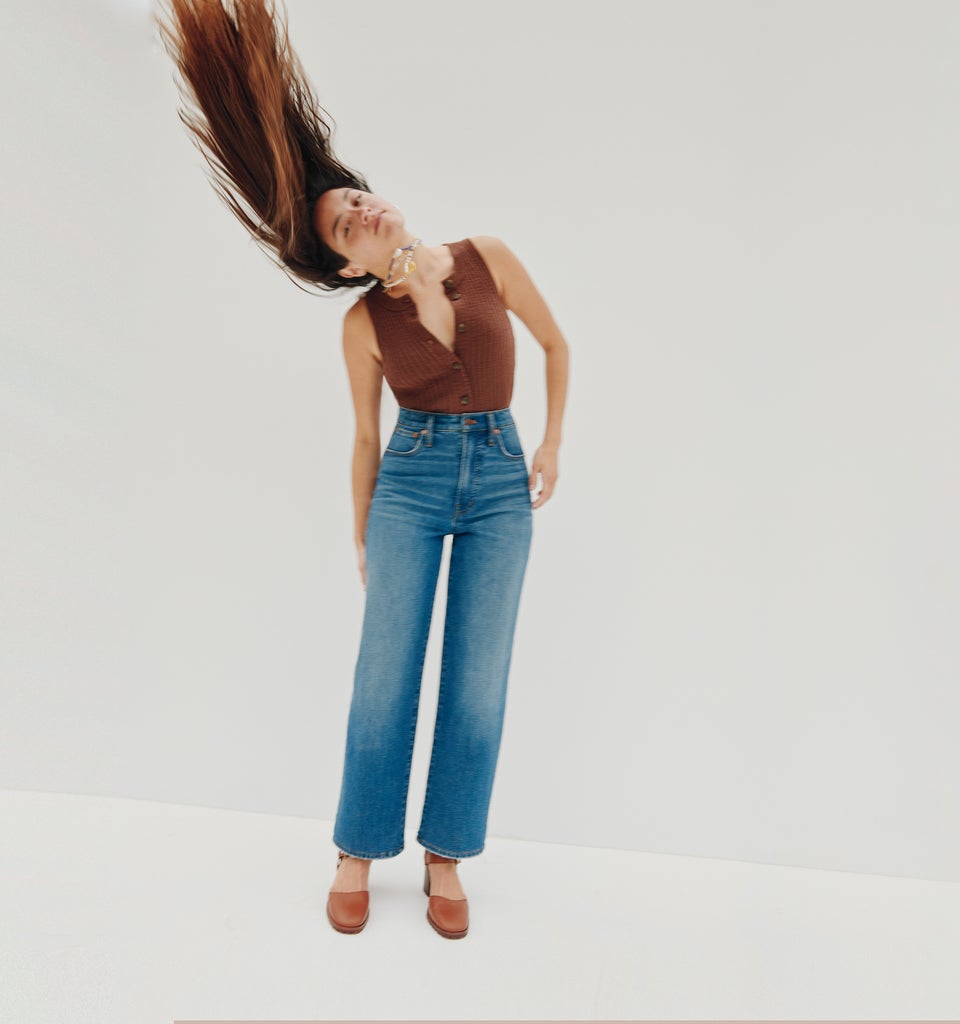 Sui Wonders says she fell in love with all the pieces she wore for the campaign, especially this pair of denim. "I love non-typical shaped jeans and especially finding a wide-leg jean that is also flattering for the rear can be a challenge," says Sui Wonders. "These are so comfortable and, again, represent the kind of rolling-out-of-bed, sexy and natural feeling."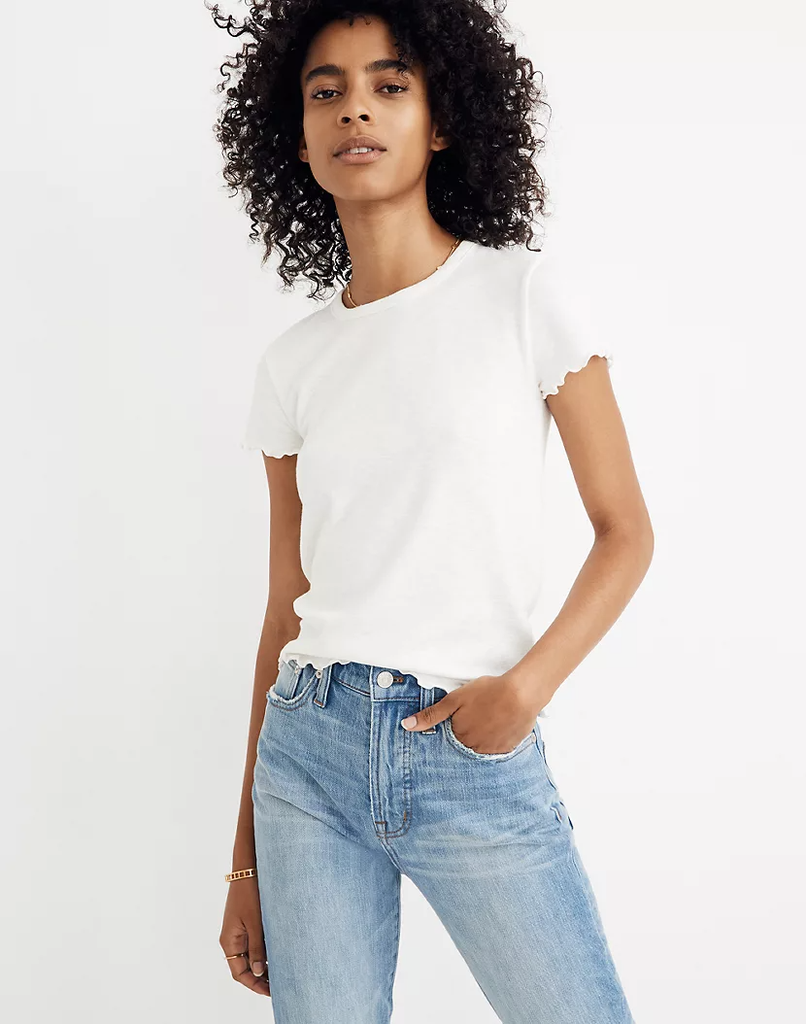 If you want a flirtier take on the classic white tee, this is a style cue to include in your arsenal. "I love a baby tee, and this one has a super-flattering cut. I love the ripples in the sleeves!" says Sui Wonders. "A simple staple that makes you feel dressed up even though it's just a super comfy T-shirt."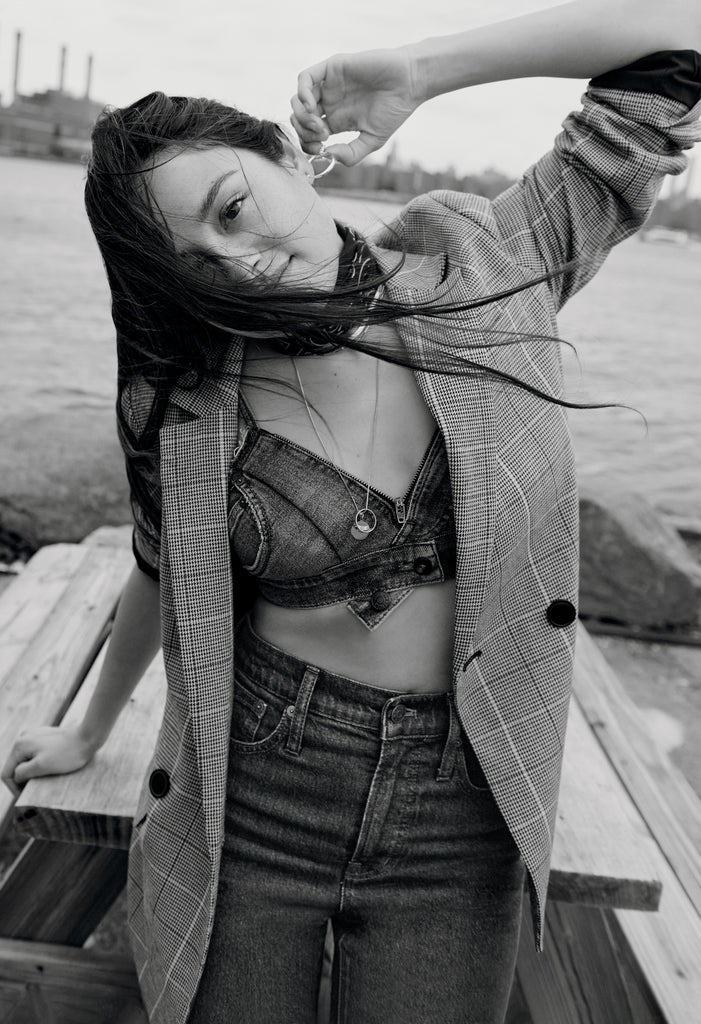 When it comes to an easy transitional layer for fall, look no further than the oversize blazer. "I love this blazer. I'm a sucker for a powerful shoulder or a tailored look. I love the ease of this and how it immediately elevates any sort of outfit," says Sui Wonders. "It's so comfortable — if something's too tight, no matter how good it looks, you [won't be] comfortable in your own skin. All these clothes just make you feel immediately at ease."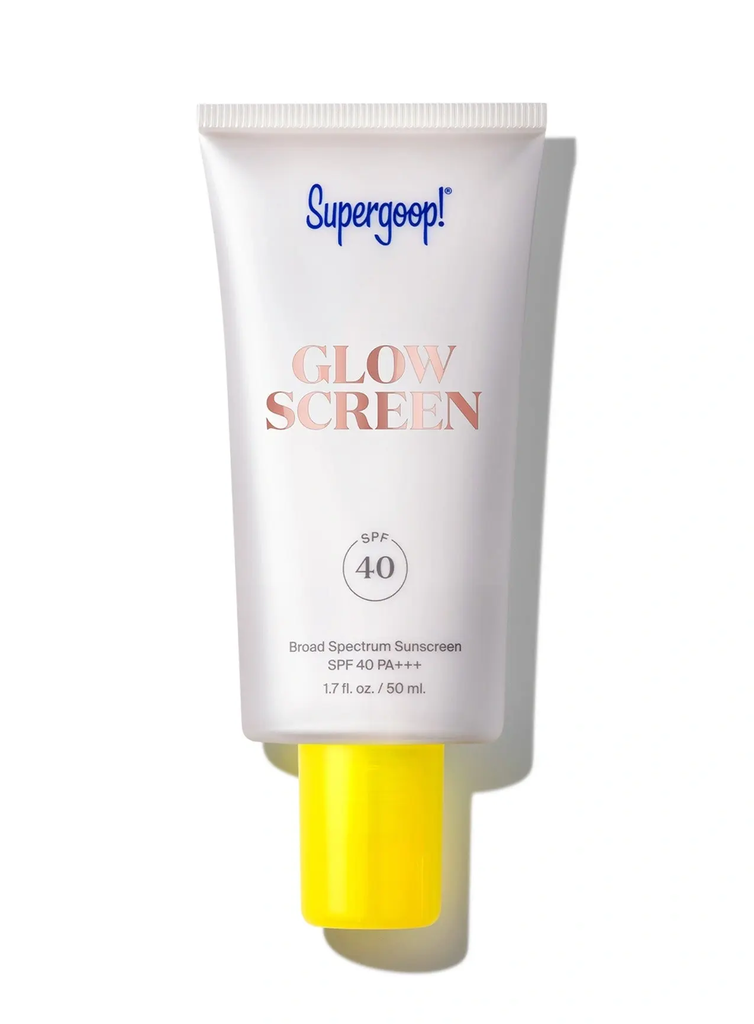 "I was never a sunscreen wearer, and I realize how horrible that is so now this Supergoop Glow Screen goes on every day. I love this stuff."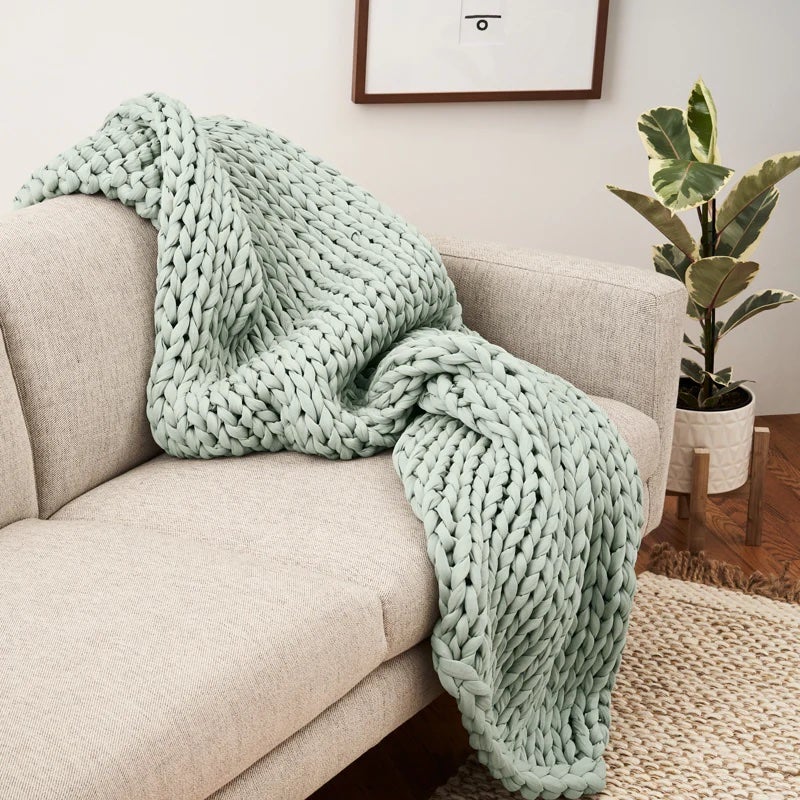 As a light sleeper, Sui Wonders is obsessed with Bearaby's line of calm-inducing, weighted woven throws. "I sleep with this weighted blanket every single night," says Sui Wonders. "I'm someone whose mind is racing all day long, and even as I go to sleep, I get really restless. I've tried them all, whatever supplements, and the weighted blanket is the one thing that keeps me asleep at night. I'm obsessed."
"This Chanel Lip and Cheek Balm is the thing I use all over my face — I have it on today," Sui Wonders says, as she leans her face into the Zoom camera to show where and how she applies it. "I put it on my lips, my cheeks, and then I put some on my eyelids. I even put it on my eyebrows! I literally use it everywhere. It's my one-stop [makeup product]. I love it."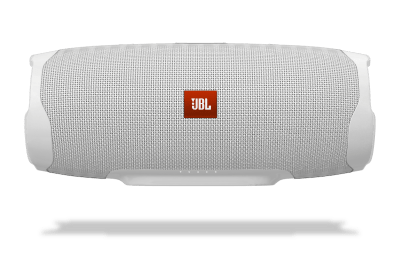 "This waterproof speaker — I use it in the shower, I use it at the pool, I use it on the beach. I'm a music-driven person, and it's tough for me to sit in silence unless I'm meditating or something, so I always have music playing in the background wherever I'm going," says Sui Wonders.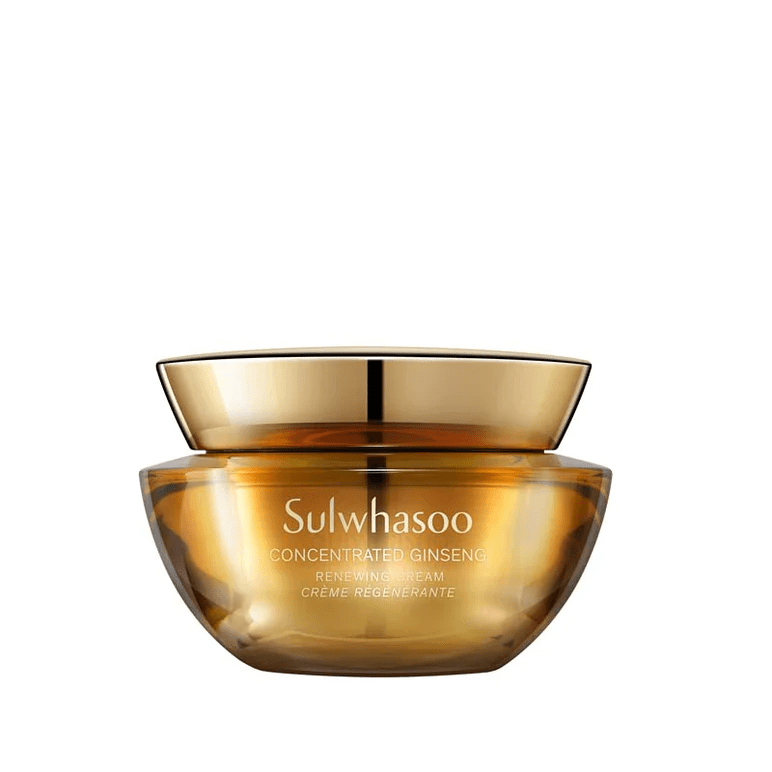 "Sulwhasoo is an all-natural Korean skin-care brand, and this is one product that has really changed my skin," says Sui Wonders. "With acting and going from set to set, people are using different makeup products on me all the time, and it's tough to parse through what affects my skin. This cream is made of ginseng and ginger and other organic ingredients — it smells super good."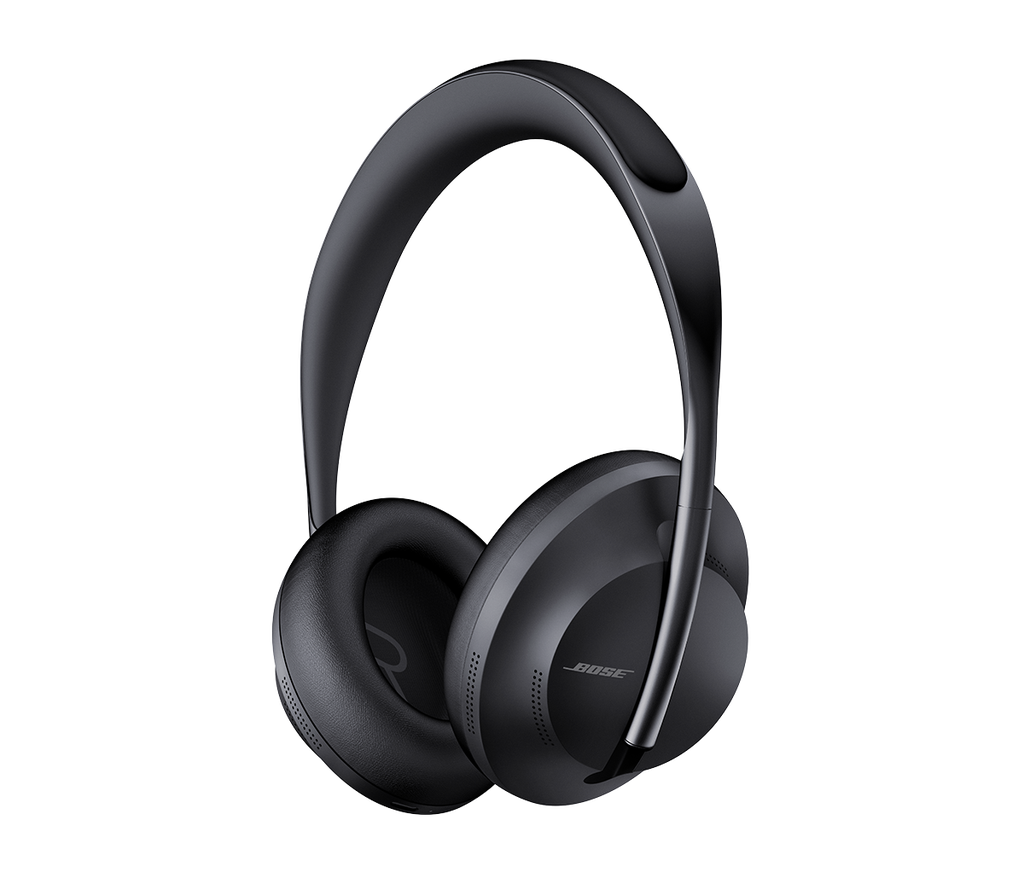 "I wear these noise-canceling headphones all day, every day. On sets when I get into character, these headphones are like an instant way to signal, 'Don't try to talk to me, I'm trying to drop in,'" Sui Wonders says of her trick to not getting disturbed. "They're super useful when I'm writing, too — these noise-canceling headphones help tune everything else out."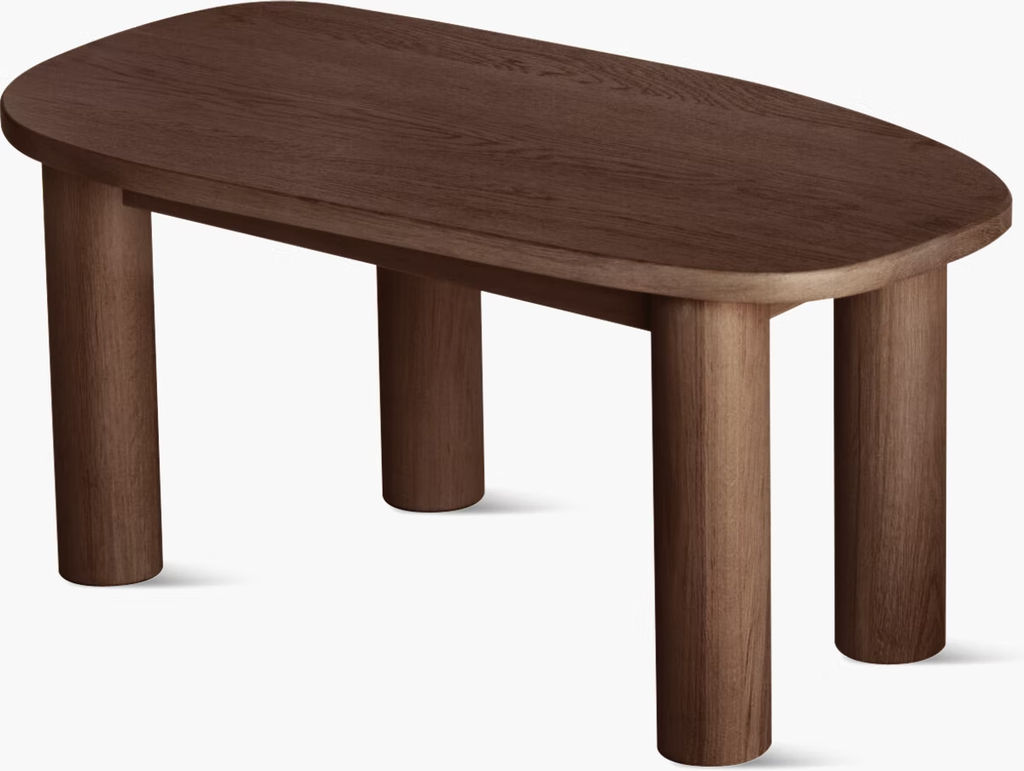 When it comes to the living space, Sui Wonders recommends anything and everything from Sun at Six, her favorite home furnishing makers. "Sun at Six is this amazing furniture company that my friend Antares hand makes with his sister," Sui Wonders says. "He'll be on his roof, sawing away to create these really beautiful, really original pieces. Furniture is something I'm working on right now as I'm building out my home for the first time. These are stable pieces that you're going to have forever that don't follow trends or will fall out of style."
At Refinery29, we're here to help you navigate this overwhelming world of stuff. All of our market picks are independently selected and curated by the editorial team. All product details reflect the price and availability at the time of publication. If you buy or click on something we link to on our site, Refinery29 may earn commission.
Like what you see? How about some more R29 goodness, right here?
This Resale Program Wants Your Madewell Jeans
The Scariest Part of "Bodies" Isn't Dead People