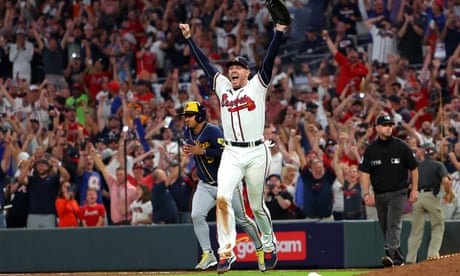 Freddie Freeman seals Braves' series win over Brewers
Astros in ALCS for the fifth successive season
Giants and Dodgers to face off in decisive Game 5
Freddie Freeman hammered a tiebreaking homer with two outs in the eighth inning to propel the Atlanta Braves to a clinching 5-4 victory over the visiting Milwaukee Brewers in Game 4 of the National League Division Series on Tuesday.
Freeman's 428ft blast to left-center off a slider from Brewers left-hander Josh Hader helped the Braves win the series 3-1 and reach the NL Championship Series for the second straight season. Atlanta lost to the Los Angeles Dodgers in seven games in 2020.