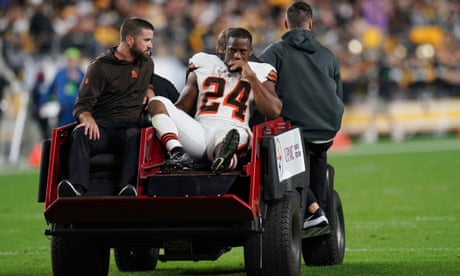 Running back injured same knee while in college
Saints beat Panthers in Monday's other game
The Cleveland Browns' star running back Nick Chubb was carted off the field with what appeared to be a severe knee injury against the Pittsburgh Steelers on Monday night.
Steelers safety Minkah Fitzpatrick came in low for a tackle at the end of a five-yard run early in the second quarter and delivered a hit to Chubb's legs. Chubb remained on the ground for several minutes while teammates gathered in prayer nearby. He eventually left on a cart. ESPN chose not to show replays of the incident.