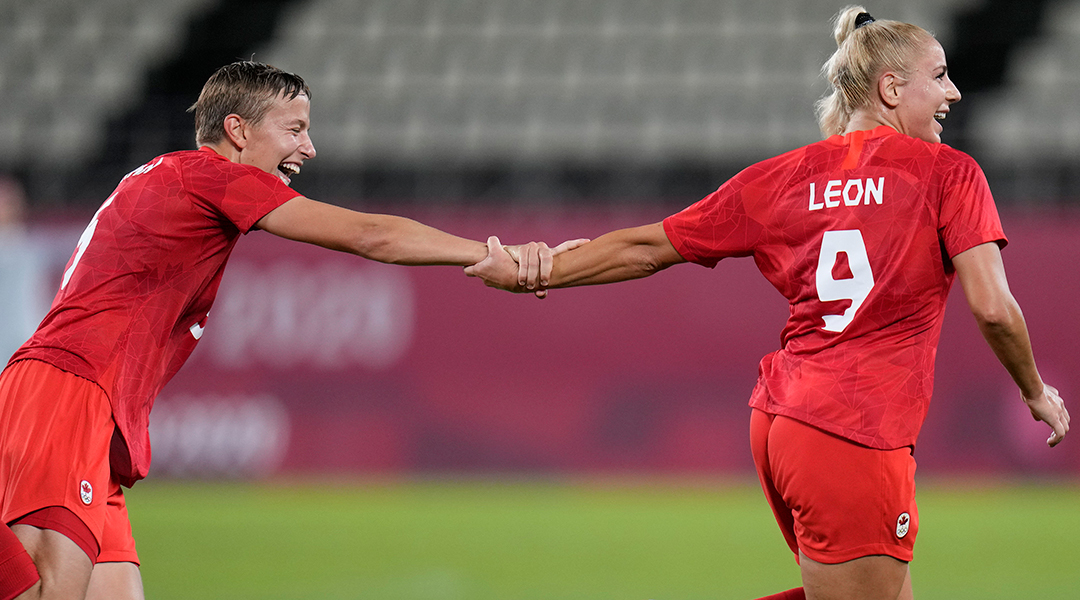 The Canadian women's soccer team is one win away at the Tokyo Olympics from achieving coach Bev Priestman's publicly stated goal of "changing the colour of the medal."
A victory in Monday's semifinal means Canada would get the chance to play for the gold medal in next Friday's tournament final, allowing the Reds to improve upon the bronze medals they won at London 2012 and Rio 2016.
All that is standing in the way of Canada, who is No. 8 in the current FIFA world rankings, is a final-four showdown against the United States – the two-time defending World Cup champions, No. 1 ranked team in the world, and four-time Olympic gold medallists.
The U.S. appears to have a date with destiny, as a win in the gold medal game would make them the first team in history to win the World Cup and an Olympic gold medal back to back. Canada is trying to make a little history of its own by reaching the medal podium for a third consecutive occasion, and becoming Olympic champions for the first time. To have a shot at it, the Canadians must first vanquish their neighbouring rivals.
Truth be told, there isn't much of a rivalry between the two nations. The Canada-U.S. series is more Harlem Globetrotters vs. Washington Generals than FC Barcelona vs. Real Madrid, as the Americans are 51-3-7 all-time vs. the Canadians dating back to their first meeting in 1986. The U.S. is also riding a 37-game unbeaten run, with Canada's last victory coming on March 11, 2001. To put it in context, that was three Canadian Prime Ministers ago. The most recent match between the sides saw the U.S. earn a 1-0 win in February at the SheBelieves Cup tournament in Orlando.
Of course, these teams have Olympic history together, as their semifinal at London 2012 was a classic and one of the most epic matches in the history of women's soccer. Iconic Canadian captain Christine Sinclair had the game of her life, scoring a memorable hat trick at Old Trafford in a performance that sealed her fate as the winner of the Lou Marsh Trophy, awarded annually to Canada's athlete of the year.
Sinclair's heroic effort wasn't enough, though, as the U.S. benefited from some dubious calls by Norwegian referee Christiana Pedersen to earn a controversial 4-3 victory in extra time. That was nine years ago, but the current Canadian squad members who played in that game – Sinclair, goalkeeper Erin McLeod, and midfielders Desiree Scott and Sophie Schmidt – haven't forgotten about it, and will no doubt use the lingering memory of that moment as motivation heading into Monday's Olympic rematch.
History is not on Canada's slide, but the Reds have been in far better form at the Tokyo Olympics, while the Americans have stumbled their way into the semifinals and appear ripe for an upset.
Priestman's side has grown stronger as the tournament has progressed, improving upon a 1-1 draw with Japan in its opener, and going from strength to strength with each passing game, culminating in a dramatic penalty shootout win over seventh-ranked Brazil in the quarter-finals.
Goalkeeper Stephanie Labbé has continually put her body on the line and made a number of critical saves in a series of gutsy performances for the Canadian cause. Ashley Lawrence has cemented her status as one of the best fullbacks in the world, while newcomer Vanessa Gilles has emerged as a tower of strength in central defence playing alongside veteran Kadeisha Buchanan. Beyond the back four, Canada has been impeccably organized and kept its defensive shape, and has never once trailed in games.
The attack, while far from glittering, has managed to get the job done. And it's not just Sinclair who has led the way – she has just one goal, and saw her penalty attempt saved in the shootout against Brazil. Janine Beckie bagged a brace in the 2-1 win over Chile, and Adriana Leon scored in a 1-1 draw against Great Britain.
The U.S., on the other hand, has looked mediocre in Japan, aside from registering a 6-1 win over lowly New Zealand in its second contest of the group stage. The Americans were thoroughly outclassed by Sweden in a 3-0 loss to begin their tournament, and looked completely uninspired in a 0-0 draw against modest Australia to close out the first round. A laboured penalty shootout win over the Netherlands in the quarterfinals only raised more questions about the U.S.'s inability to bring their "A game."
The U.S. have survived, rather than thrived, in Tokyo. Almost everything has been a struggle for the Americans, very little coming easy to them, and have been plagued by attacking lulls and defensive miscues. They've conceded six times over four games, and no American player has scored more than once – two of their eight goals have been own-goals. If not for goalkeeper Alyssa Naeher's heroics in the shootout vs. the Dutch, this sluggish and old American side would've been eliminated without even reaching the medal podium.
But the Americans have never been short of confidence and steely resolve, attributes they have heavily relied upon to get them this far at the Tokyo Olympics. Will that be enough against a Canadian team that has come into its own with its consistent and dogged displays in Japan?
We'll soon find out.
---
John Molinaro is one of the leading soccer journalists in Canada, having covered the game for over 20 years for a number of media outlets, including Sportsnet, CBC Sports and Sun Media. He is currently the editor-in-chief of TFC Republic, a website dedicated to in-depth coverage of Toronto FC and Canadian soccer. To check out TFC Republic, CLICK HERE.