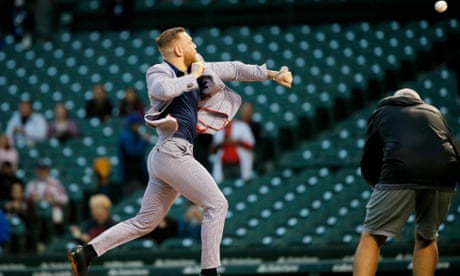 Fighter's throw clears home plate and almost lands in stands
Irishman joins long list of celebrities' feeble efforts
On Tuesday night Conor McGregor joined a long list of celebrities unable to throw in a straight line as he stepped up to the mound before a Chicago Cubs game.
The MMA fighter threw out the ceremonial first pitch at Wrigley Field before the Cubs' met the Minnesota Twins. As you may expect from a professional athlete, his throw had plenty of power but, like the man himself, it lacked control and sailed high and wide of home plate before bouncing into a wall.