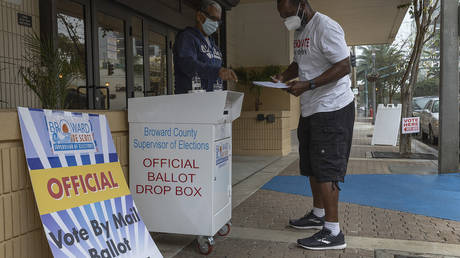 The state is already planning an appeal against the ruling
A Pennsylvania court struck down a law on Friday that allowed anyone in the US state to vote by mail, claiming it violated the commonwealth's constitution.
A panel of judges, made up of three Republicans and two dissenting Democrats, in Pennsylvania's Commonwealth Court ruled that Act 77 was unconstitutional. It had been signed into law by Democrat Governor Tom Wolf in 2019. Mail-in voting became a controversial topic during the 2020 presidential election, with many Republicans claiming the move in states toward universal mail-in voting could result in fraudulent ballots.
According to the court ruling, 'no excuse' mail-in voting requires a constitutional amendment in the state.

READ MORE: Pence reveals how long it's been since he's spoken to Trump

"If presented to the people, a constitutional amendment to end the Article VII, Section 1 requirement of in-person voting is likely to be adopted. But a constitutional amendment must be presented to the people and adopted into our fundamental law before legislation authorizing no-excuse mail-in voting can 'be placed upon our statute books,'" Commonwealth Court Judge Mary Hannah Leavitt wrote in the ruling.
The court decision came in response to a lawsuit objecting to universal mail-in voting. Over 2.6 million people voted via mail in Pennsylvania for the previous presidential election.
Trump, who continues to claim the election results were a sham, though no official proof of widespread fraud has been found, joined other Republicans in celebrating the court's decision.
"Big news out of Pennsylvania, great patriotic spirit is developing at a level that nobody thought possible. Make America Great Again!" he said in a public statement.
State Attorney General Josh Shapiro, a Democrat, was also quick to react to the ruling, pledging that an appeal would be filed soon and saying the decision was based on "twisted logic" and "faulty reasoning."