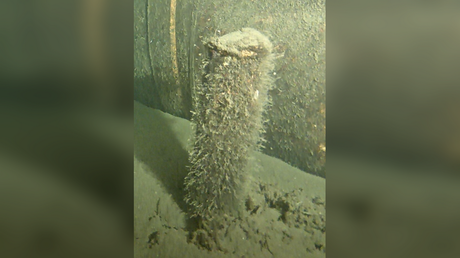 The Gazprom-owned company can participate in the recovery of an unknown object found near the sabotaged pipeline, Copenhagen has said
Danish authorities will permit the Russian-owned operator of the sabotaged Nord Stream 2 pipeline to take part in the salvaging of a mystery object discovered in Denmark's territorial waters. Danish warships were recently spotted in the area close to the damaged pipeline.
Copenhagen is seeking to clarify the nature of the object, which the Danish Energy Agency will endeavor to do with assistance from the military, according to a statement on Thursday. Nord Stream 2 AG – whose parent company is Russian energy giant Gazprom – has been invited to participate "in that context," the statement added.
Earlier this week, the Danish press reported the sighting of three military vessels, including a ship used by military divers, near the pipeline to the east of the island of Bornholm. Both Nord Stream pipelines were damaged by powerful explosions in two separate areas near the island last September. The Berlingske newspaper, which was the first to report the Danish Navy's activities, said the military had confirmed its presence in the area, but declined to elaborate.
Danish Foreign Minister Lars Rasmussen revealed last week that the government could corroborate Russian reports about the discovery of an unknown object near Nord Stream 2. Gazprom provided Danish authorities with photographs that it said had been found during a survey of the damaged energy route.
Russian President Vladimir Putin stated that the object had been found around 30km from where the pipeline was breached, and suggested that it could be some sort of antenna used in the sabotage to remotely trigger the charges.
Putin said Russia sought to investigate further, either on its own or with Denmark and a group of international experts. Rasmussen said Copenhagen would not allow Russia access to the site.
The Danish Energy Agency shared an image of the mystery object and described it as cylindrical in shape, measuring 40cm tall and 10cm in diameter. It suggested it could be a maritime smoke buoy, a signaling device used to help locate people in distress.
Moscow considers the sabotage of the Nord Stream pipelines, which were built to deliver Russian natural gas directly to Germany under the Baltic Sea, to be an act of terrorism. Putin stated that only a "state-level actor" could have pulled off the sabotage, considering the complexity of the mission.