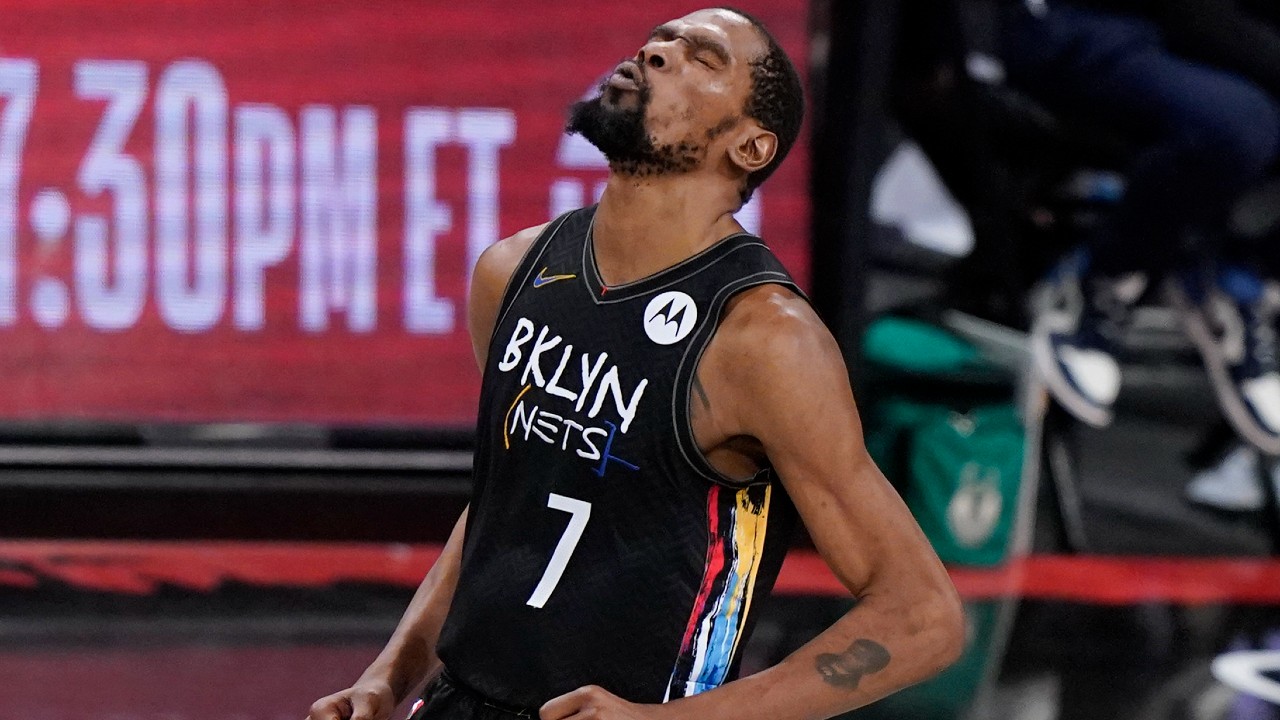 Y'all know who he is, right?
Kevin Durant is unquestionably one of the greatest basketball players to ever walk the Earth.
A two-time NBA champion, two-time Finals MVP, two-time Olympic gold medallist, 11-time all-star, nine-time All-NBA selection, four-time scoring champion and a league MVP, he's accomplished just about everything one can in the game of basketball.
But on Tuesday night, Durant managed to find a way to add to his already extensive resumé with one of the greatest individual performances you will ever see from any athlete in any sport in any era.
Durant finished Tuesday's pivotal Game 5 against the Milwaukee Bucks with an unfathomable line of 49 points, 17 rebounds, 10 assists, three steals, two blocks and just three turnovers while shooting 16-of-23 (69.6 per cent) from the field and playing all 48 minutes of the game to help his Nets to a 114-108 win, and a 3-2 series lead, despite the fact the Bucks led by as much as 17 in the game, James Harden was clearly hobbled dealing with a hamstring issue and Kyrie Irving was unable to play injured.
This was the kind of performance that dreams are made of.
And, as these series of tweets will tell you, it was about as historic as it gets.
Kevin Durant is the first player in NBA postseason history with 45 points, 15 rebounds and 10 assists in a game.

Durant had 30 points in a playoff half for the 2nd time in his career. He is the first Nets player with 30 points in a half over the last 25 postseasons. pic.twitter.com/gub60v4Lam

— ESPN Stats & Info (@ESPNStatsInfo) June 16, 2021
But there's more….

Kevin Durant shot 69.6 percent from the floor tonight, the third-highest field goal percentage in a 40-point triple-double in playoff history.

— ESPN Stats & Info (@ESPNStatsInfo) June 16, 2021
& his 49 points are the second-most in a triple-double game in playoff history.

— ESPN Stats & Info (@ESPNStatsInfo) June 16, 2021
"I didn't think about how many points I had or shot attempts or rebounds, assists," Durant told reporters after the game. "It was more so just let me do what I need to do each possession. That's the approach I always take."
He also told TNT reporter immediately after the game, of the full 48 minutes he played, that it all wasn't that big a deal.
"I wasn't really planning on playing every minute, but as the game started to flow and we got down I told coach that if you needed to take me out for a couple that's cool but I feel good and he just let me ride it out."
Kevin Durant on playing all 48 minutes, his team's toughness and their halftime adjustments after his 31-point 2nd half powers a 17-point comeback victory to put the @BrooklynNets up 3-2. #ThatsGame #NBAPlayoffs

KD: 49 PTS, 17 AST, 10 AST, 3 STL, 2 BLK pic.twitter.com/hybDlrBkiv

— NBA (@NBA) June 16, 2021
Never one to get too high or low about his own performances, Durant's lack of enthusiasm over what he accomplished was properly made up for by his coach Steve Nash and his teammates who spoke to reporters after the game.
"I mean, it's ridiculous what he's able to do," said Nash. "I think we know he's capable of nights like this, but to do it tonight – we lose [Irving], James obviously is soldiering through his ailments, we're down bodies, we're wounded – and for him to have the toughness, the mentality, that's what makes him one of the all-time greats. This was a signature performance for Kevin and it was beautiful to watch."
Added Harden, who heroically logged nearly 46 full minutes himself despite looking like he was playing on one leg in Tuesday's game: "Kevin's game was just unbelievable. Like, he was unfazed the entire game. He was poised – especially in that second half – and he started to take his time, started to get to his spots and it was kind of like I saw Kevin directing people to where he wanted them to be and once Kevin gets that he's comfortable and he's in the zone, it's pretty hard to stop him."
To Harden's point, Durant scored 31 of his 49 in the second half, with 20 of those points coming in the fourth quarter alone.
And while Tuesday's game wasn't all Durant as Jeff Green scored 27 points for the Nets, going 7-of-8 from three-point range and, of course, there's the whole other matter of yet another epic Bucks collapse in a key playoff game – for some reason Milwaukee head coach Mike Budenholzer refused to double team Durant when he was cooking and didn't even try putting Giannis Antetokounmpo or Jrue Holiday (his two best defenders) on Durant – Game 5 of the 2021 Eastern Conference semifinals between the Nets and Bucks will be remembered for one thing and one thing only.
His name is Kevin Durant, and y'all know who he is.