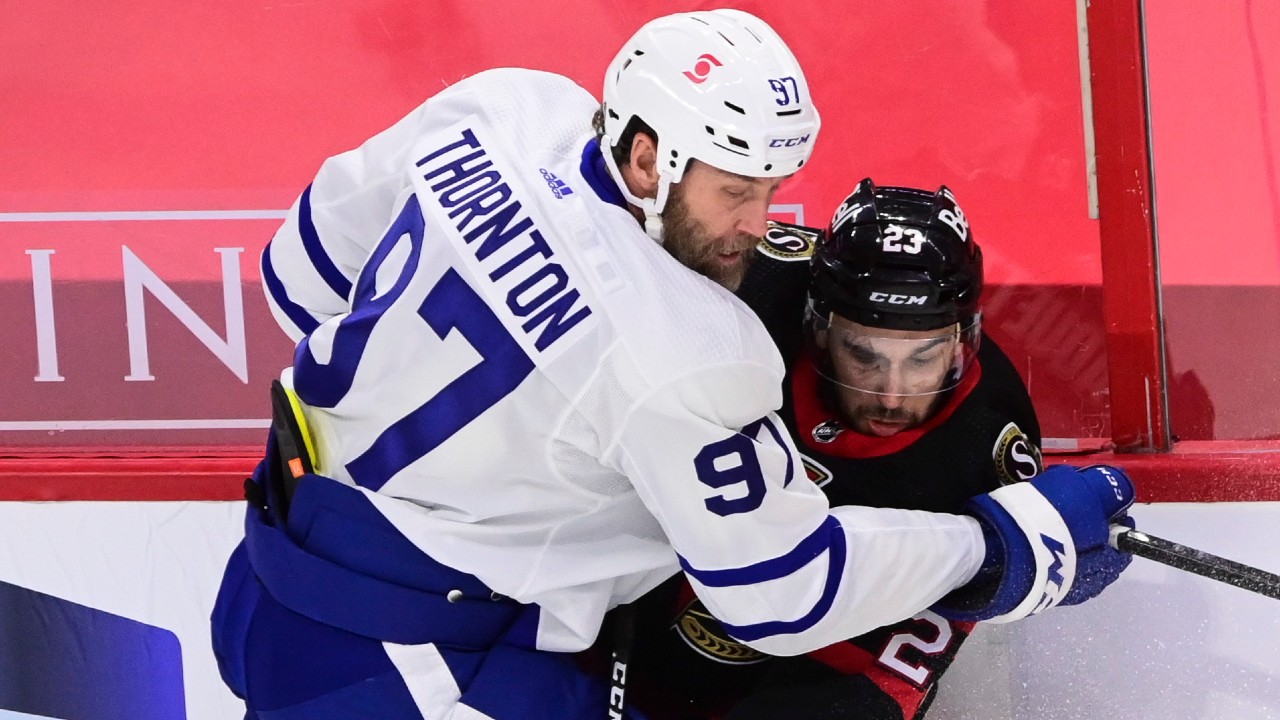 You lose like this to the presumed seventh seed inside the Group of Seven and the arrows will be pointed in familiar directions.
Frederik Andersen looks like an easy target, as does a defensive program that surrendered more goals per game than all but one team invited to the NHL's summer bubble last year.
But neither touches the heart of the biggest questions facing the Toronto Maple Leafs coming out of Friday's 5-3 loss to the Ottawa Senators: Why did they veer into the ditch after a solid opening 29 minutes? And where was the offensive wave that's supposed to be a distinguishing quality for them in this North Division?
Toronto's 39 per cent expected-goals rate tells us even more than the result, especially since it generated next to nothing at 5-on-5 while playing the back half of the game from behind.
Any potential offensive flow died in transition. And the gold-standard series of shifts with sustained pressure building up to Alex Kerfoot's 2-1 goal quickly became notable because they couldn't be repeated while Ottawa roared back to win the first game it was playing in 310 days.
"Scoring that goal for us, if we want to be a team that's going to accomplish anything, the game should be over from there," said Leafs coach Sheldon Keefe. "We should be able to take care of the lead and then build on the lead. Obviously, it showed that we're not there yet."
They were a long way off against D.J. Smith's determined group.
That Smith would have his team closely protecting the net front should surprise no one that watched Ottawa battle through a rebuilding season. The Sens' issues were personnel-related and their personnel improved considerably since March.
But they still boast the kind of defensive corps a team with Toronto's weapons should be expected to overwhelm — only it didn't happen nearly enough in the opener of a back-to-back set at Canadian Tire Centre.
Trailing 4-2 entering the third period, the Leafs put just four more shots on Matt Murray while attempting five shot attempts at even strength. That's why the rush to dissect every defensive breakdown feels a little incomplete.
These are the early days of a weird season that included no exhibition games and a lot of money is being made by those betting the "over" league-wide right now. There's isn't much tight, organized hockey being played anywhere right now and, theoretically, that should play directly into the hands of a team like the Leafs.
Yes, they've hung eight goals on the scoreboard across two games, but they haven't tilted the ice nearly as much as desired. Against the Senators they were pushed toward the perimeter and looked too often for the ideal play.
"There's a great number of goals that are scored in the league that are just randomness," said Keefe. "You just put the puck to space and try to outnumber the opposition and win loose pucks and that's really all their goals for the most part came off of situations like that.
"We had great control of the game for long periods of time but didn't accomplish much with it."
The coach will have his patience tested during the quick turnaround before Saturday's game. He's indicated a desire to give his lines a chance to find some cohesion but must be feeling the itch to rearrange the pieces.
An obvious change would be removing fourth-line winger Alexander Barbanov, who saw just over four minutes in Friday's game. The taxi squad offers multiple replacement options — one of Nick Robertson, Adam Brooks or Travis Boyd could jump in, or perhaps Keefe might elect to give Mikko Lehtonen or Rasmus Sandin a look as part of a 11F/7D rotation.
A silver lining from a tough night came from the fact his glue guys showed cohesion. Keefe has high hopes for Kerfoot, Zach Hyman and Ilya Mikheyev as a third line and they managed some tone-setting shifts, plus the Kerfoot goal.
"I think that we all play fast, we play hard," said Hyman. "I thought we had a strong game. I thought we played well together. I like playing with those guys."
It may only be a matter of time for Auston Matthews, Mitch Marner and Joe Thornton — assuming they remain intact. They've played big minutes and generated enough chances to have scored a couple goals already but are still looking for their first.
We got a glimpse of what Thornton can offer early in Friday's game when he stationed himself behind the net and fed Matthews for a chance in close.
"Those little give-and-go plays, we're just trying to create little wedges, 2-on-1s, and try to find open guys," said Matthews.
"We're trying to speed up our game a lot offensively and challenge the net a lot more," added Keefe. "I mean we just haven't done that. That's going to take some time, that's a big adjustment from a lot of our guys."
The lack of flow has been noticeable. They've played from behind in both games and haven't yet found a high gear, even while rallying to beat the Montreal Canadiens in Wednesday's season opener.
Ottawa is supposed to be their easiest mark in the division and yet the struggle was real in Game 2.
"It shows you how tough it is to win in this league," said Andersen.