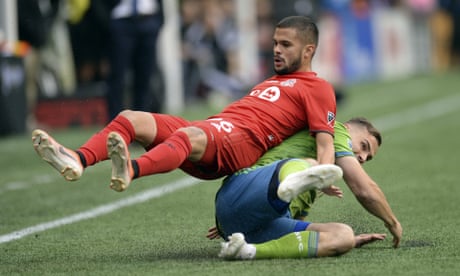 Major League Soccer's ambitious goal of growing into one of the world's best leagues is ever compromised with so many of its teams still playing on artificial surfaces
In every other way, it was a marquee event. The sight of 69,274 fans, a stadium record attendance, packed into CenturyLink Field was enough to illustrate this, although the elaborate pre-game TIFOs, pyrotechnics and 'March To The Match' from downtown Seattle out to the venue only added to the spectacle. Indeed, last year's MLS Cup final had all the components of a Big Match, besides one: the pitch.
Like every Seattle Sounders home game since the club's introduction to the league in 2009, last year's MLS Cup final was played on an artificial grass surface. FieldTurf, to be precise. It was the same the season before as Atlanta United hosted the Portland Timbers at Mercedes-Benz Stadium. That too was a big time sporting occasion to rival anything produced by the Champions League, Europa League or any other European competition. Just like in Seattle, though, the plastic pitch was out of place.
Related: Finances will be shattered by sports suspensions. But it won't be the stars who suffer
Related: MLS to become bigger than baseball? Why the need for comparison?