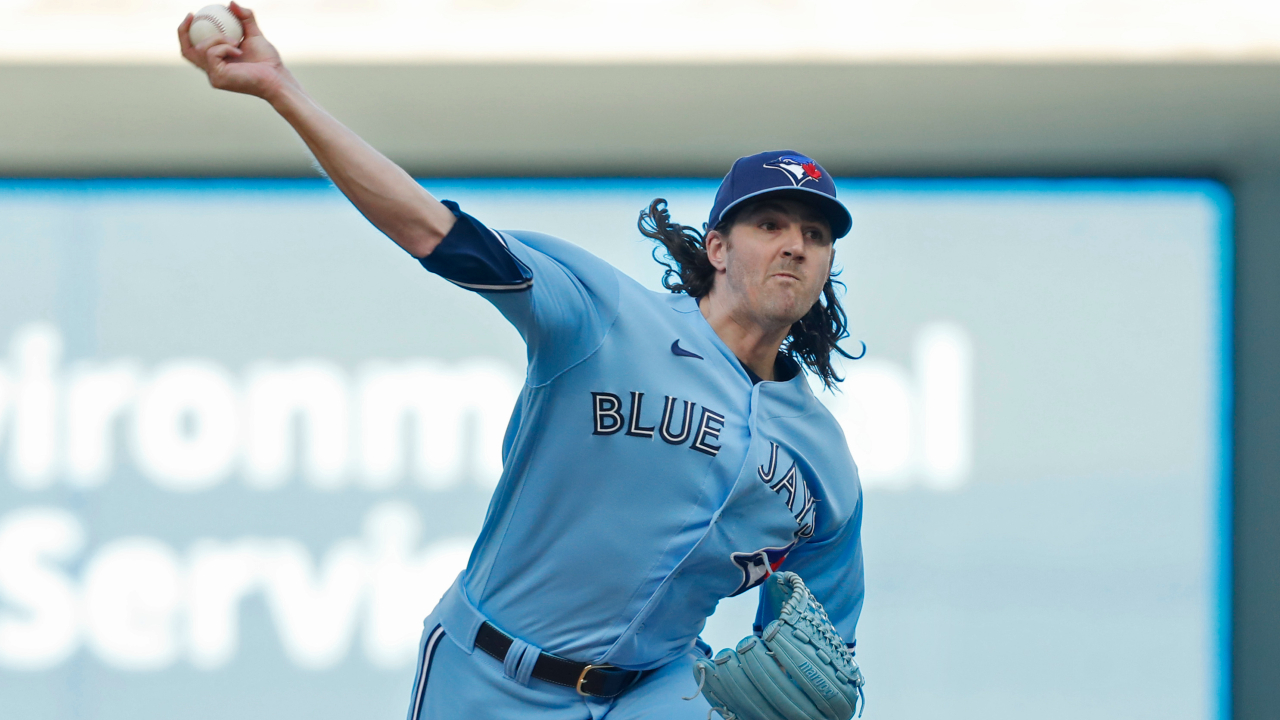 MINNEAPOLIS – Jordan Romano pointed up and cleared out of the way. He'd just induced a pop-up off the bat of Kyle Farmer, and with Matt Chapman approaching from third base, Romano knew others were best equipped to take it from here. Calling off Brandon Belt and Alejandro Kirk, Chapman made the play and the Blue Jays earned another win at long last.
Finally, some relief. After a poor showing against the AL East-leading Rays, the Blue Jays visited another first-place team in the Twins. Once again the game was stressful from start to finish, with little room for error on either side.
Only this time, the Blue Jays were able to access some of what eluded them over the course of their recent 2-9 skid. They hit homers, for instance, one each from Kevin Kiermaier and Bo Bichette. They played well defensively, avoiding the costly mistakes that piled up earlier in the week. And their bullpen combined for 11 high-leverage outs featuring Nate Pearson in a setup role. Suddenly, Tropicana Field feels pretty distant.
"Yesterday is yesterday," Blue Jays manager John Schneider said Friday afternoon. "It's a new series; it's a new team; it's a new place. It's the first game of the series and you try to win it and try to win series. But guys are in a good spot. What was said was said. You move on and focus all your attention on beating Minnesota."
Of course, the Blue Jays wouldn't have been in a position to win Friday's series opener without a strong start from Kevin Gausman.
Making his 11th start of the season, the right-hander gave the Blue Jays 5.1 innings of one-run baseball. He struck out eight – hardly a surprise for the AL leader in whiffs – but also walked five, a sign his command wasn't as sharp as usual.
But once Gausman's relatively short outing ended, the Blue Jays' bullpen did the rest. Erik Swanson escaped a sixth-inning jam, Tim Mayza entered when left-handers Alex Kirilloff and Edouard Julien were due up and Pearson pitched the eighth to set up closer Jordan Romano.
Of all the relievers who contributed, it was Pearson who stood out most. True to form, he topped out at 99 m.p.h. while allowing just one baserunner. But remember: he made his season debut on April 25 – barely a month ago. That's all the time it's taken for him to establish himself as one of the Blue Jays' trusted leverage arms.
Thanks to the stellar performance from the pitching staff, the Blue Jays didn't need much offence. While Bichette and Kiermaier led the way with home runs, George Springer and Whit Merrifield also had two-hit games on a night the team combined for just eight hits.
Before the game, the Blue Jays placed Danny Jansen on the injured list with a left groin strain and recalled Tyler Heineman to take his place on the roster. But where Jansen shared time with Kirk, Heineman will play more sparingly. Not only does Kirk know the Blue Jays' pitchers better, his offensive skills are superior.
"For one thing, it's an opportunity for Kirk to get some pretty consistent playing time, which is great. Hopefully he can get rolling a little bit," Schneider said. "As for Tyler, more of a kind of traditional backup role. But, you know, he'll be in there."
Yet if recent history offers any clues, Heineman will play. The Blue Jays have been deliberate with Kirk's workload in recent seasons, catching him three days in a row on just two occasions throughout the entire 2022 season. So far this year, he's caught on three straight days once – the three days since Jansen got hurt.
Under those circumstances, don't be surprised if Heineman's behind the plate Saturday when Chris Bassitt faces Pablo Lopez. Either way, the Blue Jays are relying on Kirk more than ever, both offensively and defensively.
In the coming weeks, we'll learn how Kirk responds to that challenge. For now, at least the Blue Jays have a win.