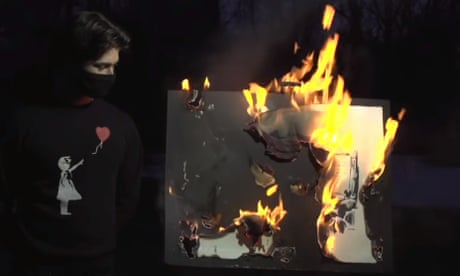 A Banksy just fetched $382,000 despite going up in smoke, while a cat cartoon bagged twice that. And it's all thanks to NFTs, an offshoot of crypto currency bitcoin. But is this a bubble about to burst?
Last week masked men set fire to a Banksy screenprint called Morons (White) at a secret location in Brooklyn, livestreaming the destruction via the Twitter account @BurntBanksy. The men worked for a company called Injective Protocol, which bought the print for $95,000 in order to destroy it and replace it with a unique digital facsimile. This is called crypto art and, if you want to know the extent to which it's booming, well, the new work just went for $382,336, more than four times the original price.
From Ai Weiwei smashing a 2,000-year-old vase to the Chapman brothers defacing Goya prints, artists are no strangers to creative destruction. But this is different. The burning of Morons (White) is thought to be the first time a physical artwork has been replaced by a unique digital asset. "We view this burning event as an expression of art itself," Injective Protocol executive Mirza Uddin said. "We specifically chose a Banksy piece since he has previously shredded one of his own artworks at an auction."
Why would a video clip that anyone can see on Twitter or YouTube be worth $208,000?
Related: Damien Hirst: 'I flirted with the idea of pickling people'