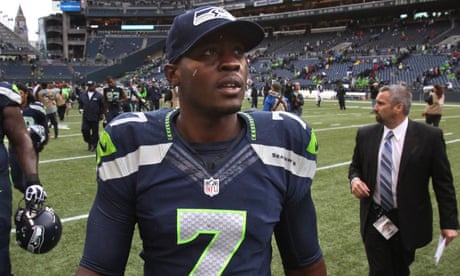 Player was part of Seahawks team that won Super Bowl XLVIII
Jackson is survived by his wife and three children
Former NFL quarterback Tarvaris Jackson has been killed in a car crash at the age of 36. The news was confirmed by Tennessee State, where he had worked as a quarterback coach during the 2019 season.
The Alabama Law Enforcement Agency said Jackson was killed in a single vehicle accident on Sunday night near his hometown of Montgomery after his car left the road, hit a tree and overturned. He was taken to a local hospital but was later pronounced dead. He was married with three children.
Our thoughts and prayers are with the friends and family of former #Vikings QB Tarvaris Jackson.
You will be missed, TJack!
: https://t.co/ZN4IwLgrN0 pic.twitter.com/SfCFhkT9jJ
RIP Tavaris Jackson. TJack was one of the best teammates and friends. Drafted together in 06' and he will be missed. #skol #tavarisjackson