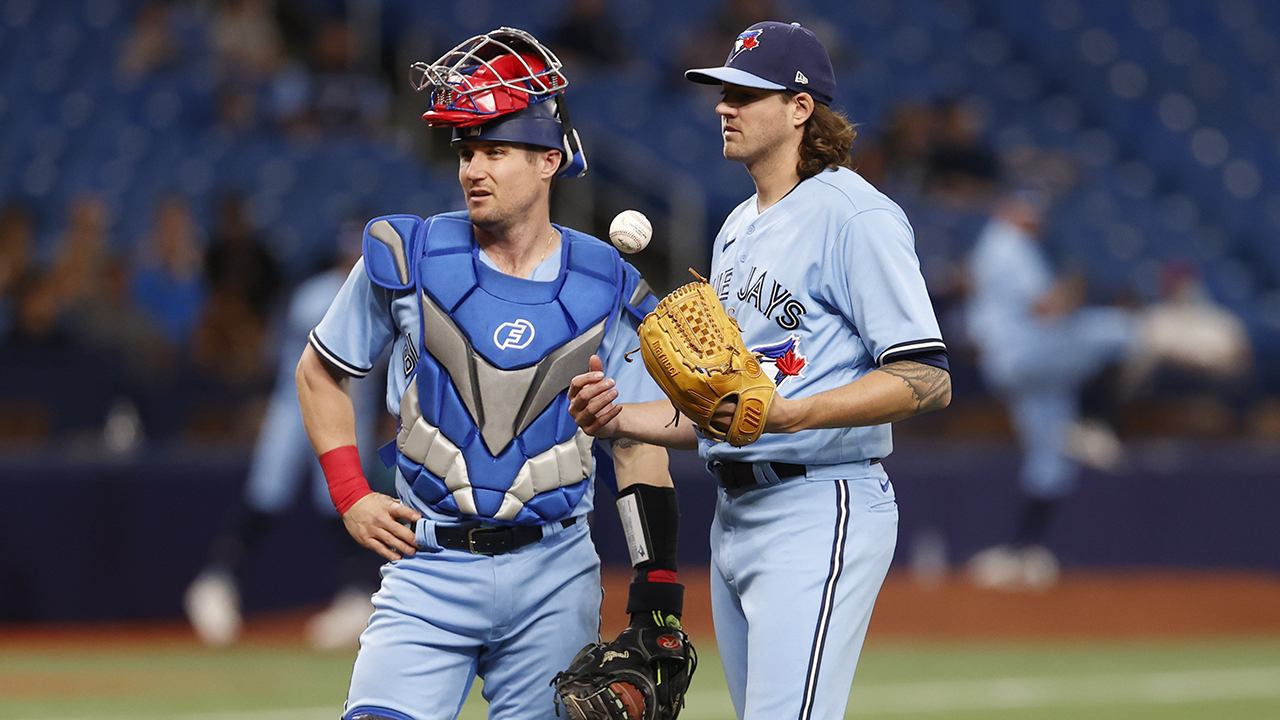 ST. PETERSBURG, Fla. – Shortly after the Toronto Blue Jays' 5-3 loss to the New York Yankees on Wednesday, George Springer decided he and his teammates needed to talk. So, amid mounting frustrations from four consecutive defeats and seven in the past nine outings, the star centre-fielder called everyone together, shut the doors and led a players-only meeting.
"I read the room a little bit – we'd just had a tough loss the night before and obviously stuff didn't go our way that day. So, shoot, why not?" Springer explained. "I just thought it fit. I thought it was the right time. Nothing major. Felt it was a good time to talk to the boys a little bit and you move on."
Among the themes he touched on were slowing themselves down, fighting through adversity and being ready to adjust, points made all the more pertinent when Springer left Friday night's 5-2 loss to the Tampa Bay Rays after rolling his left ankle.
There was no immediate word on the severity of the injury, which the club described as a sprain. Springer was hurt trying to make a leaping catch on Brandon Lowe's 408-foot smash leading off the second, his weight folding over the ankle as he fell back into the wall.
The play was reminiscent of the one on which he was injured in Seattle last August, when he also landed awkwardly jumping back into the wall. He immediately grabbed his left ankle on that play, but the injury eventually turned out to be Grade 1 knee sprain.
Springer finished out the inning this time, took his at-bat in the top of the third and then, after heading to the outfield to take the field, was replaced by Raimel Tapia.
The speedy outfielder helped create the Blue Jays' first run of the game, beating out an infield single with two out in the sixth, advancing to second on Bo Bichette's walk and scoring on Vladimir Guerrero Jr.'s RBI single, and later singled home the tying run in the eighth.
But for an offence yet to lock in and deliver to its capabilities, any sort of absence for Springer will be a significant blow.
The all-too-familiar lack of production squandered the latest gem from Kevin Gausman, who allowed a Ji-Man Choi fielder's choice that scored Lowe's second-inning triple and Mike Zunino's RBI single in the fifth that cashed in Kevin Kiermaier, who reached third on the right-hander's throwing error.
Tapia's run in the sixth began undoing a 2-0 deficit and after his single in the eighth, the Blue Jays looked to be in position for more with men on first and second with no one out. But Andrew Kittredge took over from Brooks Raley, struck out Bichette and then induced a 5-4-3 double play from Guerrero, who went all out up the line, was out by half a step and then stood bent over in the outfield for several moments after.
As if on cue in the bottom half, Zunino led off with a double, Taylor Walls followed with a grounder a shifted Bichette couldn't corral and Margot squeezed a base hit through a drawn-in infield to plate the go-ahead run. A Francisco Mejia RBI single off Tim Mayza made it a 4-2 game and when the lefty had a pick-off negated by a balk call, he scored on a Lowe triple.
It was the type of everything-goes-wrong loss that's been painfully common for the Blue Jays of late, which is partly why Springer decided to call the group together.
"This is a young team," he said before the game. "That's not an excuse, but sometimes they're going to go through growing pains and you've got to learn to fight through stuff and face a little bit of adversity and all that good stuff to come out better on the other side.
"A lot of people forget that this is the second year for a lot of really, really core players on this team," he added. "They have to adjust to the league and the league's already adjusted to them and adjusted to how the Blue Jays like to hit and play. There's going to be a natural kind of regression period before it goes back up. I've been a part of it. You've got to keep going."
Compounding the current challenge for the Blue Jays is the quality of opponent they've faced through a gruelling stretch of schedule. Every mistake they've made has been seized upon during the current skid, amplifying the natural tendency to press.
Drawing upon his own experiences, Springer said his "main message is just slow down. It's all good. It's just baseball."
"A lot gets lost on how young these guys actually are because we're expected to win and that's fine," he continued. "That's a great problem to have. But they're still developing. These are guys that are still trying to learn themselves and figure out who they want to be. So that's my job to kind of mess around a little bit, have a little bit of fun and hopefully we can start to slow some things down here. But there's still a long way to go."
A way that will become much longer if Springer is out for any significant amount of time.