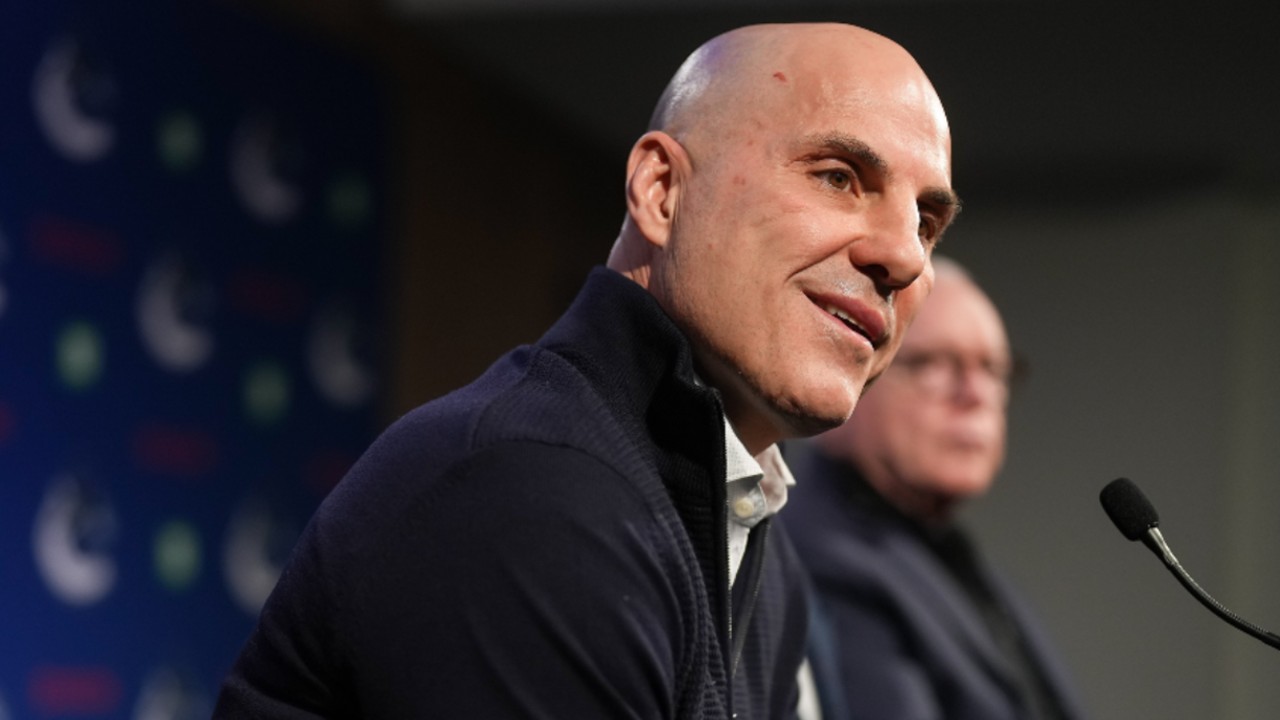 One of the more common text messages I received in the wake of the Canucks firing Bruce Boudreau and hiring Rick Tocchet was: "Why Rick Tocchet?"
Of course, the question would come after a dozen "What the hell are the Canucks doing lol"-themed messages, but the point was that Tocchet is below .500 as an NHL coach, so is he really the guy to put the Canucks back on track to, well, anywhere that isn't abject disaster?
I'm a Tocchet advocate – I think he understands hockey exceedingly well, he's convincing in the way he delivers his message, and he's got a nice mix of experience and energy. He's won Cups as an assistant and had led teams as a head coach in the past. I know the head coaching gigs didn't always go awesome, but you have to take into consideration what a guy has to work with.
You could put the three winningest coaches in NHL history behind the bench of Columbus or Chicago this season and playoffs would still have vanished beyond the horizon a month ago. Tocchet was handed a Coyotes roster that he actually took to the playoffs (where they won a round), which ain't bad.
This job, though, is the one that will likely come to define how we think of Tocchet, and in many ways, it seems like a no-win opportunity on the surface. If they win, a bunch of fans will be mad that they're missing out on a better shot to draft Connor Bedard, and if they lose a bunch people will ask why they bothered to make a change at all.
But change has to start somewhere, and I've never seen a team need change as badly as the Canucks. Everyone even tangentially related to the franchise has been dying on the vine, and so a fresh start is nothing if not merciful.
Still, they're too high in the standings to finish in the legit cellar, and anywhere between fourth and 11th-worst in the league sees your odds of winning the lottery change by a single per cent here or there. So as I see it, you may as well try to win while you're down there and instill some good habits that can have you come out of the gates hot next season, as opposed to learning new systems as a campaign begins.
About those habits: how can ownership and fans judge the job Tocchet does with the Canucks over the next three months? We have a pretty good idea that the Canucks aren't deep enough to contend with the best teams, and that they're going to sell off more talented players in the hopes of bottoming out and gaining assets. So it's unlikely Vancouver will manage to win much the rest of the way. What then will we deem a success?
In my experience as both a player and a coach, I've seen that players have a lot of leeway to control things on the offensive side of the puck. So avoiding that part of the game, here is where I think we can judge Tocchet's "success," even if the Canucks lose more than they win the rest of the way.
The play past the "new coach bump"
We have to start by acknowledging the "new coach bump" teams often get. That's a product of a return to training camp-like effort, where you know the person who will decide your opportunity is watching closely and deciding who should get what for coveted minutes and line mates. A good show over the next few games can mean increased opportunity, stats and a career boost going forward.
So we can start by judging the team when it gets past the next few games, and into the way we really expect them to look long term.
Defensive structure in the D-zone
Some years ago, every team in the NHL used a zone defence that required a lot of switching to ensure there were "layers" of coverage. Some teams found their particular defencemen couldn't think it well enough and kept blowing coverages, and so they went to a more man-on-man style of play (I'd say that's better if you have raw talent, while zone is better if you have smarter players).
Today, many teams use a hybrid, most commonly a man-on-man at the top and a zone down low.
Honestly, I couldn't even tell you what the Canucks have been trying to do so far this season.
Can Tocchet implement a structure that can have them better than 25th in slot shots against at 5-on-5, and make life easier on the Canucks goaltenders?
Penalty Kill
And further to making life easier on the goaltenders, for the love of the hockey gods, can Tocchet and his new staff implement a penalty kill that the team understands and plays well enough that they're not the worst PK outfit since the league started tracking success rates some 40-plus years ago?
PK personnel is important. You need some people willing to block shots, do stops and starts, and play for something aside from glory. But in the end, you do not need pure grunts or pure talent. Almost any committed pro can do it. It's as simple as understanding roles and working hard. If you're a coach, PK minutes are free extra ice to hand out (some other players should get chances), and should be seen as reward time for players to increase their value. Vancouver has to get better here, and fortunately there's plenty of room to do so.
Forwards positioning in the O-zone (F3)
When people like myself have been critical of the Canucks, the biggest one has been that it looks like they're playing river hockey, in that their forwards (aside from maybe Elias Pettersson and a couple other guys) seem to have zero commitment to the defensive side of the puck.
The best defensive teams in the NHL have forwards who stay on the defensive side of loose puck battles in case anything goes wrong (which keeps the play on the right half of the rink). They have forwards who cover for pinching defencemen, which allows them to be more aggressive. They have forwards who come back hard through the middle of the ice to help their defence, too.
The distance between the Canucks defence and forwards this season has been staggering, as if they're totally unlinked groups of two and three, rather than a five-man unit working in cohesion. Can the Canucks' forwards find a way to be better connected to the back-end?
Set breakouts/PP set-up
These items are decided before the game even begins, and are clear places where we'll be able to judge the Canucks' coaches. What do their set breakouts look like, how is their PP formation assembled, and which personnel is chosen to execute those plans (and, did they get it better than Boudreau and his staff)?
Player usage – can you get more juice out of anyone?
This is usually issue number one, isn't it? How can you take the same group of guys and get better? That usually involves asking for more out of a couple guys (while providing more opportunity), the way that Rick Bowness went into Winnipeg and helped Josh Morrissey find his best self. This may be hard for Tocchet because it doesn't seem like his captain is going to be around long, and that's usually the first place a new coach would start – by working with that captain to figure out places they're under- or mis-utilizing guys.
Still, I'm sure Horvat will help facilitate those sorts of conversations, and Tocchet will speak with all the players one-on-one to get a sense of their position on things.
It's something to keep an eye on – who gets elevated, and can anyone be "found money" for a team that's all capped out?
Buy-in and content players
It's been miserable to be a Canuck this season, and there are too many good players for that to be the case. If they believe in the direction, the plan and one another, they should at least be able to feel good about the process they're undertaking. And with that, they'll be themselves, they'll "play" rather than "think," and come to have more success. And you'll hear it in the media over time.
Tocchet has his hands full with this Canucks rebuild, retool, whatever you want to call it. We won't be able to judge him on wins and losses entirely, but if he can improve the key areas outlined above, you can bet more success will follow shortly behind.