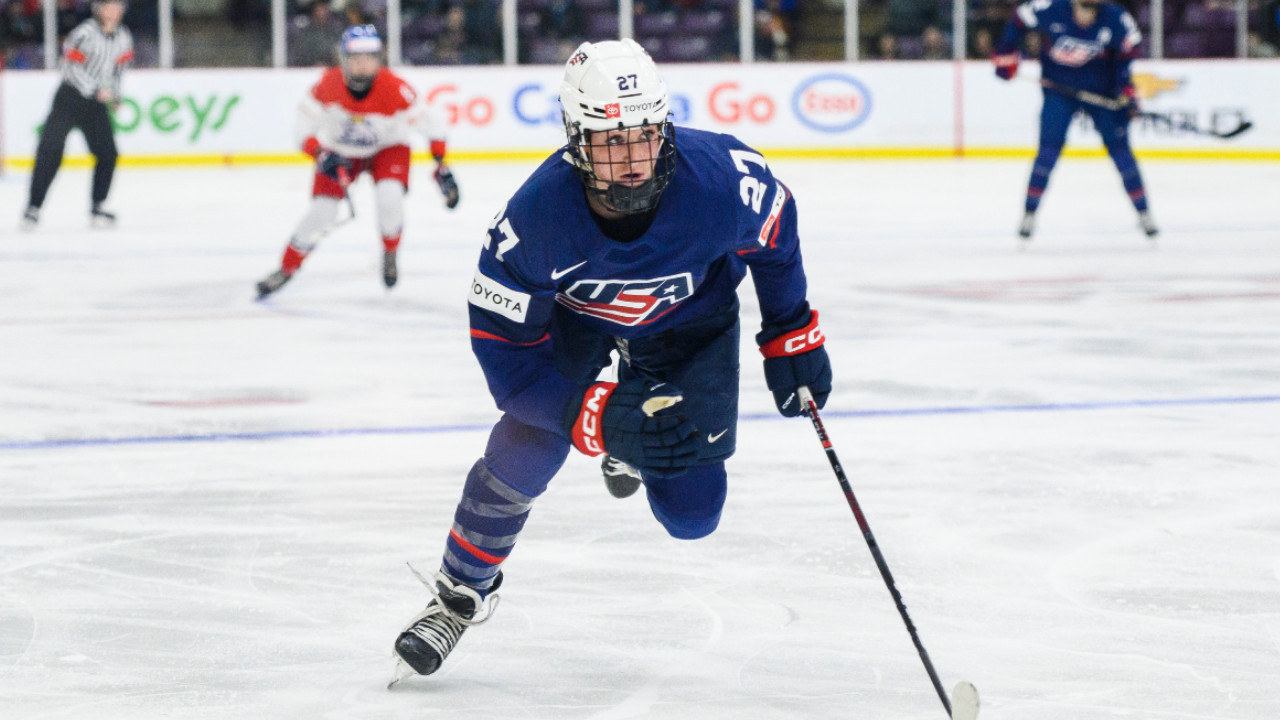 The Professional Women's Hockey League hits another momentous milestone on Monday afternoon when it conducts its inaugural draft.
Starting at 1 p.m. ET, six general managers will begin the second phase of assembling their squads, choosing from a pool of 268 draft-eligible players from the PWHPA, PHF, NCAA, U Sports, and international circuits as the 15-round draft is conducted.
Teams have come together quickly since PWHL leadership announced the markets, details, and timelines of the league, which is set to launch in January. General managers were announced Sept. 1, coinciding with the opening of an initial 10-day free-agency period, during which time each franchise signed three foundation players to build around. And on Friday, the league announced the six head coaches.
By the end of Monday, 90 more players will join league ranks upon hearing their names called from the draft floor in Toronto.
HOW THE DRAFT WORKS The draft will run 15 rounds deep and is being conducted in a snake format — meaning the team with the last pick of the first round (Montreal) has the first pick of the second round and all subsequent even-numbered rounds.
Here's the draft order of Round 1, as determined via draft lottery:
1. Minnesota
2. Toronto
3. Boston
4. New York
5. Ottawa
6. Montreal
The draft is being held in Toronto beginning at 1 p.m. ET and will feature 50 players in attendance.
WHO'S ELIGIBLE TO BE DRAFTED?
Last week, the PWHL released a list of 268 draft-eligible players, all of whom declared for the draft ahead of league-mandated Sept. 3 deadline. That pool includes 146 forwards, 78 defenders, and 44 goaltenders.
While the vast majority of eligible players hail from Canada and the United States, 17 different countries are represented. Nearly a third of the pool (a total of 98 players) spent the 2022-23 season playing in the Premier Hockey Federation — the seven-team league formerly known as the NWHL, and which ceased operations earlier this summer after it was bought out to pave the way for the PWHL. Sixty-three players enter the draft from the PWHPA, and 49 come from college programs — including the player many have projected to be selected first overall.
Let's take a look at some of the top talents and intriguing names to watch from the NCAA, PWHPA, and PHF scene as the game's best players prepare to join forces.
NCAA STARS
College players, including those who graduated this year, weren't eligible to sign during the PWHL's first wave of free agency. This year's class of graduates features a ton of talent, including plenty of skaters already making their mark during international competition. The most exciting thing about this college class? It's just the beginning — with names like Sarah Fillier and Caroline Harvey still playing Division-I next year, there's no end to the talent coming down the pipeline in years to come.
Taylor Heise, F, University of Minnesota
Winner of the Patty Kazmaier Award in 2022, Heise played a starring role on Team USA's gold medal-winning roster at April's women's worlds and is expected to be selected first overall in the PWHL's inaugural draft. You can't write a better script than that — Heise, who hails from Minnesota and was a co-captain for the Gophers last season, can start her professional career at home playing alongside other former Gophers captains (and national club teammates) Lee Stecklein and Kelly Pannek under the guidance of Minnesota hockey legend and PWHL GM Natalie Darwitz.
Sophie Jaques, D, Ohio State University
The 22-year-old averaged more than a point per game from the blue line in her final two college seasons and earned the 2023 Patty Kazmaier Award for her efforts. Should the Toronto native be scooped up early by her hometown team — which, well, she should be — the organization would have a pretty elite pair of cornerstone rearguards to build around after signing Team Canada's Renata Fast in free agency.
Alina Müller, F, Northeastern University
Following her senior season at Northeastern, which capped an outstanding college career that saw her average well over a point per game from start to finish, Müller went home to Switzerland to suit up in the pros for the ZSC Lions women's squad this fall. Now, as the five-time Patty Kazmaier finalist and long-time star of the Swiss national team prepares to return to North America, she likely won't have to wait long before her destination is determined.
Emma Söderberg, G, University of Minnesota-Duluth
Remember when Sweden almost ousted Team Canada in the quarter-final round of April's women's worlds? That was the work of Söderberg, whose sensational 51-save performance almost set the stage for an upset. Hailing from the Swedish hockey hotbed of Örnsköldsvik, the 25-year-old netminder and two-time NCAA goalie of the year is an ideal candidate to build a crease around for the long run.
Grace Zumwinkle, F, University of Minnesota
Like her Minnesota teammate and co-captain Heise, Zumwinkle represents the next wave of USA Hockey offensive production and is in line to be part of the first crop of PWHL stars coming in straight out of college. Minnesota's offence packed a punch this year, and Zumwinkle was a big reason why. She ranked second behind Heise in team points (61 in 39 games) and of her 25 goals on the season nine were game-winners.
PWHPA
All 18 players to sign during the PWHL's initial 10-day free agency period were members of the U.S. or Canadian national team and the PWHPA. More than half play up front, with franchises locking up star goal-scorers off the top. Might that mean a run of elite national team defenders in Monday's early rounds?
Natalie Spooner, F, Team Canada
Spooner played hero in her first game back with the national team at the women's worlds in April, just months after giving birth to her first child. A physical presence with a nose for the net, she's a true power forward on the ice and a powerful figure off it. The 32-year-old is a favourite among fans and teammates and a proven leader that can bring a jolt of energy to every shift.
Jocelyne Larocque, D, Team Canada
The Canadian national team has a deep pool of talented blue liners to choose from, but we'll highlight the veteran here. Larocque, 35, has proven over her decade on Team Canada that she's among the toughest to go up against and can bring instant stability and leadership to one of six blue lines building from the ground up.
Savannah Harmon, D, Team USA
Harmon got a later start to international play, getting her first experience with Team USA at the 2021 women's worlds, but she's been a mainstay since. The two-time NCAA nationals champ as captain of Clarkson University broke out at the 2022 Olympics with seven points in seven games and this past spring helped the Americans to worlds gold.
Claire Thompson, D, Team Canada
Thompson's arrival on the Canadian national team saw her make an immediate impact, scoring a whopping 13 points in her first Olympic tournament in 2022, which was just her second season with the national squad. When she's not suiting up for Team Canada, the 25-year-old is a busy medical school student at NYU. Should New York land this dynamic skater early, they'll have a powerful duo of Canucks to build their blue line around, as the team signed Thompson's Canadian teammate Micah Zandee-Hart in free agency.
Nicole Hensley, G, Team USA
How teams approach the crease will be interesting to watch. Three clubs already secured their No. 1 netminders via the initial free agency period and it won't be surprising to see a short run on netminders once the first goalie is off the board at the draft. That could very well be Hensley, whose experience backstopping the Americans to a collection of international medals makes her a valuable veteran to build around. She lost the starting role to Aerin Frankel at the last women's worlds, but at 29 has a lot of great hockey ahead.
PREMIER HOCKEY FEDERATION
Of the 268 players to declare themselves eligible for the PWHL's inaugural draft, 98 spent the 2022-23 season with the PHF. When the PHF was bought out, all contracts were instantly voided leaving these players — and many others like them — staring down an uncertain hockey future. Many will land with PWHL franchises now, starting with these leading scorers and dynamic defenders.
Loren Gabel, F, Boston Pride
Gabel, 26, joined the PWHPA out of college after helping lead Clarkson University to back-to-back national championships before winning the Patty Kazmaier Award as a senior, but in 2022-23 made the jump to the PHF. Her success in Boston was instantaneous: the Kitchener, Ont., native led the league in goals (20), assists (20) and points (40) last season and was named league MVP and newcomer of the year.
Kali Flanagan, D, Boston Pride
Time and time again, at every level of hockey across the women's and men's game, we see the importance of building from the blue line out. That should make Flanagan, 27, a key pickup in the earlier rounds of Monday's draft. The Massachusetts-born Boston College grad has found success wherever she goes, from her supporting role on Team USA's world championship and Olympic golds in 2017 and 2018, to helping the Pride win the Isobel Cup in 2022 and earning PHF defender of the year honours last season.
Mikyla Grant-Mentis, F, Buffalo Beauts
After being named MVP with the Toronto Six in 2021, Grant-Mentis made history in the spring of 2022 when she signed a ground-breaking deal with the Buffalo Beauts that made her the highest-paid player in women's hockey. (That record held until Daryl Watts signed with the Six in January.) The 25-year-old power forward from Brampton, Ont., has been overlooked at points in her career, but shouldn't have to wait long to learn where she'll suit up next.
Jillian Dempsey, F, Boston Pride
Yes, there's already a lot of Pride on this list of intriguing PHF players, but you can't write about the league's top talent without highlighting Dempsey. The Boston Pride were considered the class of the PHF (previously known as the NWHL) and Dempsey is a major reason why. The 32-year-old forward was a Day 1 member of the Pride, helping lead the franchise to three Isobel Cups and serving as captain for six seasons. The 32-year-old is the league's all-time leader in games played (142), goals (70) and points (146). PWHL Boston GM Danielle Marmer would be wise to keep the Boston hockey legend on home ice in the new league.
Kennedy Marchment, F, Connecticut Whale
Marchment, 26, took an interesting route to the pros. After graduating from St. Lawrence University, the Canuck spent three seasons playing in Sweden before landing back in North America and signing with the Connecticut Whale. She didn't need much time to get comfortable, winning MVP in her first PHF season — a 33-point campaign that saw her lead league scoring. She finished the 2022-23 season sitting second.
WHAT HAPPENS NEXT?
By the end of the day on Monday, each roster will have welcomed 15 new players into the fold, totalling 90 league-wide on the day and a total of 108 including the first free-agency signings. But for those who don't hear their name called, this is far from the end of the road.
All undrafted players will immediately hit free agency, and many will have opportunities to prove themselves via training camp invites.