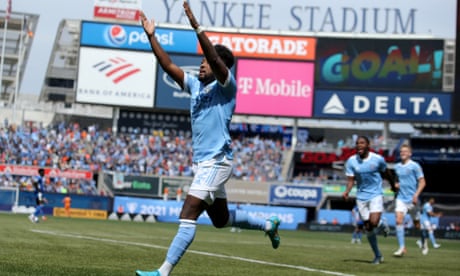 Critics say an MLS team playing on a baseball field is symbolic of soccer's place in US sports' pecking order. But many love the unique atmosphere in the Bronx
Brooklyn, Bronx, Queens and Staten, from the Battery to the top of Manhattan, New York City FC has long searched for a permanent home within the five boroughs, but has so far struggled to make it happen.
Since joining Major League Soccer in 2015, NYC FC has played the majority of its home games in the Bronx-based Yankee Stadium, home to Major League Baseball's Yankees whose owners, Yankee Global Enterprises, also have a 20% stake in the soccer club. It was supposed to be a temporary measure while NYC FC worked on finding a site for a permanent, soccer-specific home, but eight seasons later the club is still there, playing on a baseball field.