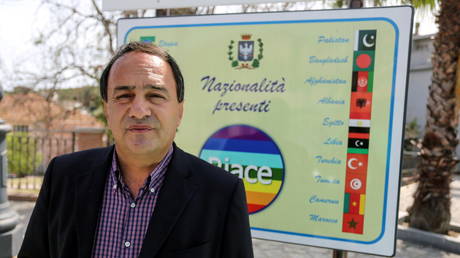 The ex-mayor of a small Italian town was slapped with a 13-year sentence for various irregularities in his handling of migrants. During his time in office, he received international praise for his efforts to integrate migrants.
Domenico Lucano, the former mayor of the town of Riace, located in Italy's southern region of Calabria, was sentenced to 13 years and two months in jail on Thursday. The sentence turned out to be nearly twice the seven years and 11 months requested by prosecutors. The ex-mayor was also ordered to return €500,000 in funding received from the Italian government and the EU.
According to the magistrates, the ex-mayor flouted the public tender process, awarding waste collection contracts to two companies set up specifically to help migrants get jobs.
Speaking to reporters after the trial, the ex-mayor expressed shock over the ruling, suggesting the sentence could be revenge for his fight against the mafia during his time in office.
"I have spent my life against mafia clans, I have sided with the last ones, the refugees who arrived… today it all ends for me," Lucano said as he spoke outside the tribunal in the Calabrian city of Locri. "And I don't even have the money to pay the lawyers… today it all ends for me. There is no justice."
Domenico Lucano, also known as 'Mimmo', served as the mayor of Riace, a town of 1,800 people, from 2004 to 2018. He received international praise for his strong pro-migrant stance, making Fortune magazine's World's 50 Greatest Leaders list in 2016, as well as coming in second in the 2010 World Mayor competition.
The ex-mayor has been praised for his efforts in resettling and integrating migrants, having settled around 500 refugees in his town during his time in office. The fall from grace came for Lucano in 2018, when he was placed under house arrest for alleged embezzlement of funds, fraud, and circumventing migration rules to abet illegal immigration. He was also accused of organizing phony marriages after he helped to arrange a wedding between a Nigerian migrant sex worker and an Italian man, so the woman could live and work in the country legally. The charge, however, was shot down by the Supreme Court of Cassation, Italy's top appeals court.
Lucano's lawyers called the sentence absurd, and "against all evidence," adding that the legal team will appeal it as soon as possible. The ex-mayor is likely to remain under house arrest, as a sentence becomes definite only after two appeals, according to Italian law.
The lengthy prison term has been hailed by anti-migrant figures, including former interior minister and right-wing politician Matteo Salvini. With Lucano listed among the candidates for an upcoming local election, Salvini said, "The left is running candidates sentenced to 13 years in prison," referring to Lucano's sentence.
Meanwhile, pro-migrant groups expressed outrage over the court's ruling. Sea Watch Italy, which works to rescue migrants trying to reach Europe via the Mediterranean Sea, expressed support for the convicted ex-mayor.
"The former mayor of Riace gave life and future to his city through welcome and solidarity," the group tweeted. "We are at the side of Mimmo Lucano and whoever practices solidarity every day."
Think your friends would be interested? Share this story!