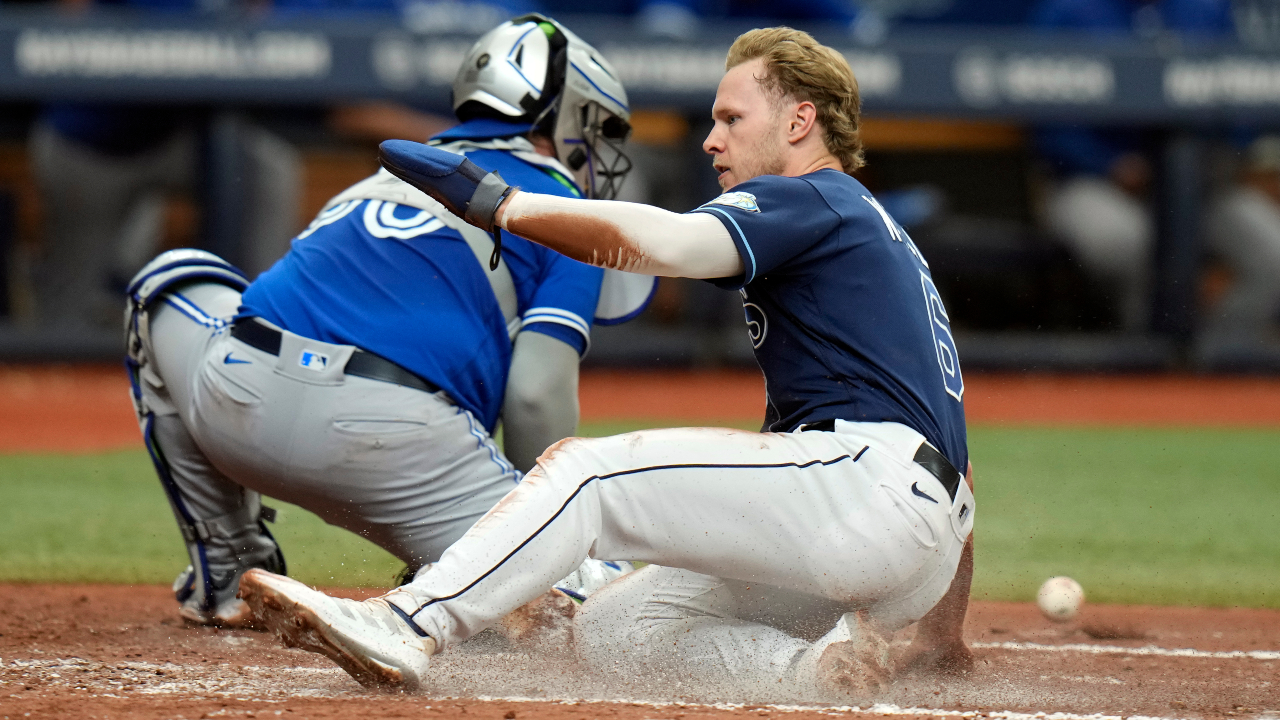 ST. PETERSBURG, Fla. — The vibes around the Toronto Blue Jays right now?
So, yeah, after a dreadful 2-9 run against the New York Yankees, Baltimore Orioles and Tampa Bay Rays was capped by Thursday afternoon's 6-3 loss at Tropicana Field, it was meeting time for the Blue Jays, this one called by the players.
"We're all grown men here. It's up to us. We're the ones on the field. Our coaches can't hold our hands," said third baseman Matt Champan, who didn't want to get into the details of what was discussed. "We have to go out there and find ways to win games. We have to communicate with each other and help try to make each other better.
"We are a team and we want to win. If we want to win a division or play in the playoffs, it's up to us to find ways to get back on track. It's up to nobody else but us."
Added Alek Manoah: "I just think we know we're better than what we're playing right now. We just need to stick together. We just need to keep fighting."
What's made the past week-and-a-half so grim isn't just that they've lost so many games to American League East rivals, although that's certainly a part of things. It's the way they've lost those games, with poor fundamental play compounding the stresses of a dry spell at the plate, that's made the current slide all the more frustrating.
After Monday's 6-4 loss to the Rays, Chris Bassitt pointed out how the Blue Jays "are in the heart of the toughest part of our schedule and to play the baseball that we're playing right now, we can't expect to win games." They corrected in Tuesday's 20-1 rout, got Shane McClanahan'd in a 7-3 loss Wednesday and then were all kinds of loose behind Manoah on Thursday.
"We were punched right in the face the last 10 days or so. You've got to understand that and you've got to make adjustments and you've got to have the right attitude and you've got to have the right focus going forward," said manager John Schneider, who added that the players beat him in calling the post-game meeting. "In talking to the guys and hearing them, it's got to happen tomorrow. Yes, it's a tough division. Yes, that's a good team. We're still a good team, too. So little things today. You outhit the opponent again. You don't control the running game. You're careless with the baseball. Can't happen. Starting tomorrow, it's a new series and hopefully those things are taken care of."
Oh, and as if that wasn't bad enough, the Blue Jays were also awaiting MRI results on Danny Jansen, who left Wednesday's game with left groin tightness. Tyler Heineman was up from triple-A Buffalo on the taxi squad and a potential Jansen absence would only exacerbate many of the other issues the club is facing at the moment.
Manoah, reunited with Alejandro Kirk after a one-outing respite with Jansen last Sunday, was from his best Thursday, but he deserved far better than the way the afternoon unwound for him before a crowd of 10,736.
Staked to a 1-0 lead on Brandon Belt's RBI single in the first, he should have escaped the bottom half unscathed, but instead was undone by some sloppy play behind him.
The trouble began when Wander Franco lashed a slider at 101.1 mph to left centre where Kevin Kiermaier tried to cut the ball off before it hit the wall, trying to limit the star shortstop to a single. But the ball skipped by him, deflected away from left-fielder Daulton Varsho backing up the play, and Franco raced around to third base.
The extra 90 feet prompted the Blue Jays to bring the infield in and Randy Arozarena promptly rolled a weak grounder that at normal depth is probably an out through the 5-6 hole to tie the game 1-1.
Manoah shook that off to strike out Brandon Lowe, but the low slider he swung through clanked off Kirk's glove, rolled away just far enough for the second baseman to dash up the line and beat Kirk's 56.7 mph throw to the bag by a hair, after a replay review.
Harold Ramirez then ripped a 104.9 mph sinker that Cavan Biggio knocked down and relayed to Bo Bichette at second for one out, but the throw to first was a tick late to get an inning-ending double play, putting the Rays ahead 2-1.
Kirk singled to open the second but Kiermaier promptly followed by hitting into a double play — the same thing also happened in the seventh. Manoah had to immediately get back on the mound to grind through a messy second, when he issued three walks, the first coming around on Josh Lowe's two-out double, and needed 40 pitches to escape.
The third was even uglier, when Taylor Walls and Luke Raley walked, broke on a double steal and Walls scored when Kirk's throw to third sailed beyond Matt Chapman's reach, Raley coming in on a weak Manuel Margot groundout.
At 87 pitches through three innings, that was all for Manoah, who with crisper play behind him perhaps gets deeper into the game and gives the Blue Jays a better chance to win. But that's the vicious circle the club is locked in at the moment, failings in one area of the game increasing the pressure on other parts, everything collapsing collectively as a result.
"It's a team sport. We pick each other up on different days," said Manoah. "Sometimes you're picking up the defence, sometimes the defence picks you up. Sometimes it's the offence. Everyone just needs to pick each other up, you know? So that's the mindset every day. Whatever happens on the last pitch, just move forward onto the next one and continue to try to pick each other up."
The Blue Jays had hoped Manoah would build off his last outing, when he allowed two runs in 5.2 innings against Baltimore and "was working with a little bit of a quicker pace with Danny back there," said Schneider. "We kind of realized that and relayed that to Kirky," but as innings and extended and Manoah's pitch count climbed, his pace slowed, often down to the very end of the pitch clock.
In turn that made it easier for the Rays to time him up on the base paths, and of their-season-high matching seven stolen bases, four came while he was on the mound.
Besides being tougher on the running game, the Blue Jays felt a quicker pace on the mound "gets him locked into the next pitch a little bit quicker," said Schneider. "I think it adds a little bit more intensity and urgency with every pitch."
Zach Eflin gave up some loud outs but largely kept the Blue Jays under wraps over his seven innings, the only damage against him being the Belt RBI single in the first.
They then loaded the bases with one out in the ninth against Jake Diekman and after Colin Poche walked Bichette to bring one run home and pinch-hitter Ernie Clement's sacrifice fly plated another, Guerrero hit into a fielder's choice for the final out.
"Everything gets magnified when you're not winning," said Chapman. "The biggest thing we have to work on is finding ways to win games when we're not tearing the cover off the ball. We have had some defensive miscues all around and we haven't been able to finish off innings on the mound. We win as a team and we lose as a team. There's no rhyme or reason as to why we're going through this stretch right now. The way for us to get out is to come together and find ways to win. It might not be pretty, but we need to get back in the win column."
The Blue Jays finish a run of 17 straight games this weekend in Minnesota against the AL Central-leading Twins, who began the day with the same 26-24 record the Blue Jays started with.
A key difference is that in the AL East, that mark was only good enough for last place and a concern at this point is that the Blue Jays are 3-4 against both the Rays and Yankees, 0-3 against the Orioles and 0-4 against the Red Sox. That's far from insurmountable, but the less they do now, the more they'll need to do later.
That's far from insurmountable, but the less they do now, the more they'll need to do later and at 6-15, the Blue Jays have more in-division losses than any other team in the majors. Overall, they've lost 11 of 16 and 16 of 24, an extended stretch of underperformance that's been jarring to watch for a team that's emphasized attention to detail and winning on the margins from the first day of spring training.
"We have to get better," said Schneider. "When it comes down to us as a staff, or Pete (Walker) as a pitching coach, G (Guillermo Martinez) as a hitting coach, me as the manager, it's yeah, the expectations are put right in front of you. There's an urgency that needs to be had in order to meet those expectations. Wins and losses out the window, the last 10 days haven't been great and I think that the urgency in which those expectations are trying to be achieved is not right there.
"Yes, that's on me and the players, ultimately, on me. When the players are recognizing that and when the players are calling attention to that, it's going to hold a lot more weight than any one of our staff members trying to try to get mad or get in their face. The players recognize and see it needs to get better. It'll get better."