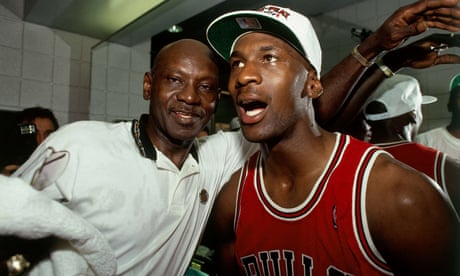 New documentary reexamines the 1993 killing of the NBA legend's father and finds it tells us much about contemporary America
The abridged version of the Michael Jordan story goes something like this: Carolina boy misses the cut for his high school team, seals an NCAA crown for North Carolina on a late bucket and lifts the Chicago Bulls to six NBA championships on the way to becoming the greatest basketball player of all time, a world-class grudge holder and an icon many times over. The murder of his father, James – if it even manages a passing mention in the legend – is couched as little more than an unfortunate episode in the hero's inexorable journey to the top. But the unabridged version of that story is nowhere near as neat or tidy.
The messy details are fully reckoned with on screen at last in Moment of Truth: the Killing of James Jordan, a five-part docuseries that premieres on Amazon's IMDb TV on Friday. The series starts in the summer of 1993, when James Jordan went missing for three weeks before his body was discovered in a South Carolina creek. Jordan was believed to have been shot to death as he napped on the side of a North Carolina highway while driving home from a funeral in the small hours of 23 July.
Related: Michael Jordan was years ahead of his game. The Last Dance showed that he still is