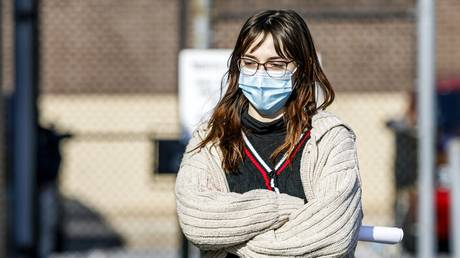 Riley Williams was branded by prosecutors as an "accelerant" to "mayhem"
A Pennsylvania woman who was among a crowd of protesters that breached the Capitol building during the January 6, 2021 riot in Washington DC was sentenced in the capital on Thursday to 36 months in prison. Riley Williams, who was convicted last November, gained notoriety over her alleged role in the theft of Nancy Pelosi's laptop.
Williams, who was 22 at the time of her crimes, was branded by prosecutors as "among the worst" rioters and "an accelerant, exacerbating the mayhem." She was found guilty of interfering with law enforcement officers during a civil disorder, of resisting or impeding law enforcement officers, and of four associated misdemeanor offenses.
The jury was deadlocked on the charge related to the laptop of then-House Speaker Pelosi. The US government also accused Williams of obstructing an official proceeding, but failed to convince the jury on that charge either. The prosecution consequently dismissed both charges.
According to the Justice Department, during the Capitol breach Williams "directed other rioters, pushed against officers, and took video, audio, and photo recordings of her activities. She also threw a water bottle at police officers and called them traitors." She then wiped her computer "with commercial-grade software" six times, according to prosecutors.
Williams explained that in January 2021 she was "a young and stupid girl" who "was addicted to the internet" and made an error in judgment by believing claims about the 2020 presidential elections made by outgoing President Donald Trump and his supporters. She apologized for her action and said there was "no justification or excuse for my behavior."
Judge Amy Berman Jackson called Williams' conduct "utterly reprehensible" and dismissed her claim that her young age was a mitigating factor.

READ MORE: Most Trump supporters think protest call is a January 6 'trap' – poll

"She's not some little waif blowing in the wind," Jackson declared. "She poured fuel on the fire."
Williams has been held in custody since her conviction so the four months that have passed since will be deducted from her prison term.