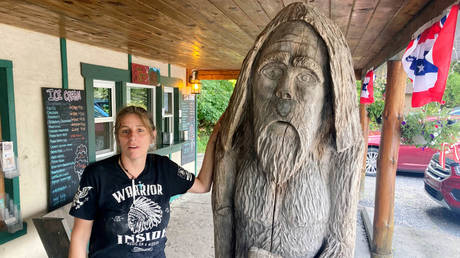 Restaurant owner was sentenced to two years for participating in the 2021 US Capitol unrest
A Pennsylvania woman who allegedly wanted to kill Nancy Pelosi during the January 2021 riot at the US Capitol was sentenced on Tuesday to 27 months behind bars, with some credit for time already served. Federal prosecutors argued that Pauline Bauer's "imminent" threat endangered the Democrat speaker of the House at the time.
US district judge Trevor McFadden, who heard Bauer's case without a jury, found her guilty in January on five counts related to the riot. Prosecutors sought six years and six months for the 55-year-old restaurant owner from Kane, Pennsylvania.
According to a court filing by prosecutor James Peterson, Bauer was part of a mob that broke into the Capitol on the afternoon of January 6, and shouted at Capitol Police to "bring them out," referring to lawmakers meeting to certify the 2020 election for Democrat Joe Biden.
"They're criminals. They need to hang," Bauer yelled, according to prosecutors. "Bring Nancy Pelosi out here now. We want to hang (her). Bring her out." Pelosi, a California Democrat, was the speaker of the US House of Representatives at the time.
Last week, another federal judge sentenced the rioter photographed sitting in Pelosi's office – with his feet on her desk – to four and a half years behind bars, calling Richard 'Bigo' Barnett him "one of the faces of January 6."
Over 1,000 people have been charged since then with federal crimes in relation to the Capitol riot. The harshest sentence handed down so far has been to Stewart Rhodes, leader of the Oath Keepers militia, who received 18 years in prison for "seditious conspiracy" last week.
Thousands of protesters who supported then-president Donald Trump and believed the 2020 election was ridden with irregularities, rallied outside the US Capitol on January 6, 2021 and objected to Congress rubber-stamping the electoral college results that proclaimed Democrat Joe Biden the winner.
At one point, some of the protesters broke through the security fence and into the Capitol building, disrupting the joint session of the House and the Senate for several hours. One of the rioters, a woman named Ashli Babbitt, was fatally shot by Capitol Police.
The ruling Democrats insist that events of January 6 amounted to an "insurrection" against the US government.