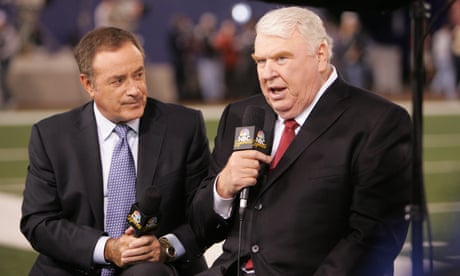 Still America's sports-broadcasting gold standard more than a decade since called his final NFL game, John Madden's absence never looms larger than on Thanksgiving
For the 19th time ever the Chicago Bears will square off against the Detroit Lions on Thanksgiving in a game that could charitably be dubbed the Tryptophan Bowl. On one side, you have a listless Bears team that just broke their best quarterback prospect in 40 years. On the other, a dismal Lions squad seemingly hellbent on booking their second winless season in little more than a decade. The only upset possibility here is to our stomachs.
But if there were one man who could make this matchup halfway appetizing it was John Madden, still the NFL's most colorful commentator more than a decade after he called his last game. Before the Minnesota native was synonymous with the league's star-crossed video game franchise Madden was football's fun uncle – a two-way lineman who found his way to coaching after a training camp knee injury nipped his pro career in the bud, only to wind up leading the Oakland Raiders to victory in Super Bowl XI at the record young age of 40. That he never suffered a losing season and remains the franchise's most successful coach, with a career win percentage that tops Vince Lombardi's, is as much a testament to Madden's sharp mind as the Raiders fickle leadership.