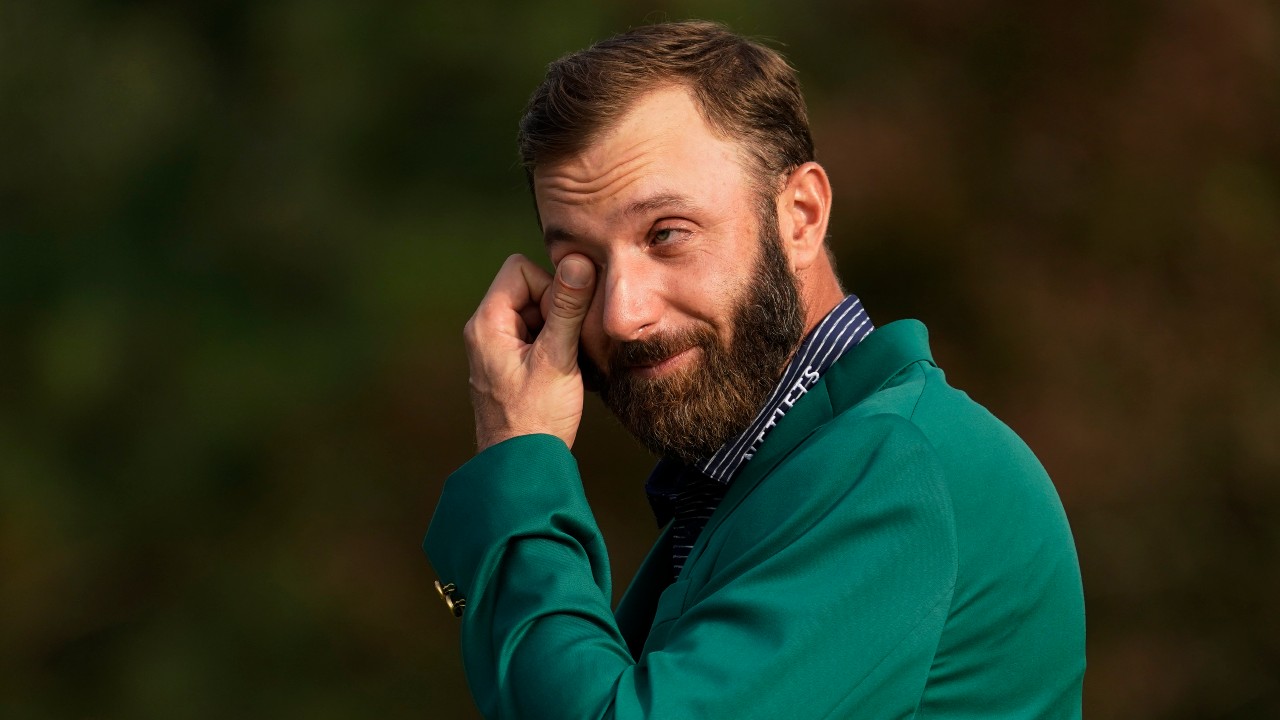 If there's one thing the Masters is about, it's invoking emotion – even from someone as laid back as Dustin Johnson.
Johnson won the Masters by five shots Sunday thanks to a record-setting 20-under par score. On 18, when he tapped in for par, his brother and caddie, Austin, was choked up. The elder Johnson didn't even mark his ball to savour the moment – he just put it in and won.
This, coming just minutes after the TV cameras missed him hitting his approach to the 72nd hole because of how quickly he was playing.
But finally, in a post-round interview on the practice green at Augusta National, with the green jacket now on his shoulders – given to him in Butler Cabin by Tiger Woods, an idol of the teenaged Johnson, who grew up just 75 miles from the very golf course he dominated over the last four days – he couldn't do it.
The enormity of the moment, and all he accomplished this week, finally hit him.
"It's a dream come true. As a kid you always dream about being a Masters champion," said Johnson. The tears were coming. "It's hard to talk. But, you know, it's just incredible.
It wasn't like 2019, where the lasting image was the father (Woods) hugging the son, just like in 1997 when we had the same picture, but Woods himself was the son. Johnson, you thought, would have that casual gait – treating this win like he just won $20 off his soon-to-be-father-in-law Wayne Gretzky. But it was special, even for someone as calm and collected as Johnson as been through 23 PGA Tour victories.
"I've never had this much trouble gathering myself," said Johnson. "I can't even talk."
Johnson didn't really need to talk, however, as his game did it all for him this week.
His 20-under total clipped the previous Masters mark by two shots (held jointly by Woods and Jordan Spieth). He was the first player to even get to 20-under in competition. Cameron Smith, who finished tied for second, was the first golfer in the history of the Masters to have four rounds in the 60s – and he lost by five.
Historically, Johnson's 20-under mark also tied the lowest score (in relation to par) in major championship history with Henrik Stenson (2016 Open Championship) and Jason Day (2015 PGA Championship). This is his 20th top-10 finish at a major and his second victory, alongside the 2016 U.S. Open.
The victory, though, seemed both inevitable and surprising.
Johnson tested positive for COVID-19 last month and spent 11 days in a hotel room in Las Vegas. He shot 80-80 at the Memorial in July and then shot 78 in the first round of the 3M Open the very next week before withdrawing.
Since then, however, he went T12-T2-1-2-1-T6-T2 and then nabbed the Green Jacket this week. He ascended to No.1 in the world. And his entire game was impressive and unbeatable this week.
He was top-10 in driving and putting at the Masters. He also hit 60 greens out of 72 this week – no one else hit more than 56. He had only one three-putt in 72 holes. He made 20 birdies (and two eagles). And at no point did it look difficult.
"He got off to a good start Thursday and I knew he was feeling it," Canadian Corey Conners told Sportsnet by phone from Augusta. "Just with the conditions and his type of game and ball-striking ability I knew he was going to be tough to beat for sure.
"It was a pretty amazing performance. Really impressive."
For all the deserving celebration around Johnson's winning effort this week, Conners put in an all-time Masters by a Canadian.
In his second round, he shot 65, the lowest mark ever recorded by a Canadian at the Masters. His tie for 10th was the first top-10 at the Masters by a Canadian since Mike Weir in 2005. And on account of finishing in the top-12 on the leaderboard, he earned a spot in the 2021 Masters in April – just 144 days away.
"If you're qualified for the Masters you've done something really well, and I was kind of running out of chances to qualify otherwise," Conners said. "I definitely am happy with how I played and how I battled back after the first round and it's pretty sweet – I'm excited to be going back."
Conners missed a five-footer on 14 for par and a 10-footer on 15 for birdie, which briefly moved him outside the top-12. But he ripped a laser off the tee on the par-three 16th and rolled in that birdie. He also added a bonus birdie from 23 feet on 17.
He said he was "pretty disappointed" missing the putt on 14. He called the tee shot on 16 one of the better iron shots of the day and was nice to convert the putt, as it was about the same length as the one he just missed the hole prior.
"Pretty much no doubt as soon as I hit it I knew it was going to be really good," said Conners.
Nick Taylor and Mike Weir also wrapped up really good weeks for the Canadian contingent.
Taylor, in his Masters debut, finished at three-under, and got to play with Weir during the third round.
"Overall it was an amazing experience. I loved every second of it," said Taylor. "There are so many special areas out here. You look around and pinch yourself… I tried to soak it up as much as I could."
Weir, meanwhile, struggled Saturday and finished two-over for the tournament, but he made his first cut at the Masters since 2006. He also embraced his role as being the elder statesman of the Canadian foursome at the Masters. It was the first time there were more than two golfers under Weir's wing during Masters week.
"Those guys are going to do great things and are already doing great things. It was a fun week," said Weir, who thinks another major championship title is coming north of the border sooner rather than later.
"I think one of these guys can knock one of these off – if not the Masters than one of the other majors, and we've got the talent to do it now."
In order to win one of those majors, however, the Canadians will have to knock off the likes of the world No. 1, who shows no signs of slowing down.
In a year with so much uncertainty, Johnson, this week, was as close to a sure thing as there was.
"I know 2020 has been a strange year," said Johnson, "but it's been good to me."