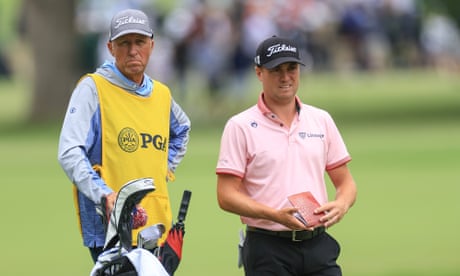 The playoff winner at Southern Hills claimed his first major title alongside Phil Mickelson's former caddie, after heart to heart
It remains unclear whether Phil Mickelson will emerge from exile when Greg Norman and his Saudi Arabian circus rumbles into Hertfordshire next month. Mickelson presumably has enough on his mind without contemplating the bitter irony of events at Southern Hills on Sunday. Nonetheless, to others it was striking that as Mickelson – the defending champion – sat at home in San Diego, a man once key to his success was instrumental in Justin Thomas claiming a second US PGA Championship.
Relations between Mickelson and Jim "Bones" Mackay are understood to be non-existent despite 25 years of professional association. Mackay was on the bag as Mickelson won five of his six major championships. Having stepped back from bag carrying duties and while working in television, Mackay privately decided the only player he would return to the game for was Thomas. The call arrived last September; eight months on, Thomas has doubled his major winning tally. "I think he has more shots than anyone on tour," says Mackay of his employer.