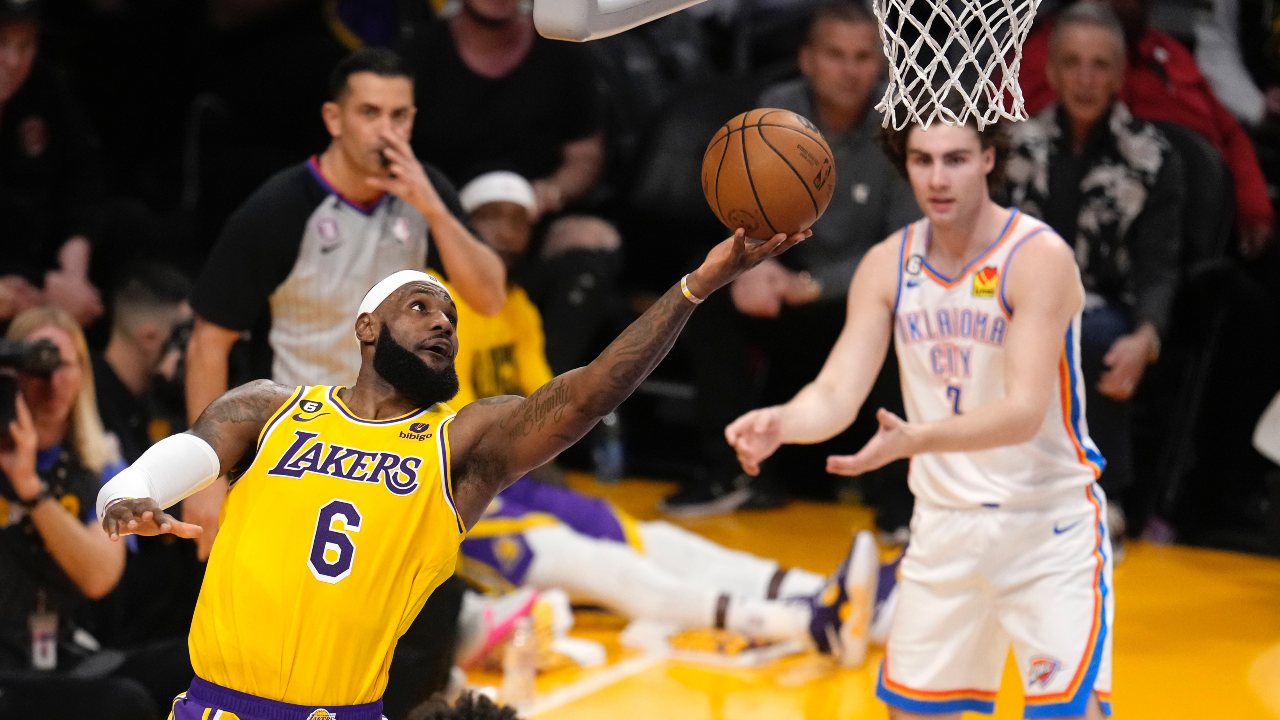 Los Angeles Lakers forward LeBron James scored the 38,388th point of his career on Tuesday, passing NBA legend Kareem Abdul-Jabbar for the most regular-season points in league history.
The record-breaking bucket came in the third quarter against the Oklahoma City Thunder, when James made a long two late in the frame.
It took James 1,410 games to finally eclipse Abdul-Jabbar's record that had stood for 39 years. Abdul-Jabbar scored his 38,387 points in 1,560 games, exactly 150 more games than it took James.
James has a career scoring average of 27.2 points per season, but is actually averaging more this season for the Lakers in his 20th NBA campaign. The 38-year-old forward was averaging 30 points per game this season prior to Tuesday night.
James's points came in three different uniforms, as he had stints with the Lakers, Miami Heat and two separate stays with his original team, the Cleveland Cavaliers.
The four-time MVP made his NBA debut for the Cavaliers back on Oct. 29, 2003 at the age of 18. James dropped 25 points to start what will ultimately be one of the greatest, if not the greatest NBA careers of all time.
His longevity and durability are unmatched, and he is still showing no signs of slowing down. He has been vocal about wanting to play with his son Bronny, who isn't eligible to enter the league until the 2024-25 season at the earliest. Therefore, he is sure to push the NBA scoring record to new heights which may never be touched.
Entering Tuesday's contest, James has a career field goal percentage of 50.5 per cent on 27,809 shots. He's made over 14,000 shots in his career on his way to becoming the NBA's top points man.
The four-time NBA champion's highest output in a single game was with the Miami Heat when he scored 61 points back on March 3, 2014 against the Charlotte Bobcats. Meanwhile, his best season in terms of both total points and points per game average was the 2005-06 campaign when he averaged 31.4 points per game and put up 2,478 points over 79 games.
James's greatness extends over multiple facets of the game, as he also recently passed Canadian Steve Nash for fourth all-time on the NBA's career assists list. But this could be the crowning achievement of his storied career, cementing him as one of the greatest players of all time.
With the record now in the rearview mirror, James will shift his focus to the Lakers' mediocre season in hopes of adding a fifth NBA championship to his trophy case. Despite his best efforts, Los Angeles currently sits 13th in the Western Conference and would miss the playoffs should the 2022-23 season end today.
But the conference is tightly packed, and the Lakers are just one-and-a-half games back of the final spots in the NBA's play-in tournament, and just three-and-a-half games back of the fifth-place Dallas Mavericks.
But Tuesday, it's all about LeBron passing Kareem. Enjoy it basketball fans, as we may never see this happen again.