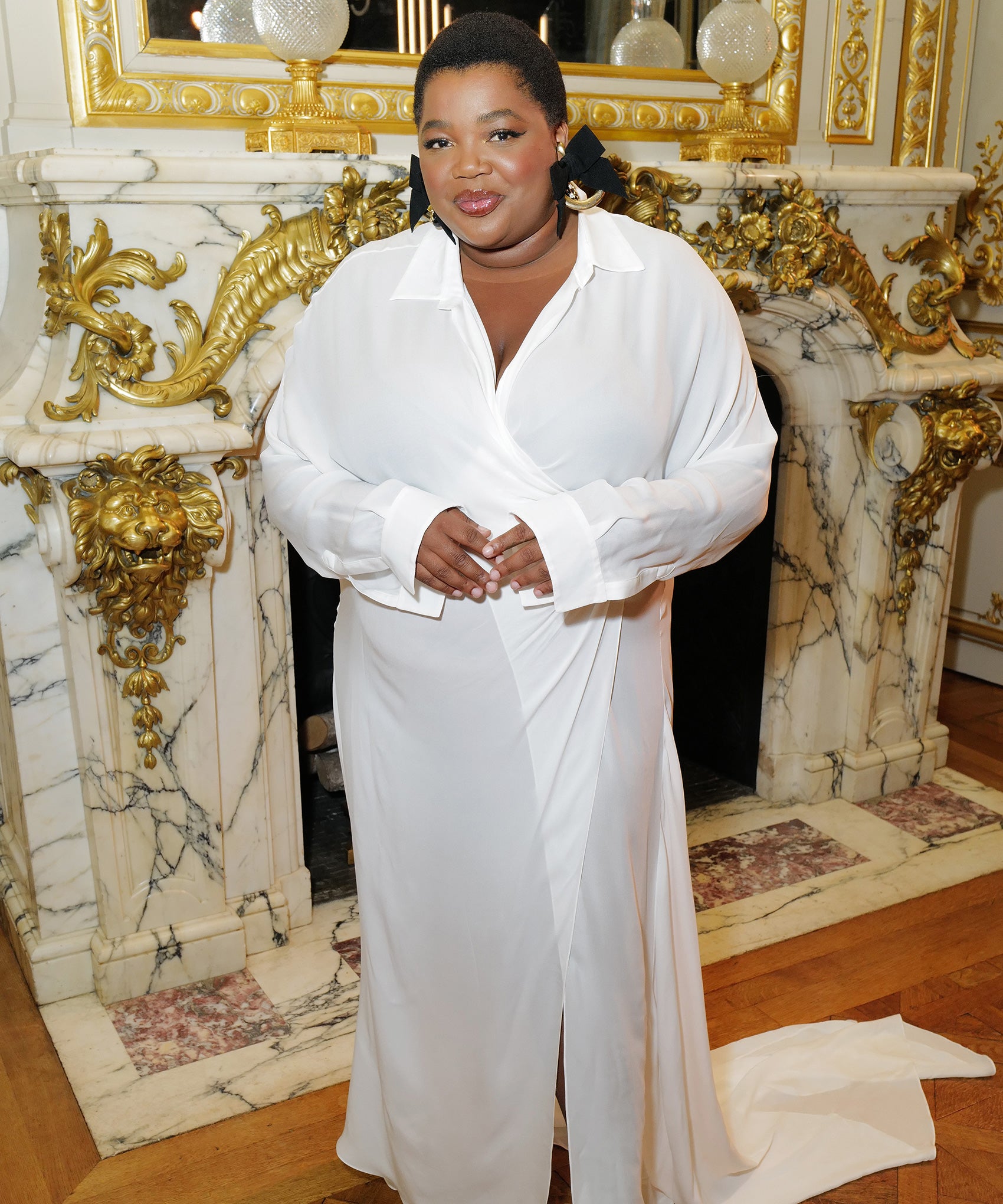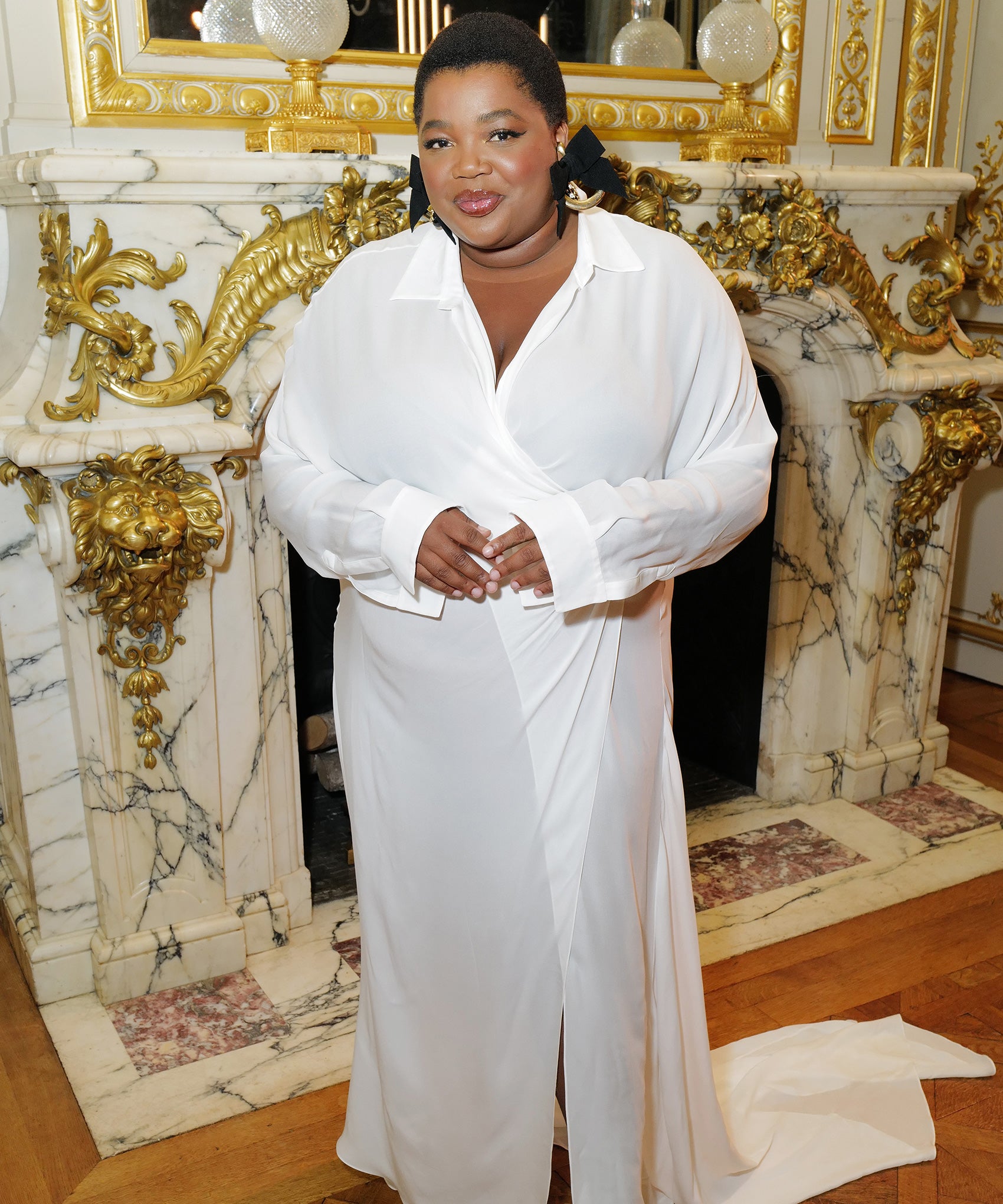 Regardless of how much of a "creative genius" Kanye West believes himself to be, one thing is crystal clear: we really need to stop making excuses for his behavior. His latest antics took place at Paris Fashion Week during the last-minute exhibition of his Yeezy Season 9 collection. During the show, which started an hour and a half late — Kanye doesn't do punctuality — he proudly showcased a statement t-shirt with the saying "White Lives Matter" splashed in bold letters across its back. Unfortunately, this isn't the first instance of West using fashion to push a message that invalidates and perpetuates harmful anti-Black rhetoric. And knowing what we know about him, it won't be the last. But it's time to take a stand.
After Yeezy Season 9's Paris debut, Vogue fashion editor and stylist Gabriella Karefa-Johnson, who attended the show, shared constructive and thoughtful feedback about West's collection. In her Instagram stories, she posted screenshots of a private conversation with a friend in which she tried to see the artistic point of view that West was attempting to convey through the collection. For all of her valiant efforts at understanding the rapper-turned-designer, Karefa-Johnson's biggest takeaway from the event was that no matter which way West tried to spin it, his message was dangerous.
"He was trying to illustrate a dystopian world in the future when whiteness might become extinct or at least would be in enough danger to demand defense," wrote Karefa-Johnson. "But the danger is that this very premise, the idea that white supremacy is in danger of extinction is what justifies mass incarceration, murder en masse, indeed even the advent of slavery." In the next slide of her Instagram story, Karefa-Johnson reiterated that she was not justifying West's irresponsible actions but condemning them. Although West may see his work as revolutionary, in reality, what he's doing is nothing short of anti-Black violence. That phrase originated in response to BLM by white supremacist to overshadow the brutality and deaths of Black people. Like all art, fashion is subjective, and as a journalist in the industry, it's well within Karefa-Johnson's right to critique a collection — especially one that breathes life into harmful ideologies that directly affect Black people in real life.
As much as West would love to consider himself above everyone else and disregard critique of anything that he says or does, the truth is that he's not beyond reproach. And for someone who acts like he's beyond judgment, he cares a lot about what people think; that's why it's so common to see him lash out when public opinion isn't in his favor. In a matter of hours, West took to his Instagram page to call out Karefa-Johnson in a since-deleted post. On his profile, he attacked and mocked the fashion journalist's personal style to his 17.9 million followers, stating she is "not a fashion person." "If you speak on Ye," West captioned his cyberbullying, "Ima would speak on you."
Following the widespread backlash against his actions, which included public declarations of support for Karefa-Johnson as well as vehement disapproval from West's peers in the industry (Vogue also released a statement as well expressing their stand alongside Karefa-Johnson, who works for the outlet), West posted a picture of Karefa-Johnson again, claiming that the situation had been diffused. "I'm not letting people go to bed thinking I didn't meet with Gabriella at 5pm today for 2 hours," he wrote. "Then we went to dinner at Ferdie."
Let West tell it, the beef has been squashed. Even if that's true (doubtful), that doesn't dissolve what Karefa-Johnson had to endure. She shared in another Instagram story last night that she's "been through it!" She also wrote, "I will always speak my mind, and always try to honor my truth." West left his comment section open for folks to make rude and disgusting comments about her appearance. His attempts to shame Karefa-Johnson's style were malicious, but beyond that, they simply weren't true. She is the epitome of a fashion person, even more so than West. Her resume speaks for itself; she's been in this industry since 2009, working at Vogue, Elle, Women's Wear Daily, and Garage. In 2020, the journalist was the first Black woman to style a Vogue cover. Her muse and model for the inaugural shoot was Paloma Elsesser, and after that, Karefa-Johnson also styled Vice President Kamala Harris, and has styled countless other covers since then.
The sad truth is that in this industry, you don't see many Black folks (especially Black women) being given the opportunity to sit in the rooms that Karefa-Johnson is in or to do the things that she's been able to do, regardless of their skill or ability. We're so often told to be careful about the things that we say, that we can't ruffle anyone's feathers if we want to succeed in this business. Seeing West, an outsider who we've watched fight to get into this same elitist space, use his influence to bully and degrade someone who's also beat the odds in fashion is frustrating — even though we should be fully accustomed to his frequent violations. But no more. "Genius" or not, we're not going to sit quietly and watch this man initiate and allow a Black woman to be dogpiled on for having a valid opinion and concern.
Like what you see? How about some more R29 goodness, right here?
The Best Street Style From Paris Fashion Week