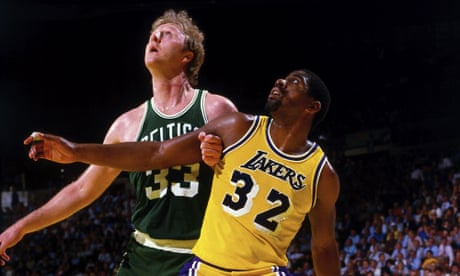 This basketball documentary on the rivalry between Magic Johnson and Larry Bird balances 1980s excess with complex social commentary
HBO's current series Winning Time is a heavily stylised look at the Los Angeles Lakers franchise throughout the 1980s, in particular its decades-long rivalry with the Boston Celtics. The pilot directed by Adam McKay (Moneyball, Don't Look Up) harnesses a style heavily indebted to Tarantino, with crashing graphics, regular breaches of the fourth wall, and quite a lot of extraneous information dumping. It's also hugely entertaining, well-cast and beautifully shot – but largely sidesteps the actual tensions and dramas of the era in favour of nailing period wardrobe and hairstyles.
Which is not to say you shouldn't watch Winning Time; it's just a little lacking in historical context and meaty basketball content. Luckily, ESPN's brilliant 30 for 30 documentary series covered the same story in Celtics/Lakers: Best Of Enemies, an exhaustive three-part, five-hour documentary released in 2017.