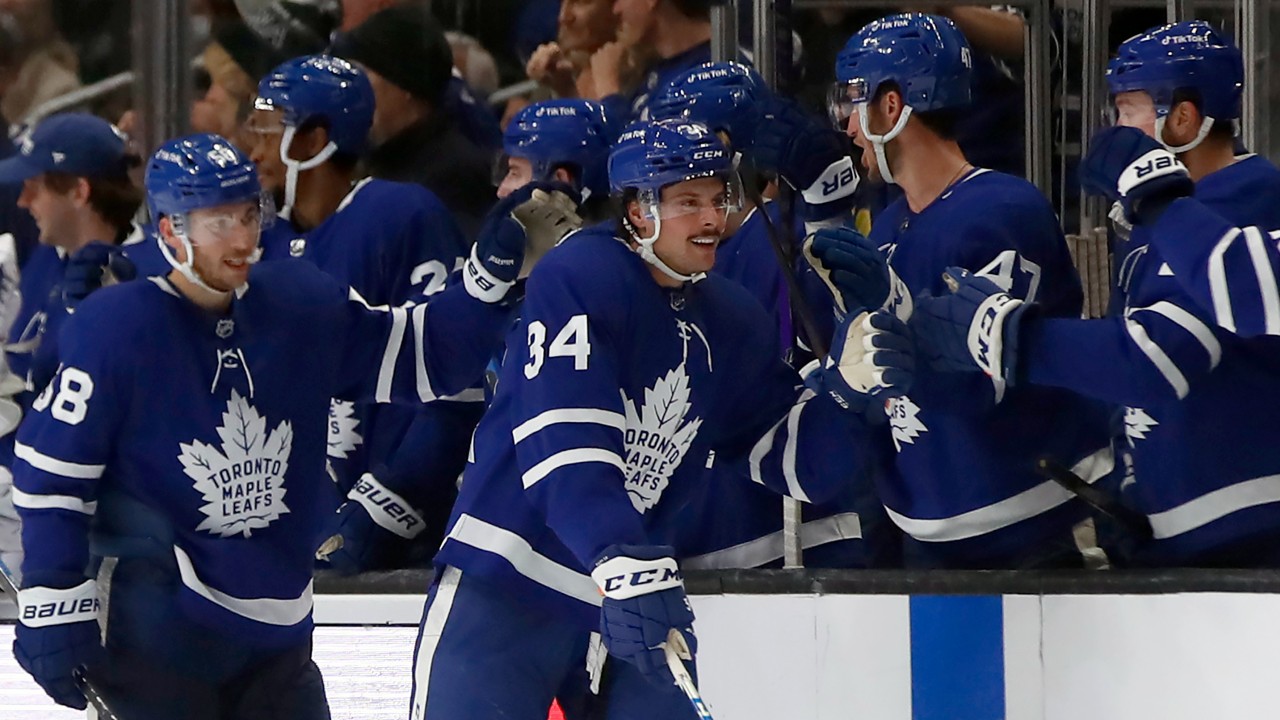 LOS ANGELES — The way the Toronto Maple Leafs played on Thanksgiving Eve, you'd have to wonder if Justin Bieber had promised them a turducken feast for a win.
Laying down their most decisive road victory of the season, the Leafs' offence shone brighter than the home team's blindingly silver helmets.
Point Night in the U.S.A.
In defeating the Los Angeles Kings 6-2 Wednesday night, 11 Maple Leafs etched their names on a busy scoresheet. Wayne Simmonds, Rasmus Sandin, Pierre Engvall, T.J. Brodie, Auston Matthews and John Tavares all threw down multi-point performances. And Matthews notched his first 5-on-5 goal in 10 games, his longest such drought since he was a moustache-free rookie.
"If the chances continue to come, they're going to drop," an unflustered Matthews said Tuesday. "So, it's just a matter of time and staying positive. We're winning games, and that's all that really matters."
Black Friday Sale
From November 22-29th, Sportsnet NOW is having a 20% off sale on Standard and Premium annual plans.
Facts.
Since turning the 18-wheeler off the cliff's edge in Chicago a month ago, Toronto has been on a steady climb up the mountain. Winners of 12 of its past 14 games, the holes in Toronto's game are getting increasingly difficult to magnify.
Jack Campbell, playing at an all-world level, won in an emotional return to L.A. and evened his head-to-head score with mentor Jonathan Quick.
The stingy defence and penalty kill rate top-three leaguewide in goals allowed.
And, as Wednesday reminded, they have enough skill to stuff the net. The Leafs' six goals and five at even-strength signal their highest totals in any game this season.
Underlying numbers would suggest they were due for a goal-a-palooza like this.
"We've certainly defaulted to the defensive side of the puck a lot more of late, because that's necessary for us," coach Sheldon Keefe said prior to puck drop. "We had to plug some holes defensively, and our guys have done that. But that's no excuse for us offensively.
"We have more of a defensive mindset and we've led in a lot of games, and we've been protecting leads, but we need to be able to do both. We want to be a great team. We got to be able to do both so that's our continued focus: generate more chances and make good on the ones we do get, but don't sacrifice defensively."
The only defensive sacrifice in this one was shutdown centre David Kampf, who left the game in the first period and did not return for precautionary reasons.
Rasmus Kupari's shoulder drilled Kämpf in the head, and the essential third-liner was slow to get up before heading to the dressing room. Kupari was called for a tripping minor, but we'd expect player safety to take a peek.
The Maple Leafs' revenge tour flies next to San Jose, where they'll take on the Sharks Friday.
Fox's Fast 5
• Sean Durzi was cheered on in his NHL debut by the boys he left behind. The Ontario Reign fired up the Kings game during a team Thanksgiving dinner and got to celebrate the offensive defenceman's first NHL point, then his first NHL goal:
• King-turned-Leaf-turned-Blue-turned-Leaf Kyle Clifford took warmups in his old barn for funskis. Why did his Toronto sweater number change from 73 to 43?
"It's my kids' birthdays added together," Clifford explained.
• Kings No. 1 D-man and Team Canada hopeful Drew Doughty (knee) sported a yes-contact sweater Wednesday. Word is he could possibly return Saturday versus Ottawa or Tuesday versus Anaheim. Either way, it'll be weeks ahead of schedule.
• Matthews' moustache will remain unshaven until the end of the month. He's raised $142,000 and counting for Movember.
"I feel really humbled with all the support and being able to raise enough money to reach that goal. I'm more than happy to shave it off for a good cause," Matthews said.
Is there a second moustache in his future?
"I think so, yeah."
• TimBiebs dropping Nov. 29.