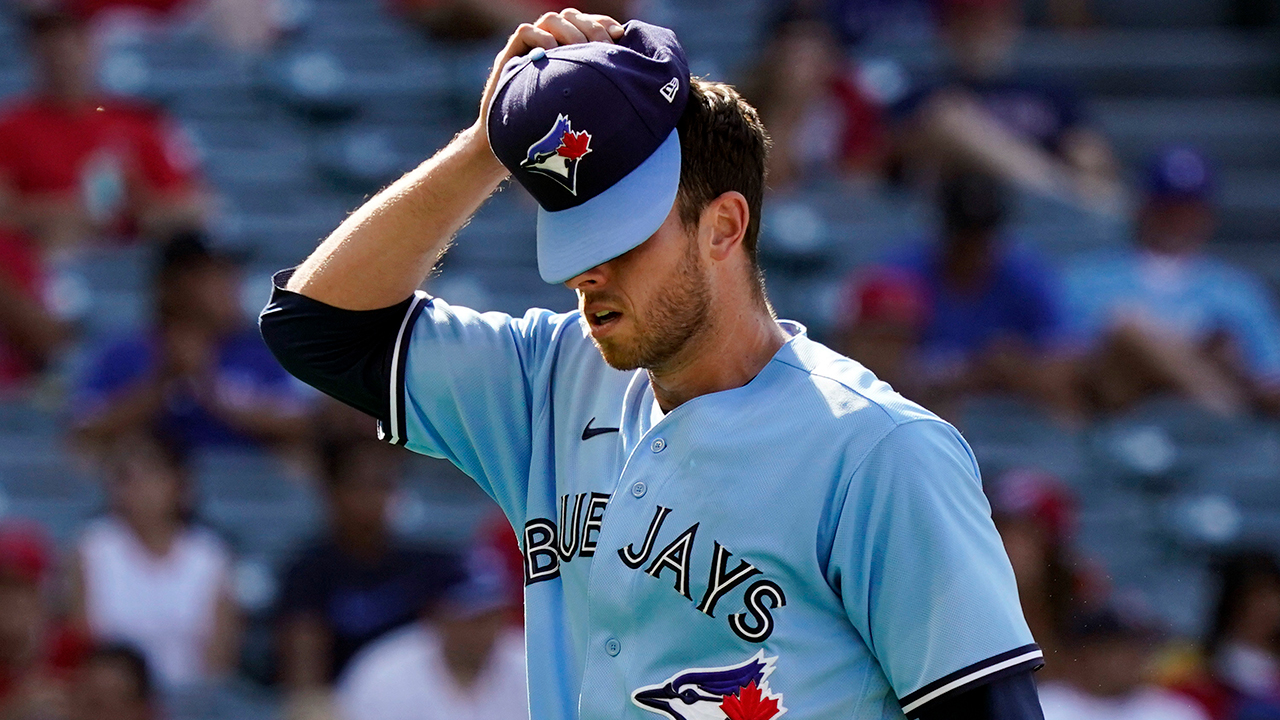 TORONTO – A couple years ago around this time, someone asked Charlie Montoyo who the Blue Jays' upcoming starting pitchers were and his response revealed a lot about the state of starting pitching in the organization at that time.
"We honestly don't know," he said back in September of 2019. "An opener and a guy."
Going into Tuesday's double-header against the Angels, the Blue Jays actually had more viable big-league starters than rotation spots – a welcome and unusual set of circumstances that added a layer of intrigue to the day. With Steven Matz and Ross Stripling both slated to make final bids to remain in the rotation, a competition of sorts was set to play out at Angel Stadium.
TD & Blue Jays MVP Spotlight
TD and the Toronto Blue Jays need your help scouting Canada's off-the-field MVPs. Nominate your MVP today for a chance to win!
By the end of the night, however, the decision had seemingly been made for the Blue Jays, proving once again that any apparent pitching surplus tends to resolve itself more quickly than teams would like.
Matz struggled at times in the opener, allowing four runs on six hits over 4.2 innings in a 6-3 loss, but Ross Stripling left the second game after just two innings and 28 pitches due to left abdominal soreness. While the Blue Jays still managed to split the double-header with a 4-0 win thanks to some strong relief work, the loss of Stripling hurts considering how well he's pitched over his last dozen starts.
And though the Blue Jays don't have to rush to a decision on who remains in the rotation, Stripling's injury appears to make the decision for them. It'll now likely be Matz who continues starting along with Hyun-Jin Ryu, Jose Berrios, Robbie Ray and Alek Manoah.
Offensively, it was a quiet day for the Blue Jays, though Marcus Semien continued his productive season with a three-hit game including two doubles in the opener. Teoscar Hernandez contributed two hits and an RBI in each game while Lourdes Gurriel Jr., delivered a well-timed two-run single late in the night-cap.
But the Blue Jays were able to split this doubleheader thanks to their pitching, rather than their bats. Once Stripling left the game, mid-season trade acquisitions Trevor Richards and Adam Cimber each stepped up to pitch two scoreless innings to before Jordan Romano recorded the final three outs despite loading the bases.
Injuries aside, Matz may still have been the leader to remain in the rotation over Stripling with two days off approaching next week and no need for a sixth starter. Before the doubleheader, Montoyo said Stripling's familiarity with relief pitching will factor into the club's thinking.
"It's going to be a tough decision which means both are pitching good which is great," Montoyo said. "But we'll see. The one thing about Ross is he's done it before and he's comfortable there, so that could help in the move, but we'll see."
In theory, entering games with runners on base or warming up in short order would likely be more familiar to Stripling, who has 88 career appearances compared to Matz's five. But with the abdominal discomfort now impacting Stripling, the Blue Jays' bullpen won't get that anticipated support.
For the short-term, it's another challenge for Montoyo and pitching coach Pete Walker. With lots of ground to make up in the standings, the 61-51 Blue Jays don't have much breathing room at this point in the season, so losing a capable arm like Stripling for any duration of time would be a challenge.
Yet it's also worth reflecting back a couple of years to 2019, when the Blue Jays used Wilmer Font, Derek Law, Daniel Hudson, David Phelps, Neil Ramirez, Ryan Tepera and Buddy Boshers as openers because they lacked big-league quality starting pitchers.
By comparison the competition playing out now is far preferable – and a reflection of how far the Blue Jays have come in a short period of time.
"It's huge," Montoyo said. "We have a chance to win every day. The one thing about an opener is really that means your starter's not great. He's good enough, but … you know what I'm saying. You have to make an adjustment. It's a smart thing that baseball did, but if you have five or six starters you don't need an opener and that's what we've got going right now."