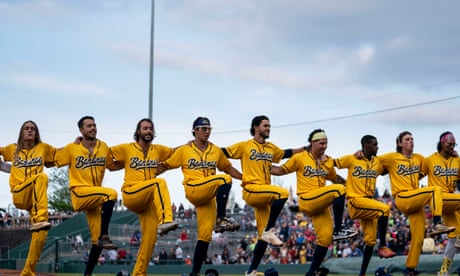 A collegiate summer league team from Georgia has become a TikTok sensation by leaning into fast-paced entertainment and leaving baseball as you know it in the dust
If you like baseball and use social media, you've likely already encountered the Savannah Bananas. The team is something of a social-media darling, especially on TikTok – the Bananas' more than 6m million followers on the app significantly outnumber those of every franchise in Major League Baseball (as well as every team in the NFL, NBA and NHL).
The factors driving the Bananas' online success are obvious. In-game clips of players swinging flaming baseball bats, pitching from atop stilts, and performing choreographed dance routines are tailor-made for social media. To reduce the team's popularity solely to its viral antics, however, is dishonest. Even to this initially skeptical observer, the fun-loving atmosphere surrounding a Bananas game is inarguably infectious.