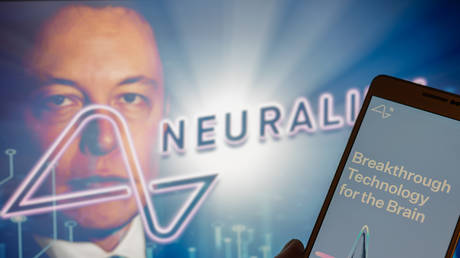 Neuralink aims to solve a range of medical complaints by implanting a chip into a subject's skull
Neuralink, Elon Musk's brain implant company which hopes to use its technology to treat conditions such as paralysis and blindness, has been cleared to conduct human trials after it received approval from the US Food and Drug Administration (FDA), the firm announced on Thursday.
"We are excited to share that we have received the FDA's approval to launch our first in-human clinical study," Neuralink said in a post on Twitter. Musk had predicted on several prior occasions that the technology would be cleared for testing, but a previous application in early 2022 was denied by the FDA, scientists who worked on the project told Reuters in March.
The approval is "an important first step that will one day allow our technology to help many people," the company said, and is "the result of incredible work by the Neuralink team in close collaboration with the FDA."
Musk has previously stated that his ambition is for Neuralink to "restore full body functionality to someone who has a severed spinal cord."
Neuralink says it does not yet have plans to begin recruiting participants, while the FDA has not formally commented on its decision to approve the technology for human testing. Last year, Musk said he was so confident in the device's safety that he would be willing to implant the chip into the brains of his own children.
Prototypes of the Neuralink implant, which are the size of an average coin, have so far been implanted into the skulls of monkeys, the company showed in demonstrations. The implant registers nerve activity and relays the information to an exterior device such as a smartphone with the use of a bluetooth connection.
In addition to helping to treat issues of mobility or vision-impairment, Musk says Neuralink could also benefit people with depression, schizophrenia and autism – and even act as a utility for web browsing and telepathic communication between subjects.
Neuralink came under fire late last year amid complaints of alleged animal welfare violations. A report by Reuters in December said that around 1,500 animals, including monkeys, sheep and pigs, had been killed during its initial phases of testing.