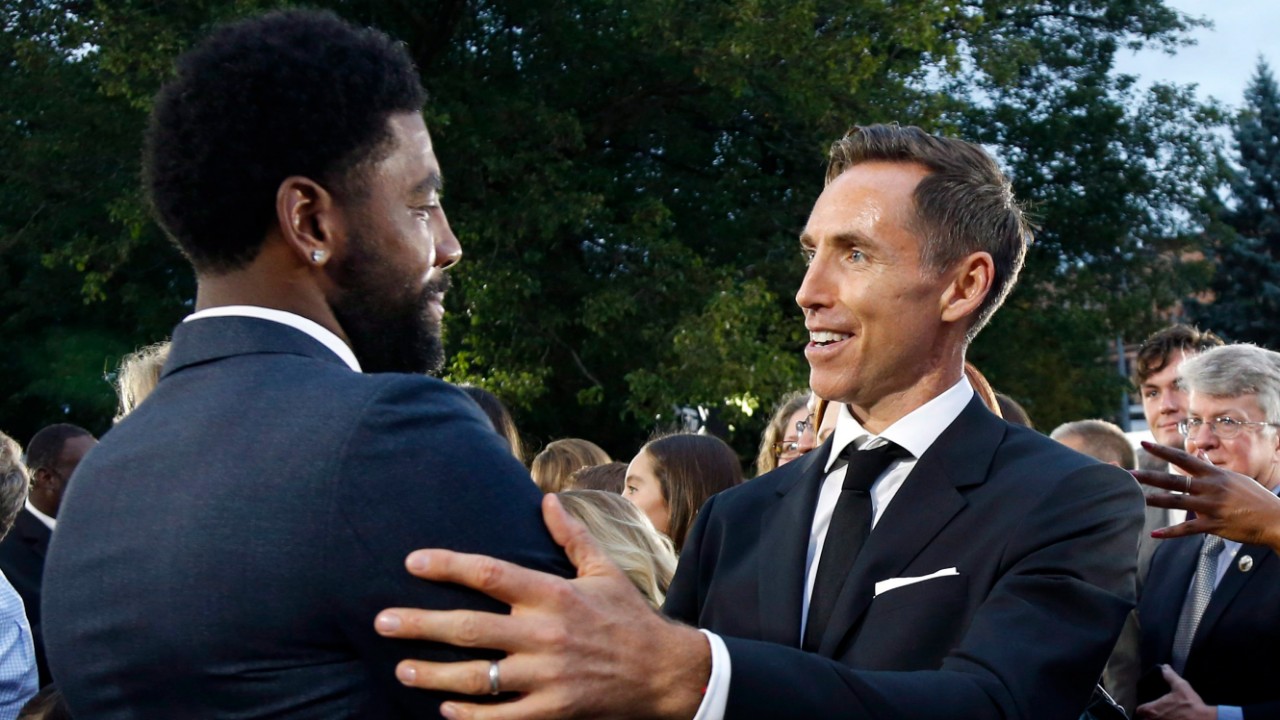 TORONTO – A quick Wikipedia search will tell you there have been 94 Canadian Heritage Minute shorts made in the history of the iconic mini-documentary series, and looking back at this week in Canadian basketball, a 95th candidate may have just emerged.
It started on Sunday, when Denver Nuggets guard Jamal Murray erupted for 50 points in a must-win Game 6 against the Utah Jazz to force Game 7 (a contest that Denver did ultimately win). But perhaps an even prouder moment for the nation was when he got honest with his feelings post-game about the ongoing fight against racial injustice, making reference to his sneakers – which had illustrations of the deceased George Floyd and Breonna Taylor on them.
"We found something we're fighting for as the NBA, as a collective unit … and I use these shoes as a symbol to keep fighting all around the world," Murray said in his post-game interview with TNT.
A few days later, Montreal native Luguentz Dort exploded for 30 points in Wednesday's Game 7 between the Oklahoma City Thunder and Houston Rockets, the most by an undrafted rookie in a playoff game since the NBA Draft was introduced in 1947. Cooler yet, the 30 Dort scored were the most points a player has ever recorded in a Game 7 before turning 22 years of age.
Then, on Thursday, the out-of-nowhere capper to a fantastic week for Canadian hoops: Hall of Fame point guard Steve Nash was hired as the head coach of the Brooklyn Nets.
"I think it's great," said Rowan Barrett in an interview Thursday. "I think Canadian basketball is continually growing, I think that the Raptors definitely captured the hearts and the attention and the minds of Canadians and I'm hoping also that Canadians will be looking and will be proud of athletes that have grown up in our country, in their own backyards."
Barrett is the general manager and executive vice president of Canada's senior men's basketball program and has been close friends with Nash since they were teenagers. They played for Team Canada together on multiple occasions, including as Olympians at the 2000 Games in Sydney.
Word that Nash had been hired by the Nets as their new head coach caught Barrett by surprise but he was ecstatic for his old buddy.
"I was excited, obviously," said Barrett. "He's one of my best friends and to be coaching an NBA team, I mean my goodness, right? To come out of Victoria, B.C., and now you're coaching a high-profile team in New York. Wow! Amazing! I'm happy for him!"
Nash is widely considered one of the best point guards to ever play the game, winning back-to-back MVPs in 2005 and 2006 and ranking third on the NBA's all-time assists list. Nash was essentially peerless at his position when he played.
And given the nature of what the point guard position entails, the leap to head coaching makes a lot of sense.
"For me it was always a natural next step for him, said Barrett. "I think that from the time that I met him [as a teenager], I mean, he was always a coach on the floor. Even with the older players. In the huddle he was always telling us what we were going to do, what was happening. He was always the one that was seeing what was happening with all five players on both teams.
"And I don't think that you can lead teams in the NBA to the No. 1 offence without truly mastering and understanding the nuances of the game."
Those teams Barrett was referring to were those great Phoenix Suns clubs that Nash won his MVPs with. At the helm of those Suns squads was current Houston Rockets coach Mike D'Antoni, who also didn't know Nash was getting into the coaching game but believes he'll do a good job.
"He's got a great basketball mind and I know he loves basketball so it doesn't surprise me, but it's interesting and I just texted Steve and telling him he's jumping from into the frying pan and into the fire," said D'Antoni after Houston practised Thursday. "So good luck to him because I'm happy for him and I hope things work out."
But though there's been much well-wishing for Nash upon hearing word of the news, there's also been much skepticism because of his inexperience.
The Nets figure to be a very good team with both Kevin Durant and Kyrie Irving, and there are question marks over whether he'll be able to handle the job having never been a head coach before.
For all the concern, however, you need only look at the example of the Golden State Warriors and Steve Kerr as reasons why Nash's lack of experience may ultimately be a moot point because he already has plenty of experience to do the job.
"I think he has other experiences," said Barrett of Nash. "Like when you look at people like Steve Kerr he was a general manager, was in the front office in the NBA and he had a number of different roles that were over and above a player to get more of an organizational understanding about how decisions are made….
"So I think [Nash] being a general manager of Canada's team he got plenty of experience sitting in that coaches' room, sitting in the coaches' meetings before a big game and forming the team and kind of all the steps along the way of having a team that he was involved in doing."
There may be some growing pains, but if Nash takes the same approach to his playing career as he did his coaching career, the Nets will be in good hands.
"He worked as hard as anybody I've ever seen in basketball to get ready every day and even when he broke his leg in L.A. no one out-worked him and I know he'll do the same as a coach and he knows basketball," said D'Antoni. "So it's a pretty good formula for success."
Another aspect that will serve Nash well, according to Barrett, is the fact he has an inventive basketball mind. As D'Antoni put it Thursday when he had Nash in Phoenix, "The game plan was give it to Steve and Steve you figure it out."
"Creativity's very important and anybody that knows Steve knows that he's a creative guy," said Barrett. "He has a creative mind, which is why I think he bucks convention in the NBA and kind of ushered in almost the style that we see being played now. He ushered that in with Phoenix all those years ago because his mind is open, it is creative, it is willing to do something different and try things differently and I think for players like Kyrie and Durant, who the goal will be, I'm sure, a championship, you will need some of that creativity that Steve can provide.
"So I feel like he has many of the prerequisites, many of the tangible skills and abilities to do this role, but obviously he hasn't just been sitting on the bench as a play-caller. So I'm sure that'll take some getting used to but I expect him to be successful."
Barrett isn't just expecting Nash to be successful as a head coach, he's banking on it because of what it could mean for the growth of basketball in the nation. Nash is only the second Canadian to become an NBA head coach — following his old mentor Jay Triano — and the development of the sport in the country isn't only limited to the athletes.
"I really think that this is the next step for us as a nation," Barrett said. "We've been putting NBA players through it and now we've got more than 20 players playing in the NBA, which is awesome, and then kind of bit by bit we've been growing our numbers in the coaching ranks. Whether it's Scott [Morrison] with the Celtics or it's Nathaniel Mitchell with the Hornets and Jay Triano and Roy Rana, we're kind of slowly but surely building our way into the coaching ranks and I think that now having a Canadian in there as a head coach is phenomenal.
"I'm very interested to see how that will impact it. I think seeing Jay Triano as a head coach in the NBA all those years ago I have to say impacted some of our coaches that have now made their way and are now there. I can only imagine what having Steve Nash in that role and guaranteed in a high-profile role in a place like New York with Kevin Durant and Kyrie Irving on your team? I expect that they're going to capture the imagination of basketball fans all over the world and hopefully as well in Canada, especially as it pertains to coaching."
It's a point well made by Barrett as the coaches are the ones that first nurture players like Murray and Dort and help turn them into the NBA stars we see today, so if Nash can inspire a whole generation of Canadian bench bosses the way he did players, the future of hoops in Canada looks blindingly bright.
"This has obviously been an awesome week but I think it's just underlining and making the point about the work that has been going on behind the scenes in the gym that nobody sees and has been [observed]by coaches that are growing in our country, because once again for our athletes to get to that point somebody has to coach them," Barrett said. "So I think it speaks to the level of our coaching as well.
"This is a victory not only for our athletes across the country but this has gotta be a victory for our coaches and if there's one thing I can say to them is keep working, keep building, keep growing, man.
"Look at what our guys are doing. Look at what they're doing right now, and it's a testament to all of those coaches, our national team coaches that have been putting in work, toiling in other nations in the middle of the summer where you're in a gym and you're trying to work the referees and most of the country doesn't see it but you're out there and still trying to grind.
"So hopefully this is a huge shot in the arm for our coaches and for our system and hopefully for our fans as well."
If there is a podcasting odd couple, this might be it. Donnovan Bennett and JD Bunkis don't agree on much, but you'll agree this is the best Toronto Raptors podcast going.
In the meantime, however, Barrett's just excited that his best friend got a tremendous new opportunity that will see Nash actually try to shut down his godson R.J. Barrett when the New York Knicks eventually play the Nets.
"Man, I can't wait to sit at that first game. That's gonna be amazing. I thought about it and I thought about Steve holding R.J. in his arms when he was a baby with his diapers and now to think that all these years later they're on opposing sides and to be able to sit and watch them I'm sure will be an amazing moment for them and definitely will be a very proud moment for me, an exciting moment," said Barrett. "I mean, Steve bought R.J. his first crib and he decided that he wanted to outfit the nursery and now he's gonna be figuring out how to stifle him on the court. So it's gonna be amazing, for sure."
An incredible Canadian basketball moment to look forward to on the back of a great week in Canadian hoops, with many more surely to come.