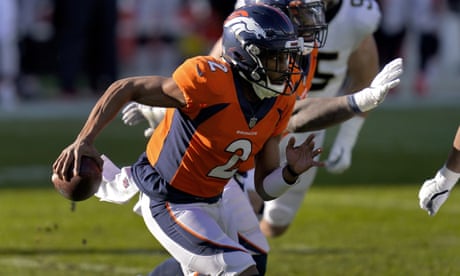 The Denver Broncos were forced to play a back-up wide receiver at quarterback after Covid-19 hit the team. More chaos could be on the way
There was no shortage of bemusement in advance of Sunday's Denver Broncos-New Orleans Saints game. On Saturday all four Broncos quarterbacks were ruled out, Jeff Driskel because he tested positive for Covid-19, the others because they took their masks off around him and were therefore deemed "close contacts". The Broncos naturally panicked. First they asked the NFL to postpone the game. Denied. Then they asked the league if offensive quality control coach Ron Calabrese, a former college quarterback, was an option given his familiarity with the team's playbook. Denied again. Out of options, the Broncos finally settled on wide-receiver Kendall Hinton, an undrafted rookie practice squad member who had played some quarterback at college.
We had no idea what to expect. Perhaps the Broncos would introduce some new brand of offense that would take the league by storm. Or … maybe not.
Related: Broncos play Saints with no quarterback as Covid-19 ravages NFL
Kendall Hinton's first career completion! #BroncosCountry pic.twitter.com/UJzxirKSJS
Worth a reminder: the NFL is now on Sunday of Week 12, and it has yet to cancel a single game this season.
RT if you think Jeremy Chinn should win Defensive Rookie of the Year. @Panthers | #KeepPounding
(via @NFL) pic.twitter.com/vCmzGd3jTb